Master of Science in AI and Machine Learning
Home ›
MSc ›
Master of Science in AI and Machine Learning
Program Description
Become an Artificial Intelligence Expert by mastering the skills to develop intelligent algorithms and machines for self-driving cars, smart cameras, surveillance systems, robotic manufacturing, machine translations, internet searches, and product recommendations.
Starting Date
Duration
Study Options
Tuition
Succeed Now
Average Salary
15 September 2020
12-18 Months
Nomad or Online
$6K + 15% income for two years
or $20k up-front
Pay only if you get a job
$90K - $234K USD
Master's Degree Program with Employability Focus
As humans, we may be intrigued by the complexity of any daily activity. How do we perceive, act, decide, and remember? On the one hand, if we understand how our own intelligence works, we can use this knowledge to make computers smarter. On the other hand, by making computers behave more like humans, we learn more about how our own cognition works.
The Master of Science in Computer Science with Specialization in Artificial Intelligence and Machine Learning at Contemporary Technology University has a distinctly cognitive focus. This cognitive focus leads to a highly interdisciplinary program where students gain skills and knowledge from a number of different areas such as mathematics, computer science, psychology and neuroscience combined with a core foundation of artificial intelligence.
Students will be taking 10 courses over a period of 1 year. Apart from core courses, Contech offers noncredit Personal Development & Employability courses to boost your hiring progress even before graduation.
You will be actively participating in Practicum Programs where you will have a chance to use your skills working on challenging problems with actual data shared from sponsoring organizations. The Practicum spans seven months and culminates with an executive-level report and presentation to the employer organization.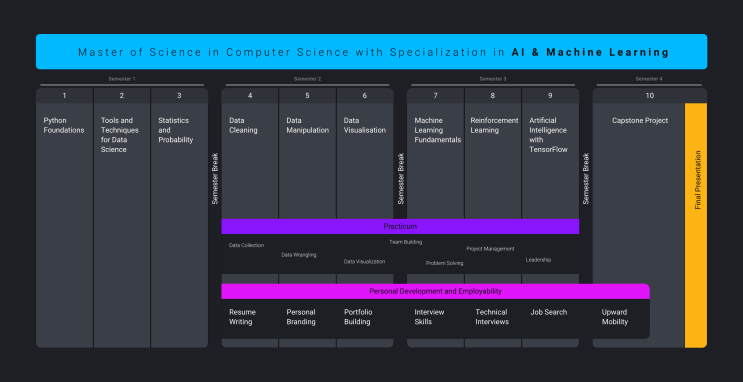 Application Process
Step 1 Application
Fill out the application form. It only takes a few minutes.
Bachelor's degree in Computer Sciences Or Other Bachelor's degree with 2 years' experience in Computer related industries.
C.V. or Linkedin Account.
IELTS 6,0 or TOEFL 550 / Proof of having previously studied in English for at least three years.
Step 2 Selection
Our academic board will review your application, and you will be asked to submit the supporting documents. You might also be called for an interview for a final decision.
Step 3 Enrolment
Upon selection, you can complete your application process by paying the application and tuition fee and sign your enrollment agreement.
2 Ways To Study
Nomad World Tour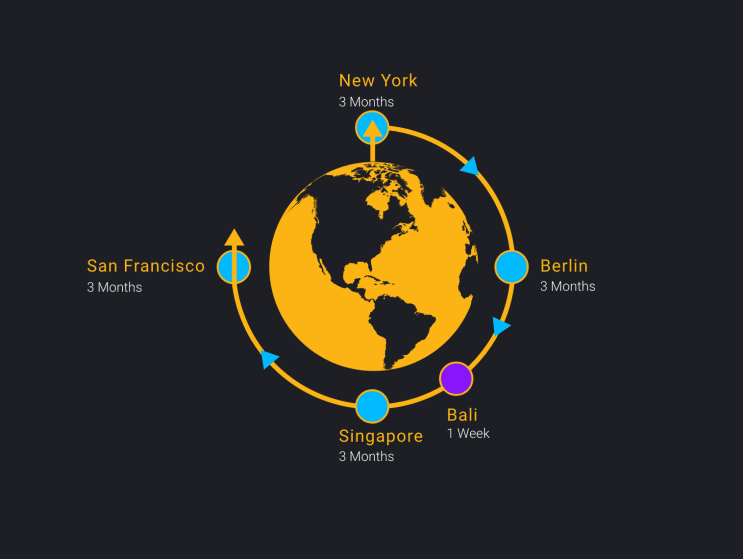 Contech Nomad Students take advantage of living and learning in four different world cities, San Francisco, New York, Berlin & Singapore (as a bonus, Bali vacation). Every 3 months, Nomad Students travel to the next location with their classmates, stay together, meet with local tech communities and of course, engage with local employers.
Contech Nomad Students benefit from:
Experiencing different cultures
Meeting local employers
Creating a lifelong bond with your classmates
Adapting nomad lifestyle
Online + Choose Your City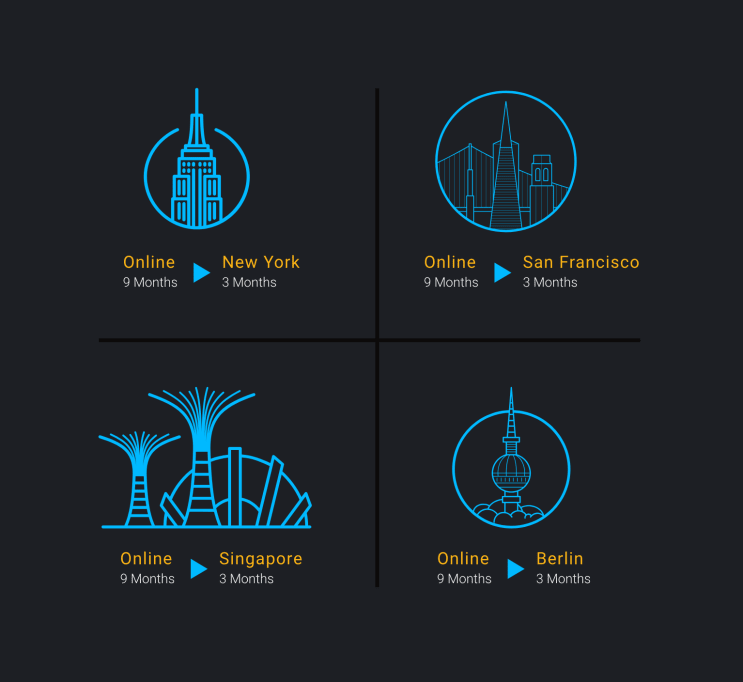 For part-time students, Contech students are offered with 9 months of online study and 3 months of study in your choice of the city. Delivery of the program is structured online thus, you are typically required to attend lectures on four evenings per week and weekend workshops in a format of online instruction, workshops, 1-1 mentoring and group case studies.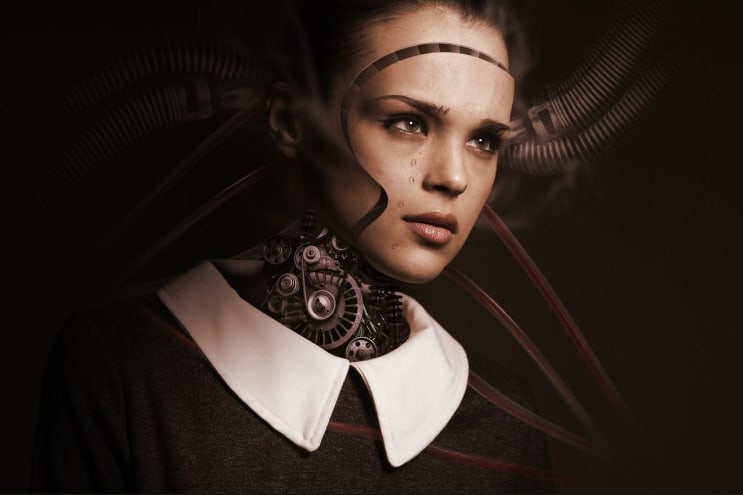 Comfreak / Pixabay
Your AI & Machine Learning Skillset
Gain the skillset that the industry is looking for:
Machine learning
Python
Data science
Hadoop
Spark
SAS
Robotics
Business Intelligence Developer
Problem Analysis
Logical Reflection
Java
Probability and Statistics
Agility & Holistic Thought
Distributed Computing
Artificial Intelligence is rapidly changing the way we live, work and learn. Both governments and industries have recognized the need for the strategic development of AI — technology giants such as Google, Microsoft and Facebook have each established their own AI research institutes. There is however a real shortage of AI talents worldwide, both to serve the industry and drive future research. Artificial Intelligence jobs are amongst the best paid in the industry nowadays – an AI Specialist typically earns among the highest salaries (New York Times, 22nd Oct 2017), while having a solid AI background is strongly desired in multiple research disciplines.
You learn from recognized experts in applying Artificial Intelligence and Machine Learning to real-life problems through lectures, hands-on lab-based tutorials, and coursework. Using tools and technologies that equip you to pursue the culmination of your Master Program, you pursue a practical Artificial Intelligence project in your chosen application area.
If you want to get involved in our next industry revolution – Industry 4.0 this degree will go a long way to providing you with many skills needed in this high growth industry area which has continued from where the mass communications revolution.
Core modules will give you a foundation in topics like systems programming and algorithms, as well as the basics of machine learning and knowledge representation. You'll also choose from optional modules focusing on topics like bio-inspired computing or text analytics, or broaden your approach with topics like mobile app development.
You'll gain a broad perspective on intelligent systems, covering evolutionary models, statistical and symbolic machine learning algorithms, qualitative reasoning, image processing, language understanding, and bio-computation as well as essential principles and practices in the design, implementation and usability of intelligent systems.
With a Master's degree in artificial intelligence you will be welcomed by companies working in:
Information technology
Data mining and Big Data
Speech and language technology
Intelligent systems
Diagnosis and quality control
Fraud detection
Biometric systems
You will also be qualified to work in banking or provide support for the process industry, biomedicine, and bioinformatics, robotics and traffic systems.
Last updated Dec 2019
About the School
Contech is a novel university of applied sciences focused on the software-based economy of tomorrow. "Contech Students" are provided with studying and take advantage of living and learning in four dif ... Read More
Contech is a novel university of applied sciences focused on the software-based economy of tomorrow. "Contech Students" are provided with studying and take advantage of living and learning in four different world cities, San Francisco, New York, Berlin and Singapore (and vacation in Bali, wow!).
Read less