Master of Science and Food Technology
Home ›
Master ›
Master of Science and Food Technology
Read more about this program on the institution's website
Program Description
Name of the program: Master of Science and Food Technology
DGP Code: 506509
Normal period to graduate: 4 semesters
Credits: 122
Degree conferred: Master of Science and Food Technology
Campus where it is offered: Hermosillo
Program description
General purpose
Offer a frame of specialized academic formation to graduates of Biological Sciences, Chemical-Biologists, Chemical Engineering, Agronomist and similar races, forming human resources of excellent level, with a solid preparation in diverse areas of the science, that are able to realize original investigation and independent that represents significant advances in the field of Food Sciences and Technology, with greater emphasis in the areas of grains and aquaculture products. Also, provide them with an in-depth and comprehensive overview so that they are able to identify relevant problems in their work areas and generate applicable knowledge.
Specific objectives
To prepare personnel of high academic level, under a tutorial system, by means of courses and original works of investigation, whose final objective concludes with a thesis of degree.
Form human resources capable of searching, identifying and solving problems facing the country, concerning Food Sciences.
Prepare high level human resources capable of generating knowledge, through the planning, design and development of research projects relevant to the development of food science and the resolution of the problems of food production and processing, and agriculture.
Promote and promote the dissemination and dissemination of scientific knowledge in one or more disciplines of Food Sciences, and in this way strengthen the national scientific culture and especially the regional one.
Prepare human resources at the highest level with the skills to effectively transmit knowledge, in turn train new researchers and lead working groups that promote raising the level of science in Mexico.
Articulate the research work of the Academic Bodies and their Lines of Generation and Application of Knowledge with the training of human resources.
Present the results of the research carried out through participation in specialized events and the publication of research articles in scientific journals indexed by ISI of national or international dissemination.
Link to Postgraduate Programs of other institutions through specific agreements, as well as influence the contents of the academic programs of the related degrees.
What Will Your Competencies Be When You Finish The Program?
The graduates handle in a critical way the scientific and technical information of specialized current sources. Also, they have the ability to develop basic and applied research to solve problems. Likewise, they are trained to train specialized human resources.
Egress Profile
Have acquired a solid and current knowledge in food science and technology.
Have the ability to support and develop basic and applied research independently, which may affect the solution of relevant problems, with a scientific, technological, ethical and humanistic approach.
Critically handle scientific and / or technical information from current specialized sources.
Be trained to train specialized human resources.
Curriculum
Curricular map
List of subjects
Basic subjects
Biostatistics
Food Biochemistry
Physical Chemistry of Food
Food's microbiology
Nutrition
Food Chemistry
Food Rheology
Fundamentals of Toxicology
Specializing subjects
Quality of flour and baking
Entomology of grains and stored food products
Physiology and biochemistry of grains and seeds
Handling of grains and stored products
Microbiology of grains
Mass rheology
Grain technology
Extrusion of food
Engineering properties of grains
Harvesting of fishing by-products
Biochemistry of marine products
Quality control during the processing of marine products
Enzymes of marine origin
Physiology of marine products
Management and processing of marine products
Microbiology of marine foods
Toxicology of marine products
For both emphases
Advanced biochemistry
Carbohydrates, Lipids and Proteins: Nutritional Aspects
Design and evaluation of experiments
Physical chemistry of proteins
Physiology and microbial kinetics
Functional Properties of Food
Food safety
Optative subjects
Activation of xenobiotics
Carbohydrate Chemistry
Lipid chemistry
Drying of grains
Packaging of marine products
Food quality assessment
Sensory evaluation of food
Fundamentals of Chromatographic Methods: Theory and Advanced Chemical Practice of Food
Advanced topics in food toxicology
Selected topics in aquaculture products
Selected topics in legumes
Selected topics in cereals and oilseeds
Molecular and cellular biology
Selected themes
Lines of generation and / or application of knowledge of the program.
Biotechnology.
Functional properties of biomolecules.
Management, processing, conservation and food safety.
Chemical, biochemical and nutritional properties of food.
Academic Core
| | |
| --- | --- |
| First name | Mail |
| Dr. Josafat Marina Ezquerra Brauer | ezquerra@guayacan.uson.mx |
| Dr. Benjamín Ramírez Wong | bramirez@guaymas.uson.mx |
| Dr. Mario Onofre Cortez Rocha | mcortez@guayacan.uson.mx |
| Dr. Enrique Márquez Ríos | emarquez@guayacan.uson.mx |
| Dr. Maribel Plascencia Jatomea | mplascencia@guayacan.uson.mx |
| Dr. Francisco Javier Cinco Moroyoqui | fcinco@guayacan.uson.mx |
| Dr. Patricia Isabel Torres Chávez | pitorres@guayacan.uson.mx |
| Dr. Armando Burgos Hernández | aburgos@guayacan.uson.mx |
| Dr. Francisco Rodríguez Félix | frodriguez@guayacan.uson.mx |
| Dr. Ema Carina Rosas Burgos | ecrosas@guayacan.uson.mx |
| Dr. Rosario Maribel Robles Sánchez | rsanchez@guayacan.uson.mx |
| Dr. Ofelia Rouzaud Sández | orouzand@guaymas.uson.mx |
How to enter this postgraduate course?
Entry requirements
Application for admission with photo.
To be qualified in disciplines related to the Program (copy).
Certificate of qualifications of the degree with a minimum average of 78/100 (copy).
Certificate of average grade if the certificate does not bring it (original).
Document that endorses TOEFL equivalent to a minimum score of 400 points (original).
Examination of EXANI-III knowledge and skills of CENEVAL (1000 points).
If they are not Spanish speakers, they must check, through an official language school exam, a sufficient understanding of Spanish to understand it orally and in writing.
Commitment letter dedicated exclusively to the Master's Program.
Curriculum vitae complete with official vouchers.
Three letters of recommendation from professors members of the SNI.
Proof of medical examination (original).
Birth certificate original and copy).
Unique Code of Population Registration (CURP), for Mexicans. For foreigners, Migratory form of student FM2 or FM9 (2 copies).
Elector credential (both sides) for Mexicans. For foreigners, passport (copy).
Marriage certificate, birth certificate of children and spouse (copy). Only if applicable.
Admission profile
The applicant must also comply with a profile that demonstrates skills and vocation for scientific research and the generation of new knowledge, as well as dedication and taste for scientific work.
What do you need to get the degree?
Qualification requirements
To obtain a master's degree, you must:
Approve the total credits and meet the other requirements established in the corresponding graduate program;
Proof of understanding a language other than Spanish, as established by the Academic Committee of the Postgraduate Program according to the study program.
Pass the examination of grade in the written phase and in the oral phase before a jury named ex profeso.
Comply with the provisions and requirements demanded by the School Services Office for the issuance of the degree.
Titration options
In the Graduate Program in Food Science and Technology, a single modality is established to obtain academic degrees. This modality consists of two phases: written phase and oral phase. For this level the written phase consists of an individual thesis, which shows a global and coherent research effort, following a scientific methodology. The oral phase of the degree examination consists of successfully defending the thesis before the tutorial committee, in accordance with articles 61 and 62 of the REP.
How much does it cost to study this postgraduate course?
Cost of the EXANI-III
The registration cost of applicants to enter the Universidad de Sonora is announced annually along with the first entry notice.
Registration and tuition fees
Students, when enrolling in any of the graduate programs, must cover the corresponding fees according to the current minimum wage in the city of Hermosillo, as established in the Quotas Regulation.
More reports
Francisco Rodríguez Félix
Program coordinator
Rosales and Blvd. Luis Encinas s / n, Col. Centro, CP 83000, Building 5P. Hermosillo, Sonora.
coordinacion.dipa@unison.mx
Tel: 52 (662) 259 2207, 52 (662) 259 2209
href = "http://dipa.unison.mx/?op=maestria
Last updated Mar 2020
About the School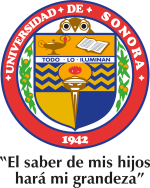 La Universidad de Sonora es una institución pública autónoma que tiene como misión formar, en programas educativos de calidad y pertinencia, profesionales integrales y competentes a nivel nacional e i ... Read More
La Universidad de Sonora es una institución pública autónoma que tiene como misión formar, en programas educativos de calidad y pertinencia, profesionales integrales y competentes a nivel nacional e internacional, articulando la docencia con la generación, aplicación y transferencia del conocimiento y la tecnología, así como con la vinculación con los sectores productivo y social, para contribuir al desarrollo sostenible de la sociedad.
Read less