Master of Science Specialty Mathematics
Home ›
Master ›
Master of Science Specialty Mathematics
Read more about this program on the school's website
Program Description
Name of the program: Master of Science Mathematics Specialty
DGP key: 111502
Normal period to graduate: 4 semesters
Credits: 110
Degree that confers: Master of Science (Mathematics)
Campus where it is offered: Hermosillo
Program description
General objectives
To train personnel with a high academic level and ample and sufficient knowledge in the contents, theories and methods of the main branches of mathematics, with skills for autonomous study and understanding of the results and advances of modern mathematical research.
Prepare human resources able to perform consulting and mathematical support in research and development projects in the different disciplines of a scientific and technological nature.
Train trained personnel to carry out original and independent research in the field of mathematics and its applications.
Prepare qualified human resources to carry out teaching tasks at the university and postgraduate levels.
Contribute to the improvement of mathematics education levels in northwestern Mexico.
Promote and strengthen research in mathematics in northwestern Mexico.
Specific objectives
Consolidate the basic training of students in the main branches of mathematics.
Prepare trained personnel for the autonomous exercise of research work in mathematics.
Prepare personnel, endowed with extensive knowledge of the main branches of modern mathematics, to develop teaching tasks at the undergraduate and graduate levels.
Prepare trained personnel to participate in multidisciplinary research programs and projects.
Prepare personnel with high capacity for work and innovation to participate in the study and solution of problems of a mathematical nature emanating from problems of social interest.
Prepare trained personnel to perform advisory and mathematical support in research or development projects in other disciplines.
What Will Your Competencies Be When You Finish The Program?
Egress Profile
The graduates of the Postgraduate Program with the degree of Master of Science (Mathematics) will have the following attributes:
Mastery of basic knowledge in several of the main branches of mathematics that allows you to appreciate the developments of contemporary mathematics.
Skills for the autonomous study and understanding of problems relevant to modern mathematical research.
Ability to carry out research on problems related to mathematics.
Capacity for the application of mathematics in problems of other disciplines of a scientific or technological nature.
Ability to communicate, orally and in writing, concepts, results and mathematical theories to researchers in the area, as well as specialists in other areas of scientific knowledge.
Curriculum
Curricular map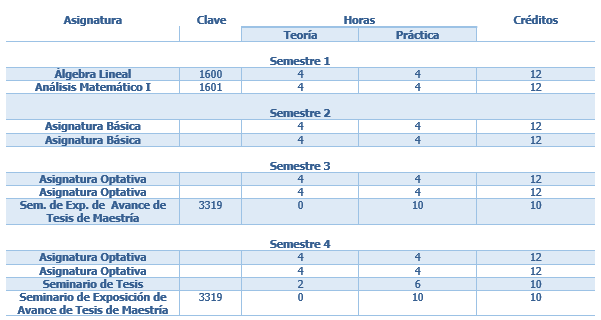 According to the research project and with the prior authorization of the Thesis Director and the Academic Committee, the student may take optional subjects in other postgraduate courses.
From the third semester the student will enroll in the Thesis Advance Exhibition Seminar. The evaluation of its performance will be in charge of its Thesis Committee. According to the result, the program coordinator records in the student's file the credits approved under the following criteria: A total of 10 credits must be approved in a no longer period 3 semesters, in at least 2 presentations.
List of subjects
Basic Subjects
Linear algebra
Mathematical Analysis I
Complex Variable I
Ordinary differential equations
Stochastic Models I
Probability
Modern Algebra I
Topology I
Mathematical Analysis II
Differential Geometry I
Optative subjects
Functional Analysis I
Functional Analysis II
Selected Topics of Mathematical Analysis
Complex Variable II
Selected Topics of Complex Variable
Theory of Sets and Logic
Modern Algebra II
Selected Topics of Algebra
Topology II
Differential Geometry II
Selected Topics of Geometry and Topology
Dynamic systems
Equations in Partial Derivatives
Selected Topics of Differential Equations
Stochastic Models II
Stochastic processes
Selected Probability Issues
Selected Topics of Stochastic Processes
Statistics I
Statistics II
Selected Topics of Statistics
Optimization
Selected Optimization Topics
Theory of Control
Numerical analysis
Selected Topics of Numerical Analysis
Selected Topics of Applied Mathematics
Finite Mathematics
Lie groups
Applied Mathematics Methods
Asymptotic Methods for Differential Equations
Linear Numerical Algebra
Numerical Partial Differential Equations
Partial Differential Equations of First Order
Selected Topics of Partial Differential Equations
Research Subjects
Thesis seminar
Research Seminar I
Research Seminar II
Research Seminar III
Research Seminar IV
Research Seminar V
Research Seminar VI
Complementary Subjects
Master Thesis Advancement Exhibition Seminar
Lines of generation and / or application of knowledge of the program.
Mathematical Analysis and Topology
Stochastic Processes, Probability and Statistics
Mathematical Physics, Dynamic Systems and Geometry
Academic Core
| | |
| --- | --- |
| First name | Mail |
| Dr. Avendaño Camacho Misael | misaelave@mat.uson.mx |
| Dra. Ávila Godoy Micaela Guadalupe | gavila@mat.uson.mx |
| Dr. Brau Rojas Agustín | brau@mat.uson.mx |
| Dr. Carrillo Navarro Francisco Armando | carrillo@mat.uson.mx |
| Dr. Dávila Rascón Guillermo | davila@mat.uson.mx |
| Dr. Díaz Infante Velasco Saúl | sauldiazinfante@gmail.com |
| Dr. Espinoza Fierro Jesús Francisco | jesus.espinoza@mat.uson.mx |
| Dr. Figueroa Preciado Gudelia | gfiguero@mat.uson.mx |
| Dr. Flores Espinoza Rubén | rflorese@mat.uson.mx |
| Dr. Frías Armenta Eduardo | eduardo@mat.uson.mx |
| Dr. García Alvarado Martín G. | mggarcia@mat.uson.mx |
| Dr. González Sánchez David | david@mat.uson.mx |
| Dr. Guzmán Partida Martha D. | martha@mat.uson.mx |
| Dr. Leyva Castellanos Horacio | hleyva@mat.uson.mx |
| Dr. Luque Vásquez Fernando | fluque@mat.uson.mx |
| Dr. Minjárez Sosa Jesús Adolfo | aminjare@mat.uson.mx |
| Dr. Montoya Laos José Arturo | montoya@mat.uson.mx |
| Dr. Olmos Liceaga Daniel | olmos@mat.uson.mx |
| Dr. Omelyanov Georgii Alexandrovich | omel@mat.uson.mx |
| Dr. Ramos Figueroa Rafael Roberto | rramos@mat.uson.mx |
| MC Robles Corbalá Carlos Alberto | crobles@mat.uson.mx |
| Dr. Shingareva Sidorova Inna | inna@mat.uson.mx |
| Dr. Vega Amaya Oscar | ovega@mat.uson.mx |
| Dr. Verduzco Fernando | verduzco@mat.uson.mx |
| Dr. Vorobiev Yuri Mikhailovich | vorob@mat.uson.mx |
How to enter this postgraduate course?
Entry requirements
Letter of application for admission.
Copy of the degree or examination certificate of masters in mathematics or related discipline. Non-qualified students must present a copy of the intern's letter, the certificate of qualifications and documents evidencing a substantive advance of their thesis.
Official copy of the birth certificate and three child-sized photographs.
Submit and pass an admission test that demonstrates maturity and knowledge equivalent to a Bachelor of Mathematics.
Letter of recommendation from a teacher-researcher.
The Academic Committee will carry out an interview with the candidates who, in their opinion, need to deepen the information regarding their admission.
For foreign students, FM2 or FM9 student immigration form.
Admission profile
Applicants pursuing the degree of Master of Science (Mathematics) must show maturity and knowledge equivalent to a Bachelor of Mathematics, or, if they come from related careers as Bachelor of Physics, Geology, Electronics, Computing or Engineering must have knowledge and skills that allow them to deepen in basic areas of Mathematics.
What do you need to get the degree?
Qualification requirements
To obtain a master's degree, you must:
Approve the total credits and meet the other requirements established in the corresponding graduate program.
Proof of understanding a language other than Spanish, as established by the Academic Committee of the Postgraduate Program according to the study program.
Pass the examination of grade in the written phase and in the oral phase before a jury named ex profeso.
For the degree of doctor, to pass a general examination of knowledge in the case in which the graduate program contemplates it.
Comply with the provisions and requirements demanded by the School Services Office for the issuance of the degree.
Titration options
Successfully defend a thesis before a jury that will be integrated according to section VI of the Guidelines and Criteria for the Operation of the Graduate Program.
How much does it cost to study this postgraduate course?
Cost of the EXANI-III
The registration cost of applicants to enter the Universidad de Sonora is announced annually along with the first entry notice.
Registration and tuition fees
Students, when enrolling in any of the graduate programs, must cover the corresponding fees according to the current minimum wage in the city of Hermosillo, as established in the Quotas Regulation.
More reports
Dr. J. Adolfo Minjárez Sosa
Program coordinator
Rosales and Blvd. Luis Encinas s / n, Col. Centro, CP 83000, Building 3K. Hermosillo, Sonora.
posgrado@mat.uson.mx
Tel: 52 (662) 2592155, Ext. 2384
href = "http://posgrado.mat.uson.mx/
Last updated Mar 2020
About the School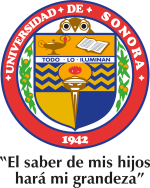 La Universidad de Sonora es una institución pública autónoma que tiene como misión formar, en programas educativos de calidad y pertinencia, profesionales integrales y competentes a nivel nacional e i ... Read More
La Universidad de Sonora es una institución pública autónoma que tiene como misión formar, en programas educativos de calidad y pertinencia, profesionales integrales y competentes a nivel nacional e internacional, articulando la docencia con la generación, aplicación y transferencia del conocimiento y la tecnología, así como con la vinculación con los sectores productivo y social, para contribuir al desarrollo sostenible de la sociedad.
Read less