Read more about this program on the school's website
Program Description
Program name: Master of Science Geology
DGP key: 104507
Normal period to graduate: 4 semesters
Credits: 100
Degree that confers: Master of Science
Campus where it is offered: Hermosillo
Program description
General purpose
To train teachers in sciences of high level of quality and excellence, capable of participating in the analysis and solution of traditional geological and border problems, using the scientific method, and responding with opportunity to the needs of the scientific and technological development of the country. Offering a training space of high academic level around the problems arising from three major areas of application of earth sciences such as: mineral deposits, regional geology and hydrogeology and environmental geology. Contributing with this to the strengthening of the professional and / or investigative capacity of the professionals who work in these areas of knowledge.
Specific objectives
To train human resources of high academic quality with the capacity to develop original research in basic and applied geology, so that it can influence concrete proposals for the benefit of the social and productive sectors. In addition, it solves applied geological research problems that are often the work of foreign consultants.
Advance in the scientific and technological knowledge of earth sciences.
Prepare human resources with deep knowledge in Earth Sciences so that they can: a) carry out basic research projects, that contribute new knowledge in specific areas and that allow students to develop skills in the generation of original and novel knowledge in Sciences of the Land, b) develop applied research projects to solve specific problems.
What Will Your Competencies Be When You Finish The Program?
Egress Profile
The graduate of this master's program will obtain the knowledge, methodologies, skills and attitudes necessary to develop basic and / or applied research in the specialties of Regional Geology (including hydrogeology and environmental geology) and Mineral Deposits according to the specialty selected.
Upon completion of the master's program, the graduate will have the knowledge, skills and attitudes necessary to:
I will design basic and / or applied quality research projects in specific areas of earth sciences.
Identify and propose alternative solutions to problems related to earth sciences, which arise in the social or productive environment.
Collaborate with professionals from other disciplines in the development of projects and problem solving in an interdisciplinary way.
Participate in the research and development of new methodologies.
The graduate can provide services in the mining industry, universities, research centers, other private companies (geochemical analysis laboratories, sampling, cartography, etc.); public companies in the energy and geological-mining sector. You will also be ready to enter a doctoral program anywhere in Mexico and the world.
Curriculum
Curricular map
Below is a highly flexible curricular map, which presents all possible combinations. The number of subjects that the student could take per semester depends on the value in credits of each subject and of the courses offered each semester by the graduate. This is reflected in the minimum and maximum credits that the student can take per semester:
List of subjects
Basic Compulsory Courses
Selected Topics of Research I
Selected Topics of Research II
Selected Topics of Research III
Thesis presentation
Specific Compulsory Courses
Regional Tectonics
Geochemistry
Mineral Deposits and Petrography of Ores
Advanced Stratigraphy
Advanced Petrology
Advanced Hydrogeology
Environmental Geology
Applied Geophysics
Optional courses
Geology and Structural Analysis
Geology of NW Mexico
Microfacies
Petrology of Detrital Rocks
Sedimentary Basins and Deposit Environments
Petrology of Igneous Rocks
Petrology of Metamorphic Rocks
Metalogeny of Strategic Minerals
Applied Hydrogeochemistry
Physical chemistry
Geological Excursions
Potential Methods
Electrical Methods
Global Climate Change
Hydrology
Natural Risks
Remote Sensing
Risks evaluation
Geographic information systems
Meteorology and Climatology
Petrology of pyroclastic rocks
Vulcanology
Topics of General Geology
Topics of General Petrology
Advanced Topics in Geology I
Advanced Topics in Geology II
Advanced Topics in Geology III
Lines of generation and / or application of knowledge of the program.
Stratigraphy, paleontology, analysis of sedimentary basins, remote sensing, geographic information systems, geological cartography.
Hydrological evaluation, exploration and modeling, hydrometeorology and surface atmosphere interaction, application of remote sensors and regional climatology.
Hydrology, environmental geology, natural disasters, geological risks, urban geology, applied geophysics.
Tectonics, metallogeny, geochemistry and endogenous petrology (igneous-metamorphic), mineral deposits.
Academic Core
| | |
| --- | --- |
| First name | Mail |
| Dr. Grijalva Noriega Francisco Javier | grijalva@correo.geologia.uson.mx |
| Dr. Martínez Retama Silvia | smartinez@ciencias.uson.mx |
| Dr. Meza Figueroa Diana María | dmeza@ciencias.uson.mx |
| Dr. Monreal Saavedra Rogelio | monreal@ciencias.uson.mx |
| Dr. Ochoa Landín Lucas Hilario | lucaso.geologia@gmail.com |
| Dr. Palafox Reyes Juan José | palafox@geologia.uson.mx |
| Dr. Paz Moreno Francisco Abraham | fpaz@ciencias.uson.mx |
| Dr. Pérez Segura Efrén | efrenpese@yahoo.com |
| Dr. Rangel Medina Miguel | mrangelm@ciencias.uson.mx |
| Dr. Vega Granillo Ricardo | rvega@ciencias.uson.mx |
| Dr. Vidal Solano Jesús Roberto | jrvidal@ciencias.uson.mx |
| Dr. Watts Thorp Christopher John | cwatts@correo.fisica.uson.mx |
| Dr. Saiz Hernández Juan Arcadio | jsaiz@dicym.uson.mx |
How to enter this postgraduate course?
Entry requirements
Bachelor's degree in geology or related area.
Minimum average of 78 in undergraduate studies.
Approve general examination of knowledge in geology.
Positive evaluation in an individual interview with the Academic Committee where the applicant's competence to perform postgraduate studies will be evaluated under a brief presentation (15min) of the thesis project.
Official certification of TOEFL ITP exam accrediting a minimum of 481 points or, of 54 points in the TOEFL IBT, or a proof of accreditation of level 4 of the English language of the UNISON.
Certificate of the National Examination of Graduate Entrance EXANI-III (CENEVAL) accrediting at least 1000 ICNE points.
Admission subject to availability of directors and tutors of the postgraduate degree to act as the thesis director and / or academic tutor.
Written request stating their interests to study the postgraduate course, the specialty of geology that interests them, their full-time assignment to the master's program and their commitment to be graduated in two years.
Letter from a master's degree professor where he commits to directing his thesis and managing the applicant's funding for his thesis project.
Curriculum vitae.
Copy of the title.
Copy of the full degree certificate of the degree that shows the general average obtained.
In case the kardex certificate of grades does not show the average, submit an official letter stipulating the general average of the degree.
Copy of the CURP and the elector's credential.
Proof of address.
Original and copy of birth certificate.
Three photographs child size.
Admission profile
The candidate to enter this master's program should preferably comply with the following profile:
Basic knowledge of mathematics, physics and chemistry.
Basic skills of documentary research, experimental and field work.
Domain of the word processor, spreadsheet and computational drawing tools.
Ability to work in an organized and responsible manner.
Positive attitude, proactive and with own initiative.
What do you need to get the degree?
Qualification requirements
To obtain a master's degree, you must:
Approve the total credits and meet the other requirements established in the corresponding graduate program;
Proof of understanding a language other than Spanish, as established by the Academic Committee of the Postgraduate Program according to the study program.
Pass the examination of grade in the written phase and in the oral phase before a jury named ex profeso.
Comply with the provisions and requirements demanded by the School Services Office for the issuance of the degree.
Titration options
The only modality of degree is through written presentation and oral defense (degree examination) of a thesis that has a curricular value of 24 credits.
How much does it cost to study this postgraduate course?
Cost of the EXANI-III
The registration cost of applicants to enter the Universidad de Sonora is announced annually along with the first entry notice.
Registration and tuition fees
Students, when enrolling in any of the graduate programs, must cover the corresponding fees according to the current minimum wage in the city of Hermosillo, as established in the Quotas Regulation.
More reports
Dr. Jesús Roberto Vidal Solano
Program coordinator
Rosales and Blvd. Luis Encinas s / n, Col. Centro, CP 83000, Building 3C. Hermosillo, Sonora.
mgeologia@unison.mx
Tel: 52 (662) 2592110
http://maestriageologia.uson.mx/
Last updated Mar 2020
About the School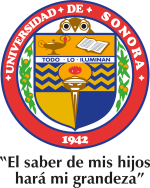 La Universidad de Sonora es una institución pública autónoma que tiene como misión formar, en programas educativos de calidad y pertinencia, profesionales integrales y competentes a nivel nacional e i ... Read More
La Universidad de Sonora es una institución pública autónoma que tiene como misión formar, en programas educativos de calidad y pertinencia, profesionales integrales y competentes a nivel nacional e internacional, articulando la docencia con la generación, aplicación y transferencia del conocimiento y la tecnología, así como con la vinculación con los sectores productivo y social, para contribuir al desarrollo sostenible de la sociedad.
Read less