Master of Science (MSc) in Applied Computational Life Sciences
Home ›
MSc ›
Master of Science (MSc) in Applied Computational Life Sciences
Program Description
There is a growing need for experts who have specific knowledge in a scientific discipline combined with skills in data science, modeling, and computation.
Programming, Algorithms, Data-Structures, Mathematical Modelling, Machine Learning, Pattern Recognition, Data Bases, Data Architecture Systems, Handling and Visualising Data, Neural Networks, and Deep Learning are the relevant Keywords. Those who master these contents have key qualifications for the future.
Become a data scientist and simulation expert!
Master of Science in Applied Computational Life Sciences
Science and business are undergoing profound changes as a result of the developments of the digital revolution. Expertise in working with digital tools and large quantities of data are key supplementary skills for subject specialists. In this Master's program, you will acquire these supplementary skills and combine them with the subject-specific experience and knowledge gained in your Bachelor's degree.
Your Background
Do you have a Bachelor's degree in one of the following fields or in a related field?
Agronomy

Bioanalytics and Cell Biology

Biology

Biotechnology

Chemistry

Energy and Environmental Technology

Engineering

Environment and Natural Resources

Environmental Technology

Food Science and Management

Food Technology

Forest Sciences

Information Technology

Medical Technology

Pharmaceutical Technology

System Technology
Are you fascinated by the potential of digital technology? Then come and master up your degree by becoming a data scientist and simulation expert!
Flexible Study Agreement
Before your studies begin, you decide on your personal educational goals, define the topic of your Master's thesis and create your individual study plan together with your supervisor from the selection of available modules. Your personal study program is based on your educational background, your interests, and your objectives. You will be able to profit from close interaction with your supervisor both at the beginning and throughout your studies. The Study Agreement is a learning tool that defines the balance between independent learning, contact lessons, and e-learning. It enables you to create your own contemporary learning context that incorporates a high degree of flexibility.
Studying Applied Computational Life Sciences
The program is divided into three semesters, or more if you study part-time. In the first two semesters, you will learn and practice essential generic computational science, data science, and business skills in combination with your specialization.
Structure at semester start in autumn: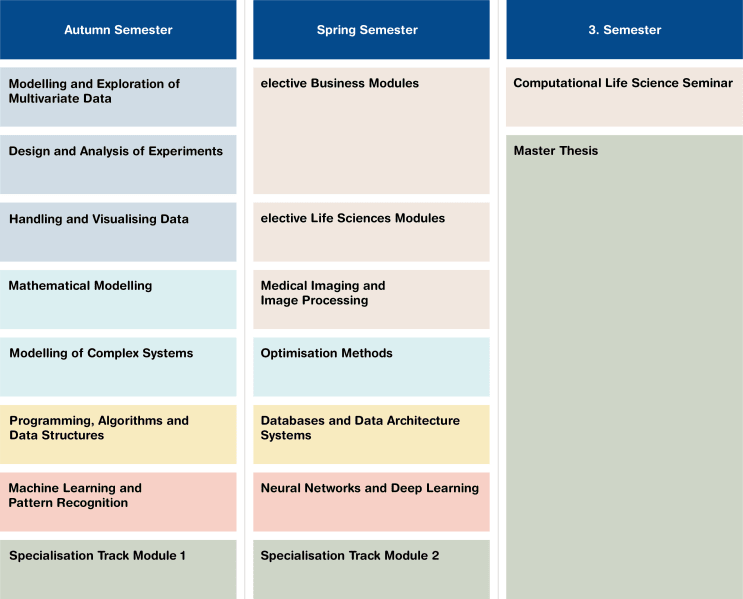 Weekly structure:

Your Field of Interest
Are you interested in any of the following fields?
Artificial Intelligence and Predictive Analytics

Biomedical Simulation

Citizen Science Technologies

Climate Modelling

Complex Systems

Computational Genomics

Data Integration and Semantic Web Technologies

Digital Health

Forecasting & Decision Making

Geoinformatics

Health Technologies

Lab Information and Management Systems LIMS

Process Optimization in Food Technology

Smart Environmental Systems

Smart Farming
You can choose your thesis topic and your advisor based on your field of interest. You will be placed in one of our specialization tracks, which will prepare fully for your Master's thesis in your field of interest.
Hand-On Master's Thesis
As you work on your Master's thesis, you will become part of a cutting-edge research group. This may be in close collaboration with our industry partners or as part of a research group in one of the life science institutes at the ZHAW. Visit our thesis Marketplace or even contact us with your own ideas!
Your New Skills
processing and analyzing data of various sizes and levels of complexity

conceptual and technical skills to combine your expertise in a life sciences discipline with the potential of computational methods

computational modeling and simulation of processes

statistical modelling with machine learning and neural networks

programming using modern scripting languages such as Python and R and you will understand the basic concepts of software and computer architectures

analysis and solving of complex problems that combine scientific, social and entrepreneurial thinking

planning, implementation, evaluation, and presentation of major research and development projects
Your Future
This specialization in Applied Computational Life Sciences lays the foundation for a career in a rapidly developing field of research and business. The program provides essential knowledge in a field where science meets business and opens up career paths in international companies, agile start-ups, and research institutions.
As a graduate of this program, you will find a job that shapes the future.
Suitable students have the opportunity to be accepted onto our Data Science Ph.D. program run in collaboration with other Swiss universities.
Last updated Jul 2020
About the School

The ZHAW is one of the leading Swiss universities of applied sciences. Around 1,500 students are currently enrolled at the School of Life sciences and facility Management, which has more than 600 empl ... Read More
The ZHAW is one of the leading Swiss universities of applied sciences. Around 1,500 students are currently enrolled at the School of Life sciences and facility Management, which has more than 600 employees.
Read less