Master of Science (MS) in Electrical Engineering
Home ›
MSc ›
Master of Science (MS) in Electrical Engineering
Program Description
A Masters of Science in Electrical Engineering provides outstanding career opportunities. Montana Tech's program offers graduate courses and research projects in the areas of electric energy and power, automation and control systems, signal processing, and instrumentation. Other areas of emphasis may be tailored to the students' needs.
Montana Tech's Electrical Engineering faculty have an excellent track record in attracting industry and government-funded research projects. The projects provide students the opportunity to solve many challenging real-life engineering problems. Recent funded graduate research projects include:
Development of a battery diagnostic instrumentation system for NASA for next-generation hybrid and electric vehicles. Several students worked closely with researchers from the Idaho National Laboratory.
Development of blade pitching control algorithms to improve the efficiency of wind turbines. Many of the concepts are now used in industry.
Researching new control schemes for improving performance and preventing blackouts in large power grids. Students work closely with other universities, industry, and researchers from the Pacific Northwest National Laboratory
Working with researchers at the Idaho National Laboratory, students are designing and implementing an instrumentation and control system for mine-waste remediation.
Field Of Study
A Master of Science student may elect to study in Electrical Engineering and be directed by the Electrical Engineering faculty. Montana Tech offers advanced studies in Electrical Engineering in the areas of signals and systems, controls, and electrical power systems. All students must successfully complete EELE 5380. Also, students must select two courses from EELE 5220, EELE 5270, EELE 5370, EELE 5400, EELE 5410, EELE 5550.
Degree Program
The Master of Science degree in Electrical Engineering may be obtained under either Option A (thesis or publishable paper option) or Option B (non-thesis option). The required number of credits (30 or 36 depending on whether the student is following Option A or Option B) will be selected upon approval of the student's graduate committee, in a manner such that the Graduate School requirements are met.
Seminar Requirements: Two credits of Graduate Seminar are required: T.C. 5150 - Graduate Writing Seminar or equivalent, and ENGR 5940.
Examinations
All Students must successfully complete a qualifying exam during the first year of study.
When the candidate for a master's degree has elected Option A (thesis option), the student must present the thesis and pass an oral examination. The oral examination will include an examination on the thesis presentation, but may also include questions relating to the graduate study program.
Students who elect the non-thesis option must complete at least six (6) credits of special problems and pass an oral and comprehensive exam.
Career Outcomes
Montana Tech's graduate degree and certificate programs assist students in achieving the following accomplishments within a few years of graduation:
Professional advancement in their careers. This objective includes "retooling" for a new profession and becoming established in that profession;
Recognition by their employers as bringing, applying, and integrating valuable, advanced, state-of-the-art knowledge, skills, and understanding that contributes significantly to the organization;
Success in keeping up-to-date professionally, thereby contributing to meeting the changing needs of society in the field and for the organization.
Graduate Programs at Montana Tech assist students to acquire and master deep knowledge and advanced professional skills in degree fields aligned with Montana Tech's mission. Graduate programs may either formulate and document their own program-specific student outcomes, subject to review and endorsement by the Graduate Council or adopt a subset of the Graduate School's student outcomes.
Master's degree programs and certificate programs must address at least four of the outcomes, while doctoral programs must address all five. Students completing graduate degrees and certificates at Montana Tech will:
Acquire up-to-date, advanced knowledge, skills, and understanding in the degree area, as needed to meet the changing needs of society;
Blend theory with practice to integrate, problem solve, and apply advanced knowledge, skills and understanding in the degree area;
Develop skills in communicating technical and complex material orally, in writing, and using various media for a broad range of audiences;
Demonstrate leadership skills and ethical principles applicable to the discipline and profession. Where applicable, this outcome includes the ability to enable the responsible and sustainable development and use of natural resources, including the protection and/or restoration of the environment;
Make a significant and original contribution to advance knowledge in the discipline, the tools of discovery, or a major application.
Tuition and Mandatory Fees
Please use these tables to see the approximate tuition and mandatory fees costs for programs in the Graduate School.
On-Campus Programs
| | | |
| --- | --- | --- |
| Status | Part-Time Credit | Full-Time (12 or more credits) |
| Resident | Approximately $350/credit hour | Approximately $3,800/semester |
| Non-Resident | Approximately $1,110/credit hour | Approximately $12,500/semester |
Last updated Mar 2019
About the School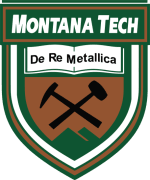 Montana Technological University is a great place to attend graduate school! As a future graduate student, consider our world-class degree programs to ignite your curiosity and move you ahead. We als ... Read More
Montana Technological University is a great place to attend graduate school! As a future graduate student, consider our world-class degree programs to ignite your curiosity and move you ahead. We also offer you:
Read less