Read more about this program on the school's website
Program Description
Equipping future decision-makers with skills and knowledge
The Brandt School's Master of Public Policy (MPP) is a two-year interdisciplinary degree program designed for young academics and professionals who wish to pursue a career in public service in government agencies, international organizations, and the non-profit sector. The MPP program equips future decision-makers with the knowledge and practical skills they will need to advance public interest and make sound policy decisions.
Drawn from political science, economics, sociology, public administration and law, the MPP curriculum builds the skills and knowledge base required of a professional policy analyst. It includes courses in political and economic analysis, statistics, public management and ethics. Throughout the coursework, research, and field experience, students develop their understanding of the policy process and the institutions and actors involved in that process.
An inspiring learning environment – challenging and encouraging
Students from all over the world study at the Brandt School. This means not only having inspiring conversations around the lunch table, it also means challenging your own ideas constantly.
A variety of course offerings and inspiring guest lectures will provide you with new input and perspectives. Be prepared to question deadlocked ideas and expand your awareness to previously uncharted waters.
Practical training & internships are integrated into the curriculum, providing you with valuable work experiences and giving you opportunities to broaden your professional network.
The Brandt School hosts a diversified learning experience, where education is not limited to the pages of a textbook.

Specialize: Structure your studies around your interests
The MPP consists of a core curriculum (focusing on policy analysis, public administration, management and methods), an internship and an intensive policy project (practical training modules), elective courses taken out of four potential areas of specialization (specialization modules), and foreign language training.
The mandatory modules make up the core curriculum, while the specialization modules, the practical training modules, and the foreign language module can be chosen based on your personal interests and professional aspirations.
You may choose elective courses from two of the four specialization modules to develop and specialize your individual profile:
Non-Profit Management and Social Entrepreneurship | Train your entrepreneurial, innovative and independent thinking. Learn how to develop, pitch, and implement social projects and business ideas in an impact-oriented way.
International and Global Public Policy | Consider ways in which political forces and economic systems shape and interact with one another. Acquire analytical competencies regarding the actors, stakeholders, institutions and issues in policy areas that can only be addressed internationally (such as climate, energy, and sustainability).
Development and Socio-Economic Policies | Investigate questions like 'Do aid policies work?', 'Do we progress? What is progress and how do we measure it?' Examine and broaden conceptualizations of development and good governance. Evaluate the social, political, and economic impact of policies.
Conflict Studies and Management | Learn how to analyze and develop responses to contemporary conflicts. Critically analyze policy interventions and explore conflict resolution approaches. Enhance your respective regional expertise through a conflict management perspective.
Practical Training: Learning by doing
Public policy is the intervention in and the design of political reality. As an integral part of our teaching philosophy it is important to us that you work with professional partners and solve real-world problems and in doing so, prepare for your future career.
Therefore, the MPP includes a mandatory internship. This will offer you the opportunity to apply your classroom-based knowledge and skills in a professional context, give you a practical perspective on and experience in policy analysis and public management, and help you explore your abilities and interests in relation to the requirements in particular fields of public policy. We provide assistance in finding an internship position in government agencies, international organizations, NGOs, or other non-profit and for-profit organizations.
Furthermore, third-semester MPP students participate in a mandatory project group. Under the supervision of an academic staff member, a group of about ten students completes an assignment for an external partner on a real public policy problem or question. Project groups provide you yet another venue to apply your knowledge, with the added components of project management and team-based work. You are going to work with a variety of project partners ranging by scope (local, regional, international), sector, and deliverables.

About us: The Willy Brandt School of Public Policy at the University of Erfurt
The Brandt School, established in 2002, is Germany's oldest public policy school, situated within its newest public university, the University of Erfurt. The Brandt School is a professional school, providing a stimulating environment for those who strive for management and leadership positions in the public, private, and non-profit sector.
We are: an interdisciplinary, practice-oriented and international institute
We have: distinguished practitioners as teachers
We guarantee: an approachable staff and faculty
We offer: a network with the professional world
We host: activities with other public policy institutions
Every winter semester we welcome around 50 to 60 new students from over 30 different countries.

Erfurt: Study in the green heart of Germany
Situated in the center of Germany, Erfurt – the capital of Thuringia and home to about 210,000 inhabitants – is about two hours away from metropolitan hubs such as Frankfurt/Main, Berlin and Munich. Unlike many other cities in Germany, Erfurt´s historical town center remains intact and boasts more than 1,000 years of history. Characterized by a preserved medieval appearance integrated with modern infrastructure, Erfurt is considered one of Germany´s most beautiful cities.
Thuringia, one of Germany´s 16 states, has been the center of political and cultural movements for many years. You can find traces of great thinkers such as Martin Luther, Johann Goethe, Friedrich Schiller and Max Weber everywhere. The small picturesque city of Weimar, just ten minutes away from Erfurt is the origin of the Bauhaus architectural style, the founding city of the 'Weimarer Republik', and the center of the German classical era. Nature lovers and outdoor enthusiasts alike, treasure Thuringia for its rich landscape: from the forests, which give the area its nickname 'Germany´s Green Heart', to the countryside, which is dotted with lakes, creeks, and several enchanting castles.
With a student body of about 6,000, the University of Erfurt is a relatively small university. It takes advantage of its size by cultivating a sense of intimacy and community on campus, proximity being a major asset of Erfurt and its university. Modern teaching facilities, a state-of-the-art library and modern, affordable dormitories are all situated around a central park, making the campus the heart of academic and student life.
Studying in Erfurt is affordable, being one of the most inexpensive university towns in Germany. Not only that, but studying at the University of Erfurt is prestigious. Over the years, the university has gained a national and international reputation for excellent teaching quality and for innovative programs such as the MPP.

Apply Now
Dates and Deadlines
The application period opens in early January and closes in the end of May (Non-EU nationals) / end of September (EU-nationals). During that period the admissions committee reviews applications to the program on a rolling basis.
The Priority Deadline is the last day of February.
If you are from a country that requires you to have a student visa in order to enter Germany, we strongly recommend that you apply as early as possible, to ensure adequate time to obtain your visa.
The MPP program officially begins each year on October 1st, the lecture period begins in mid-October.
Tuition Fee and Semester Contribution
The MPP tuition fee is EUR 1,600 per semester (EUR 6,400 for the entire duration of the program — four semesters).
A student semester contribution, which currently totals about EUR 244, must be paid to the University each semester. Students receive a student ID once payment is fulfilled, which includes access to public transportation within and around the city of Erfurt and to general administration services provided by the University.

Last updated Nov 2019
About the School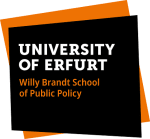 Welcome to the Willy Brandt School of Public Policy, Germany's oldest public policy school situated within its newest public university. Created in 2002 as part of the Faculty of Legal, Social and Eco ... Read More
Welcome to the Willy Brandt School of Public Policy, Germany's oldest public policy school situated within its newest public university. Created in 2002 as part of the Faculty of Legal, Social and Economic Sciences it has operated since as an interdisciplinary, practice-oriented and international institute of higher education that has been preparing students for the demands and challenges of today's complex political world.
Read less