Read more about this program on the institution's website
Program Description
A practical degree for tomorrow's leaders
The Hertie School's Master of Public Policy (MPP) is a two-year, full-time programme in English that equips students with the skills needed to analyse policies, critically assess innovations and evaluate solutions using quantitative and qualitative methodologies. This programme offers a problem-oriented approach to governance that prepares future decision-makers for careers in the public, private and non-profit sectors.
Our growing alumni network offers students and graduates access to an international community of successful policy professionals in leading organisations in many countries.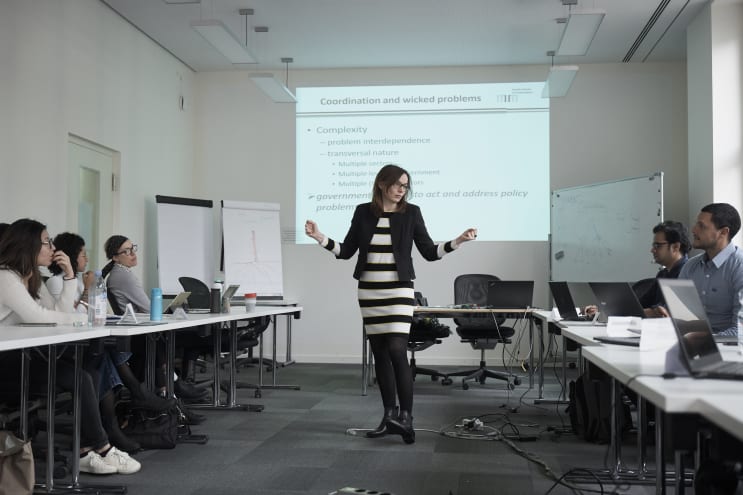 Specialise in policy analysis or management
At the end of your first semester, you will choose between two areas of concentration:
Policy analysis – focus on methods and tools of analysis such as statistics, econometrics or behavioural economics.
Management and organisation – explore competencies such as strategy, change management or organisational design.

Get a glimpse of some of the relevant, real-world topics that our students take on
Dual-degree programmes
Want to gain even more international experience? Spend one year at the Hertie School in Berlin and one year at a world-renowned partner institution. At the end of the two-year programme, graduate with a degree from each university. The Hertie School has dual degrees with the following partners for the MPP programme:
School of Public Affairs, Sciences Po
Maxwell School of Citizenship and Public Affairs, Syracuse University
Bocconi University
Graduate School of Public Policy, University of Tokyo
London School of Economics
School of International and Public Affairs, Columbia University
Get a head start on your career
Career development and practical training are integrated into the curriculum. In addition to developing soft skills in two professional development workshops, MPP students take a project course to work on a real-world problem in collaboration with a policy institution. All Hertie School students must complete a summer internship between their first and second year of study. Those who wish to gain even more work experience may apply for a Professional Year. To help students meet future employers, the school has established relationships with a range of institutions such as ministries, international companies and NGOs.
At the Hertie School, we know that career planning is a lifelong matter. Our dedicated career team is here for you – both during your time at the Hertie School and after you graduate. Schedule a one-on-one career counselling session or take part in group workshops, alumni panels and other exclusive events.
Financial aid and scholarships
The Hertie School offers tuition waivers covering between 10% and 100% of tuition fees. Financial aid (partial tuition waivers) and scholarships (profile-based full scholarships which often require additional application materials) are granted for the entire period of study and are allocated on a rolling basis up until the final application deadlines. However, we encourage prospective students in need of financial assistance to apply by our priority deadlines. To apply for financial support from the Hertie School, please follow the instructions very carefully in the online application portal.
About half of our students receive a financial aid offer from the school, and most students rely on a mixture of tuition waivers, external scholarships, loans and student jobs to finance their studies.
Apply today
Admissions to the MPP programme are on a rolling basis. We have a holistic evaluation process taking academic performance, personal suitability and motivation into account, and we encourage prospective students from all academic disciplines to apply. You must submit your application via the Hertie School's online portal. Please find detailed information on admissions requirements on our website.
Applicants seeking financial assistance are encouraged to apply by the priority deadline on 1 February. Applications will be accepted until 1 May.

Gloria Guerrero (MPP 2017), promoting civic participation and freedom of speech in Mexico
Berlin – a great city for students
Explore one of the coolest European capitals with your public transport ticket! With a student ID, not only can full-time students use Berlin's extensive network of buses, trams, trains and subway lines to discover the city at a discount, but they can also take part in many cultural and social events at specially reduced rates. Form art, music, and politics to shopping, trying different international cuisines, exploring nature and more, Berlin has something for everyone.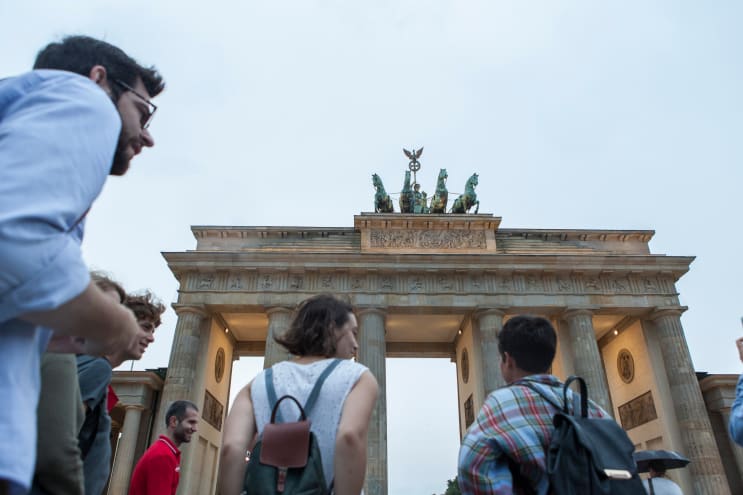 At the Hertie School, our International Office and Student Life team support students with their arrival in Berlin, finding accommodation in the city, and any and all matters related to bureaucracy. Want to learn German during your studies? Take classes at one of our partner language schools. Looking to connect with peers who share your interests? Start a student club! At the Hertie School, there are so many ways to engage with your fellow students and the wider community in Berlin.
Last updated Nov 2020
About the School

The Hertie School is an international teaching and research centre of excellence that prepares students for leadership positions in government, business, and civil society.
The Hertie School is an international teaching and research centre of excellence that prepares students for leadership positions in government, business, and civil society.
Read less