Master of Public Administration (MPA)
Home ›
Master ›
Master of Public Administration (MPA)
Read more about this program on the institution's website
Program Description
Students enroll in the Public Administration program because it well prepares them with the skills needed to become great leaders and better their communities, implement meaningful change in government and non-governmental organizations. The program prepares students to execute impactful strategies that positively influence their communities. With its small cohort approach, the program benefits from the perspectives of both domestic and international students.
The Master of Public Administration degree is the recognized professional degree for careers in public service. JMU's MPA program is appropriate for professionals already employed in government, nonprofit organizations, and firms that deal extensively with the government. Through its internship, the program also helps to launch the careers of students who seek to enter the public sector.
Why an MPA?
A Master's degree in Public Administration gives students the knowledge, skills, and tools necessary to have a successful career working in the nonprofit and public service sectors. An MPA degree overlaps with the Masters of Business Administration degree (MBA), but it focuses on what students need to be successful in the public sector, versus what they need to be successful in the private sector. A successful career as a public manager provides the opportunity to shape our communities and enhance every individual's quality of life.
The program accommodates both full-time or part-time students, although to conform with student visa requirements, international students must complete the program as a full-time student. Students may begin either in August or January.
Today's complex environment demands managers with the knowledge, skills, and experience necessary to meet the fiscal challenges these careers demand. An MPA from James Madison University provides students with these skills.
Through engaged teaching, research, and service, the MPA program equips current and future public service professionals with the capacity to address complex local and global problems.
Our program serves both recent undergraduates and experienced public servants looking for:
Small classes and personal attention from professors.
A core curriculum emphasizing administrative competency and practical skill development for public servants.
Exciting internships and applied field experiences in a wide array of organizations.
Current JMU undergraduates can also apply to the five-year degree program.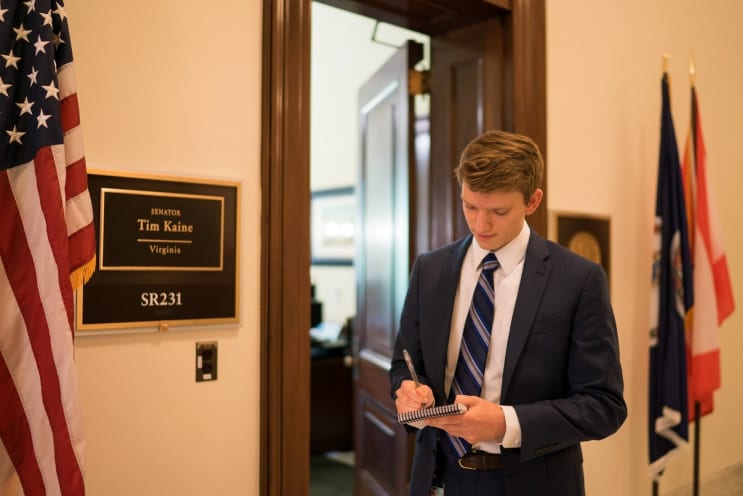 Our Students
Our graduates have taken jobs in all sectors of governance and secured prestigious fellowships such as the Presidential Management Fellowship and ICMA's Local Government Management Fellowship. Last year graduates (12) have found employment at all levels of government as well as in the nonprofit sector.
MPA Programs of Study
The Master of Public Administration degree requires 36 credit hours of course work and six credits of internship. The internship is not required of "in-service" students, those presently employed or recently employed in a substantive position in the public sector. The curriculum consists of a common component, a concentration, and a capstone course. The common curriculum enables students to function effectively in the public and nonprofit sectors. Students will learn concepts of organization, public management, human resource administration, program and policy evaluation, budgeting, and administrative law.
There are four defined concentrations:
Public Management
Nonprofit Management
International Stabilization and Recovery Operations
Management of International Nongovernmental Organizations
In addition, students may design an individualized concentration in consultation with the MPA director. The individualized concentration may draw upon courses in other graduate programs at JMU and graduate courses offered by other accredited institutions with approval from the MPA director.
In addition to a concentration, students who do not have a significant professional work background in administration are expected to complete a supervised internship with a public or nonprofit agency. The internship will support the student's concentration. All students must take the program capstone course in their final semester of study. The capstone emphasizes professional and ethical application and documentation of core public management competencies.
Students admitted to the program must seek advice from the MPA director before registering for classes. The director will also assist students in planning a program of study.
Admissions Requirements
The MPA program welcomes applications from students who recently earned their bachelor's degree and experienced professionals seeking to develop and strengthen a broad set of administrative skills. To apply, applicants must submit:
Recent scores from the Graduate Record Examination (GRE) or the Graduate Management Admission Test (GMAT).
A statement of purpose, outlining professional goals, and motivation for pursuing the M.P.A. degree.
A professional resume summarizing education, work, and volunteer experiences.
Transcripts of all previous undergraduate and graduate work.
Evidence of successful completion of previous course work in U.S. government and statistics.
What are the application deadlines?
The MPA program has a rolling admissions process. Generally, we need to have your completed application at least 6 weeks prior to the start of the semester in which you intend to enroll. To be considered for assistantships, students must have a completed application on file by April 1st.
Last updated Oct 2020
About the School
We know that success requires equal parts intellect and action. At JMU, that's what Being the Change is all about. When students graduating from James Madison University proudly walk across the stage ... Read More
We know that success requires equal parts intellect and action. At JMU, that's what Being the Change is all about. When students graduating from James Madison University proudly walk across the stage to receive their diplomas, they're more than just educated.
Read less