Master of Project Management in Construction
Home ›
Master ›
Master of Project Management in Construction
Program Description
The Asian Institute of Technology promotes technological change and sustainable development in the Asian-Pacific region through higher education, research, and outreach. Established in Bangkok in 1959, AIT has become a leading regional postgraduate institution and is actively working with public and private sector partners throughout the region and with some of the top universities in the world.
The Project Management in Construction field of study trains professionals to play a leading role in the international construction industry. It molds students to become active leaders in the construction industry and large construction project. The program prepares for students:
To become outstanding managers and decision-makers familiar with the modern techniques of construction management, engineering management, and infrastructure management
To more competent and capable to manage international large construction projects
To be able to assist the corporation to install and develop project management system in a company
Main Features of the Program
One year professional AIT Master's degree.
Credits can be accumulated during four years
Certificate course works
International field trip to the large construction sites in the region
Study language: English.
Program Structure
AIT Professional Master Program is designed for those engineers who cannot leave their work while following a master program. The program is conducted in one year. To complete the master program, participants need to complete 11 courses and 1 project report with total 33 credits.
In the first two semesters, students will take basic and advanced courses selected in consultation with an academic/thesis advisor from among the regular courses offered at AIT. During the third semester, students will carry out their project study. Students will conduct international field trips:
First trip: Study at AIT
Second trip: visit the large construction sites outside Vietnam, such as Thailand, Singapore, Malaysia, Indonesia, China and Taiwan or do internship in AIT Thailand
Third trip: to AIT to attend Graduation ceremony
English Entry Requirement
AIT is an international institute with English as the sole language of instruction. Admission to AIT requires proof of English language proficiency which may be satisfied in any requirement of the following:
IELTS (5.0)
TOEFL (Paper-based: 500; Computer - Based:173; or Internet-based: 61)
AITEIT. Applicants can apply for English Test offered by AIT at AIT-VN. English Test fee:25 USD.
Entry Requirements
To be eligible for admission to the AIT Professional master's program, an applicant must:
Hold a Bachelor degree (normally from a four-year program), or its equivalent, in an appropriate field of study.
Have undergraduate grades significantly above average.
Have good command of English
At least three years of working experiences
Application submission fee: 20 USD. This fee is paid to AIT when applicants submit the application documents.
Teaching Schedule
The program is conducted during non-working hours (weekends and evenings)
Faculty
Faculties are from Construction Engineering and Infrastructure Management (CEIM) program – AIT. CEIM is highly experienced in project management education, from short training programs to master programs, doctoral programs, and post-doctoral programs. So far, there are more than 800 masters and doctors graduated in Project Management program and more than 500 trainees from short training programs received certificates offered by CEIM. CEIM also has its strong partnership with government's construction organizations and industrial zones in providing consultancy services and professional research to enhance the quality of construction projects.
Tuition and Fees
Tuition and fees can be paid in 3 installments and at the beginning of each semester. Total tuition and fees: USD 13,625 (USD375/credit).
Last updated Oct 2017
About the School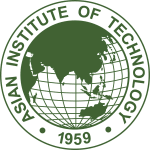 Established in 1959, AIT is a leading international, intergovernmental institute of higher learning in Asia. AIT works with both public and private sectors throughout the region and some of the top un ... Read More
Established in 1959, AIT is a leading international, intergovernmental institute of higher learning in Asia. AIT works with both public and private sectors throughout the region and some of the top universities
Read less