Master of Professional Accounting
Program Description
Overview
By choosing to study an MPA at JCU Brisbane, you will undertake advanced learning in both theory and professional practice whilst learning to solve accounting and business problems in innovative ways. Students will be equipped with the skills to advise companies on current and future financial issues, enabling strategic goals to be achieved.
Students completing the MPA degree are in an excellent position to succeed in managerial positions in a range of government and commercial organizations. MPA graduates from JCU are well-placed to enter organizations in industries such as mining, manufacturing, retail, consulting, human resources and marketing.
Students undertake subjects spanning the full spectrum of business skills including accounting, economics, business law, taxation, statistics, human relations, finance, marketing leadership, and strategy, to ensure they have all the skills and knowledge necessary to fulfill the complex role of an accountant.
The Master of Professional Accounting is open to graduates from any discipline and can also be taken as a joint degree with the Master of Business Administration (MBA).
Course Structure
The MPA is made up of 16 subjects. Students must undertake all 12 core subjects and four (4) foundation business subjects.
Foundation Subjects
LB5202 Marketing Management
LB5205 People in Organisations
LB5212 Accounting and Finance for Managers
LB5236 Comparative Global Business Systems
Core Subjects
CO5103 Management Accounting
CO5109 Corporate Finance
CO5117 Accounting and Assurance Services
CO5118 Auditing and Assurance
CO5119 Business Law
CO5120 Taxation Law
CO5121 Law of Business Organisations
CO5122 Accounting for Corporations
CO5123 Advanced Issues in Accounting
CO5124 Data Analysis and Decision Modelling
LB5229 Economics for a Sustainable World
LB5235 Practical or Research Project
Note: Eligible students holding acknowledged cognate business qualifications may seek exemption from the four (4) Foundation Business subjects when submitting an application for admission into the MPA program.
Fees
Standard Trimester: 6 (2 Years)
Subject Total: 16
Fee per Subject (2017): $3,500
Total Course Fee (2017): $56,000
Fee per Subject (2018): $3,750
Total Course Fee (2018): $60,000
Academic Entry Requirements
Completion of a recognized and appropriate bachelor degree in any discipline other than an accredited CPA/ICAA Accounting program. (Students holding
non CPA/ICAA accredited overseas accounting degrees may be admitted into this program).
AQF Framework
National policy changes as part of the Australian Qualifications Framework (AQF) mean that all master level programs will need to be of two years duration where a student does not have an undergraduate degree in a cognate discipline. Students with an undergraduate degree in a cognate discipline will be eligible to complete a 1.5-year master degree.
For JCU, duration of two years is equivalent to 16 subjects. At present most of the business masters by coursework programs are 12 subjects (1.5 years of full-time study)
Following a 3 year Level 7 qualification in a non-cognate discipline, the master degree must be 2 years in duration. If the Level 7 qualification is in the same discipline area they may be 1.5 years.
English Entry Requirements
If your native language is not English you generally need to demonstrate your English language proficiency by achieving a score in a test such as Academic IELTS or TOEFL or Pearson (PTE Academic) (see table below). Other English language tests may also be accepted as proof of English language proficiency.
If you have successfully completed two years full-time study in which the language of instruction was English may satisfy the English language requirement. To be considered, the study must have been undertaken no more than two years prior to the date of application. You will need to provide a certificate or statement issued by the Registrar's office of that institution confirming this.
IELTS: 6.5 (no sub-score below 6.0)
PEARSON (PTE Academic): 64
TOEFL ibt: 90 (minimum writing score of 21)
TOEFL Paper: 570 (minimum test of written English score of 4.5)
Cambridge: CPE (Grade C, score 45+), CAE (Grade C, score 58+)
CEFR Level: B2/C1
Potential Career Options
• Assistant Accountant
• Auditor/Risk Accountant
• Financial Analyst
• Bookkeeper
• Financial Accountant
• Taxation Accountant
Last updated Sep 2019
About the School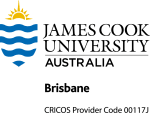 James Cook University (JCU) is the second oldest university in Queensland and Australia's leading university in the tropics. Offering excellence in teaching and research, JCU is a vibrant, multi-camp ... Read More
James Cook University (JCU) is the second oldest university in Queensland and Australia's leading university in the tropics. Offering excellence in teaching and research, JCU is a vibrant, multi-campus university with its main sites in the tropical Queensland cities of Townsville and Cairns, and modern city campuses in Singapore and Brisbane.
Read less