Master of Molecular Science and Software Engineering (MSSE)
Home ›
Master ›
Master of Molecular Science and Software Engineering (MSSE)
Read more about this program on the school's website
Program Description
JUST Announced!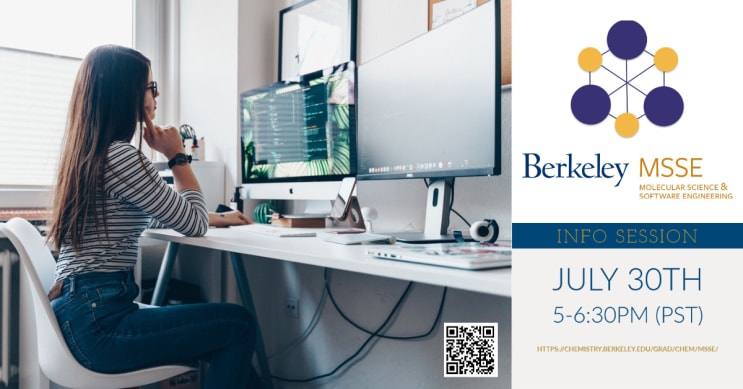 MSSE Info-Session: Introducing the advanced curriculum
০ Overview ০ Advanced Curriculum ০ Faculty ০
Thursday, July 30, 2020, 5:00-6:30pm (PST)
You are invited to our next UC Berkeley Master of Molecular Science and Software Engineering (MSSE) Information Session on Thursday, July 30, 2020.
Our time together will focus on the advanced MSSE curriculum including Machine Learning and Deep Learning, Software Engineering for Scientific Computing, and Computational Chemistry and Materials Science presented by Prof. Teresa Head-Gordon, Prof. Martin Head-Gordon, and Dr. Hans Johansen.
In addition to the course overviews, we will provide an overview of the MSSE program and a Q&A where you can get answers to any of your questions.
You can register for the session by RSVPing here and we will email you the link to the meeting.
We hope you will join us and look forward to zooming with you!
MSSE
The Master of Molecular Science and Software Engineering (MSSE) is a two-year, part-time, online professional degree offered by the College of Chemistry in collaboration with the College of Engineering. MSSE brings the immense intellectual resources of UC Berkeley to you, wherever you are. It is taught by the same world-renowned faculty that teach the UC Berkeley resident graduate programs. MSSE is designed to formally train students at the intersection of computational science (with an emphasis on molecular science), software engineering, machine learning, data science, leadership, and management so that they can develop, innovate, and lead software enterprises.
Developing the Next Generation of Scientific Leaders
The leaders of today are true renaissance women and men. MSSE prepares you to become a leader in innovation through uniquely designed courses and collaborative projects that train you to work in multidisciplinary teams, design and develop computing simulations, manage, integrate, and interpret complex datasets, manage resources, and think on your feet.© University of California, Berkeley
About the Program
The Masters in Molecular Science and Software Engineering (MSSE) program stands at the intersection of computational science, software engineering, data science, leadership, and entrepreneurship. MSSE is a unique program that provides critical thinkers with the practical skills needed to develop sophisticated computational models to solve large-scale challenges. MSSE teaches software engineering from a scientific computing context and prepares you to become a leader and innovator in the development of new technologies, rather than a user. It does this through a sequence of courses each providing new concepts and skills while consolidating the previously acquired ones. MSSE courses, just like the areas of expertise of an effective science team member, are interrelated and not taught as silos. They teach you the theory and also give you plenty of hands-on experience and, most importantly, they provide exercises that are not based on toy problems but real-life ones.
Our program combines the immense intellectual resources of the College of Chemistry, the College of Engineering, and the Fung Institute at UC Berkeley, with online courses created by world experts and committed faculty in the training of the next generation of leaders in scientific computing and software engineering. Furthermore, we are very fortunate to have a close relationship with the Lawrence Berkeley National Lab (LBNL) and its world-class expertise, equipment, and facilities, which include Cori, one of the fastest supercomputers in the world.
At MSSE, we believe that progress in science and technology will come from the rich combination of ideas that only a well-trained multidisciplinary and diverse community can create. Therefore, one of the central missions of MSSE is to use the power of the internet to expand the reach of the extraordinary educational content at UC Berkeley to increase the involvement of women and underrepresented minorities as next-generation leaders in computational science and software engineering.

Why the MSSE Program?
MSSE provides students with a unique opportunity to integrate online learning with hands-on applications through projects designed in collaboration within industry and government labs.
Our degree provides the formal preparation in basic computational science practices, from algorithms to software that is usually missing from the undergraduate or graduate curriculum. Our program integrates numerical approaches to solving complex problems with software best practices to enable students to become effective scientific and engineering leaders. Our students graduate with the abilities to translate highly sophisticated theory, models, algorithms, and data analytics into software frameworks that others can use or build upon.
MSSE provides:
Computational tools to comfortably work within a range of scientific domains, including molecular simulation, materials science, data science, and machine learning.

Software engineering practices to develop software frameworks that others can use or build upon.

Statistical and machine learning tools to develop sophisticated analytics models for the interpretation and integration of large, complex datasets.

Leadership, management, and entrepreneurial skills with an ethics focus.

Practical skills through projects based on real-life, multidisciplinary applications.
MSSE Curriculum
The 2-year MSSE part-time program consists of a total of four semesters (2 Fall & 2 Spring) each with two 8-week modules. The program starts and ends with on-campus boot camps. All other MSSE courses will be delivered online for a total of 28 units.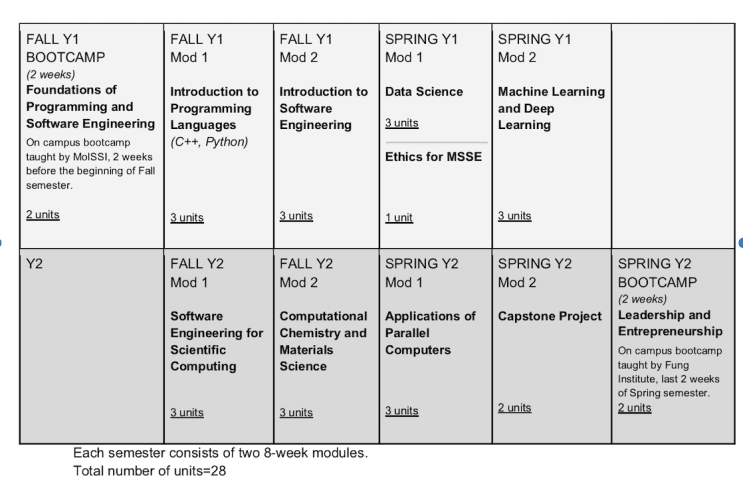 Cost of the MSSE Program?
The academic year 2021 (Fall 2020 and Spring 2021) approved tuition and fees are $41,222 (USD) per year with insurance or $35,540 (USD) without insurance regardless of residency. The fee does not include the cost of living and any personal costs that may be required to complete the program. The fee may increase in subsequent years based on the approval of the University of California Office of the President.
For more information review the Graduate Division Financial Aid page. https://grad.berkeley.edu/financial/
MSSE Eligibility & Application Procedures
Eligibility
The program is designed for recent graduates and individuals with several years of professional experience. Candidates are required to provide evidence of the following to be considered for the program.
B.A. or B.S. in a physical science or engineering discipline from an accredited institution.

Transcript from every post-secondary school ever attended.

Prior coursework in linear algebra and multivariable calculus, and chemistry, materials, or physics.

Prior exposure to programming methodology.

A minimum grade-point average (GPA) of 3.0 (B) on a 4.0 scale.

Minimum TOEFL score of at least 90 for the Internet-based test (IBT) or 570 for the paper-based format (PBT) or at least a 7 on a 9-point scale for the IELTS, as appropriate.

Three letters of recommendation.
Application

All applications must be submitted through UC Berkeley's online Graduate Application for Admission and Fellowships site for graduate admissions. Please take care to ensure all email addresses, as well as your own email address, are entered correctly. The application has several sections, including two essays. Applicants must fulfill all sections of the application to be considered.

Fall 2021 Application Dates

UC Berkeley Graduate Division will start accepting applications for the Fall2021 cohort of MSSE Master students on Tuesday, September 8, 2020, through Monday, January 25, 2021.

Admission Decisions

Applicants offered admission for the fall semester will typically be notified by late February or early March. Applicants who are not offered admission will be notified by the Program as the admissions committee makes its decisions.
Last updated Jul 2020
About the School

The University of California was founded in 1868, born out of a vision in the State Constitution of a university that would "contribute even more than California's gold to the glory and happiness of a ... Read More
The University of California was founded in 1868, born out of a vision in the State Constitution of a university that would "contribute even more than California's gold to the glory and happiness of advancing generations."
Read less