Master of Management in Finance (MMF)
Program Description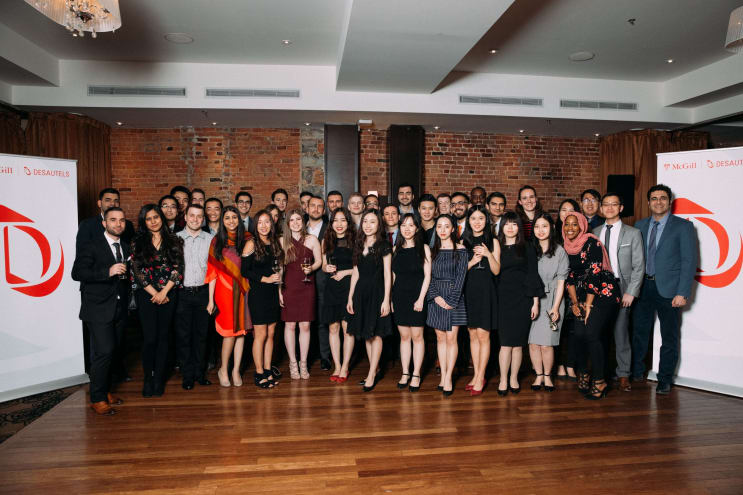 The McGill Master of Management in Finance (MMF) degree is a pre-experience twelve-month specialized program in finance. The MMF program prepares students for a career in finance through a comprehensive curriculum that integrates advanced financial concepts and quantitative methods with real-world business practices.
The MMF is designed for recent graduates with a Bachelor of Science, Engineering, Economics, Arts or Commerce degree and with proven quantitative skills who aim to work in the finance industry or in the finance function of a business. The next cohort starts in Summer 2020.
Gain real-life business experience
Throughout the program, Master of Management in Finance students work as analysts at Desautels Capital Management Inc., a licensed and regulated investment management firm with an independent board of directors.
Major responsibilities will include covering a sector and managing the DCM firm's portfolio.
Program structure
The Master of Management in Finance consists of eleven courses (33 credits) delivered over six modules. Concurrently students will also be expected to complete an Integrative Finance Project (12 Credits).

Six Modules
1st Module:
FINE 678 - Financial Economics (3 Credits)
This course covers the basic principles of valuation in modern finance and applies them to the pricing of financial securities and to the investment decisions of firms. Topics include interest rates, the valuation of bonds, stocks and options, optimal portfolio choice, the price of risk, and capital budgeting. The course serves as a foundation for the rest of the finance courses in the program.
FINE 690 Advanced Topics in Finance (3 Credits)
Optional, for students with a prior background in Finance.
The objective of this course is to learn the main principles of securities trading and market making in different asset classes. In addition to lectures, the course content draws heavily upon in-class market simulations and covers the topics of high-frequency trading, market makers inventory management, asymmetric information and price discovery, risk management of trading strategies in the stock, fixed income, as well as equity options and commodity markets. This course is intended for students who are planning to pursue a career in trading, investment management or, finance and technology.
FINE 680 – Investments (3 Credits)
This course provides the tools to become a successful investment manager. Students learn how to establish appropriate investment objectives, develop optimal portfolio strategies, and evaluate investment performance. The course is designed to be highly interactive and hands-on. Students become proficient in navigating financial data platforms −Bloomberg, Eikon, Morningstar−, executing trades on a state-of-the-art market simulator, developing models of asset allocation, back-testing trading strategies, and producing professional investment reports.
2nd Module:
FINE 679 - Corporate Finance Theory (3 Credits)
This course provides a framework for understanding how firms finance their activities. The course studies the different forms of financing available to firms (e.g., bonds, loans, stocks, warrants), the sources of these funds (e.g., banks, private equity, institutional investors, individual investors), and how firms' capital structures are shaped by corporate and personal taxes, bankruptcy costs, conflicts of interests between shareholders and debt-holders, and differential access to information in capital markets. Students apply these analytical tools to case studies that emulate real business situations to learn how to design securities to maximize value and to optimize payout policy.
FINE 681 - International Capital Markets (3 Credits)
This course provides a comprehensive analysis of international capital markets including the financial assets traded in these markets, e.g., debt securities, equities, and currencies, the performance of the asset management industry, and the in-depth coverage of the recent international financial crises. This course also covers the theoretical models that characterize open economies and that explain how prices, interest rates, inflation, and exchange rates are determined.
3rd Module:
FINE 682 – Derivatives (3 Credits)
Derivative securities have become an extremely important part of financial markets and have taken a prominent place in the debates surrounding financial crises, not least after the recent subprime and sovereign episodes. A strong understanding of derivatives is now key for many roles such as corporate treasurers, fund managers, institutional investors, risk managers, traders and, more generally, at any senior management level. In this course, students become familiar with the various derivative markets and uses of their respective products. Valuation and risk management models of these products are dealt with in detail while remaining focused on practical applications.
ACCT 604 - Financial Statements 1 (3 Credits)
This course provides an overview of the financial reporting system with an emphasis on the conceptual background and tools required to understand, analyze, and exploit the information contained in financial statements. The course combines lectures on concepts and methods with practical cases in which students apply the learned tools to real business situations. The course also provides the understanding of how alternative practices in financial reporting affect corporate financing and investment decisions.
4th Module:
FINE 683 - Advanced Corporate Finance (3 Credits)
This course studies the critical steps in the financial and economic maturation of a firm: venture capital financing rounds, initial public offerings, leveraged buyouts, mergers, divestitures and spin-offs. On each of these topics, the course offers an in-depth analysis of the process, of the parties involved and on the sources of gains and inefficiencies. The course also uses these operations to illustrate a series of advanced topics in corporate finance, namely, the corporate governance of firms, the role of risk management, the impact of product market competition on funding choices, and the relationship between trading in financial markets and firms' financial decisions. All these issues are approached from different angles, i.e., lectures, case studies, simulations, and interventions from the practitioner community.
FINE 684 - Fixed Income Markets (3 Credits)
Fixed income markets, the largest financial marketplace in the world, involve a large and diverse set of participants and market structures. In this course, students acquire a thorough grasp of fixed income instruments and their use in asset management, financial engineering, and risk management. The course covers fixed income mathematics, risk concepts, term-structure analysis, credit risk modelling, and derivatives valuation. In addition, significant time is spent on the most recent market developments such as mortgage-backed securities, securitization and credit derivatives.
5th Module:
FINE 685 - Market Risk Management (3 Credits)
Corporations and financial institutions face a plethora of risks, and finance professionals need the know-how to measure and manage these risks. In this course, students acquire the tools to critically appraise commercially available risk management systems and to understand the use of derivatives in risk management. The course covers state-of-the-art risk measurement and management techniques and the technical skills required to implement them.
FINE 688 - Mergers and Acquisitions (3 Credits)
The objective of the course is to gain an understanding of the reasons firms engage in merger and acquisition activities and the processes used to successfully accomplish and create shareholder value from these activities. Topics include valuation in merger and acquisitions, joint ventures and alliances, cross-border M&A, and divestitures.
6th Module:
FINE 673 - Finance Fundamentals (3 Credits)
This course focuses on the impact of technological innovation on financial services. Building on the fundamental economics of legacy payment and banking systems, the course examines the emergence of cryptocurrencies and provides an in-depth analysis of the mechanics of blockchains, from validation protocols (proof-of-work versus proof-of-stake) to access (permissionless versus permissioned blockchains). We will examine applications of blockchain technologies to smart contracts, supply chains and trade finance, or interbank payments, and study ICOs as a source of initial funding for start-ups. The course will also cover crowdfunding and peer-to-peer lending as (partial) forms of financial disintermediation. Throughout the course, we will explore how new data sources and increased processing capabilities affect the relationship between lenders and borrowers, investors and firms, and traders within a financial market.
Integrative Finance Project
BUSA 689 - Integrative Finance Project (12 Credits)
The integrative finance project is a core component of the program. It provides the opportunity to immediately put into practice the skills and knowledge that students acquire in the classroom. Students fulfill this requirement in three overlapping stages:
Desautels Capital Management Inc. (August to July): Upon entry into the program, students join Desautels Capital Management (DCM) as analysts. DCM is a licensed and regulated asset management firm, with an independent board of directors and external investors. As analysts, students are responsible for a particular sector, identifying investment opportunities, and pitching them to colleagues. In addition, students are responsible for dealing with regulatory issues, compliance, trading and execution, back office settlement, preparation and filing of financial statements, and communication with clients.
Professional Seminar Series (August to April): Seminars will be held regularly to expose students to current issues and practices in financial markets. The seminars will be given by professionals from various industries, e.g. hedge funds, pension funds, tax/legal accountants, etc., and will provide unique networking opportunities.
Final Project (February to July): Students will work on a finance topic of their choice under the supervision of a faculty member. Throughout the project, students will have the opportunity to think independently and creatively about an important financial topic, apply their quantitative skills, and ultimately showcase marketable skillsets in an area of their interest.
International Study Trip
In October 2019, students enrolled in the Master of Management in Finance (MMF) program travelled to New York City to witness firsthand how today's financial sector operates in a booming metropolis.
Over the span of two days and thanks to McGill's extensive alumni network, students met with 12 distinct financial organizations that operate across a variety of areas, such as asset management, real estate, risk management, and private equity.
Applying to the MMF Program
You are about to make the right decision. The McGill Master of Management in Finance is designed for high-achieving, ambitious students interested in a career in finance.
Admissions criteria and decisions are based on the following components:
An undergraduate degree and any further academic qualifications. Work experience is not required.
Completion of the Graduate Management Admissions Test (GMAT) or the Graduate Record Examination (GRE). Applicants with a graduate or undergraduate degree from any Canadian university are not required to submit the GMAT or GRE score.
In addition, applicants who completed their undergrad degree in a university where the language of instruction was not in English are required to complete the TOEFL or IELTS.
The admissions committee will also carefully review your essays and letters of reference.
Only qualified applicants will be called for an interview with a member of the admission team.
Career Resources
Located in the Soutar Career Centre, Career Services at the Desautels Faculty of Management is dedicated to helping students develop their career management skills and explore career paths that enable them to ultimately achieve their career goals. Innovative programs, workshops and speaker series coupled with an integrated learning approach prepare our students and give them the skills to make an impact in their careers throughout their lifetime.
Career services work closely with you from Day 1 to help you:
Define your career strategy,
Improve your CV & Cover Letters,
Network with McGill alumni and Employers,
Practice and acing the interview techniques,
Negotiate a job offer to achieve your best interest.
Last updated Dec 2019
About the School

McGill University is one of Canada's best-known institutions of higher learning and one of the leading universities in the world.
McGill University is one of Canada's best-known institutions of higher learning and one of the leading universities in the world.
Read less
Accreditations