Master of International Business
Program Description
Programme Overview
The programme's mission is to ensure that students develop a strong competency in international business practices and a deep understanding of the global business environment.
The world is changing rapidly and the dynamic global economy mandates a new generation of business leaders with global thinking and proactive mind. More and more local companies today become dependent on global markets. To succeed in this complex environment, a traditional business education is incomplete. Today's successful business leaders must possess a long-term vision of tomorrow's risks and opportunities in the world market place, essential not only for global companies but also for those aspiring to be.
The Master of International Business programme is a unique hybrid of a business degree and an international affairs degree. The MIB aims to equip students with both the traditional business skills and the knowledge in the political, economic and socio-cultural aspects of the global marketplace. Unlike the standard MBA which is insufficiently international or globalizes functionally oriented curricula, this programme ensures that graduates not only understand how companies operate, but also the complex context in which they operate.
This unique innovative programme is the first of its kind in Russia. The curriculum and the core aspects of the programme meet the requirements of the world's most advanced MIB programmes.
MIB business partners:
Henkel, Volga-Dnepr Group, American Chamber of Commerce in Russia, Michelin, Unilever
MIB business partners offer multiple master-classes and workshops, as well as participate in the "International Business Consulting" project.
Why MIB?
Are you dissatisfied with your first career choice? Do you dream about a successful international career? Or are you simply looking for more knowledge to advance in your current position or start your own business domestically or abroad? Or perhaps you are interested in international affairs but would like to have a more practical application to your degree?
Then the Master of International Business (MIB) programme will help you become a successful business leader in this politically, socially and economically challenging and exciting world. The MIB programme recruits the best teaching faculty and business professionals to deliver the most competitive curriculum and enable students to make the most out of their learning experience.
Programm benefits:
The programme is practice-oriented;
Some courses are taught by senior executives of global and multinational companies, including PricewaterhouseCoopers; Michelin; Egon Zehnder International; Baker & McKenzie; Kimberly-Clark Corporation; Roche & Duffay; Volga-Dnepr Group;
Students are offered a wide variety of elective courses to customize their education;
Students may choose to study at a partner university abroad for one semester;
Students do a real-life consulting project for a client – one of the programme's business partners;
Students stay constantly exposed to the real business world through regular workshops, projects and master-classes presented by company executives at all levels;
Evening and Saturday classes enable students to work and study at the same time;
Students build extensive networks for a future career.
Our graduates will be able to:
Analyse foreign and domestic markets;
Assess regional political and economic risks and opportunities;
Make financial and investment decisions;
Hone negotiation and dispute resolution skills;
Understand the social and cultural influences on doing business globally;
Create a business plan for a new venture;
Effectively use various marketing and advertising tools;
Manage consulting projects;
Conduct strategic company planning;
Select the best business format and strategy of foreign market entry;
Collect, process and present data necessary for project completion and planning.
Curriculum
Programm duration: 2 years full-time (120 ECTS credits), on-campus only.
Language of instruction: English
Classes meet in the evenings and on Saturdays (usually 4 times per week: 3 weeknights and a Saturday).
In the third semester, students may choose to study abroad at a partner university.
Programme structure
Our students take advantage of a wide variety of core and elective courses to customize their education.
The Master of International Business Programm consists of the following elements:
Core courses 42 ECTS credits total
Core courses form the foundation of skills and knowledge in the key areas of international business and international affairs. Core courses are obligatory and students take the core courses in their first year of study.
Elective courses 20 ECTS credits total
Elective courses allow students to customize their education to suit their own interests and career goals. Students take a total of five elective courses: one in the second semester and four in the third semester. Through elective courses, students build the unique expertise and marketable skills in the areas of their choice.
Adaptational courses (Additional Programme component): 6 ECTS credits total
For students who do not have a substantial background in global economy, international affairs, finance and management the Programm offers adaptational courses aimed at building a solid base for further more in-depth knowledge of specific subjects.
Optional courses (Additional Programme component): 3 ECTS credits
Students may choose to take an optional course as an additional component to their curriculum.
'International Business Consulting' project (2nd semester, core course)
'International Business Consulting' is the programme's key consulting project. In this course students do real-life consulting projects for participating international companies.
Research Seminar: 16 ECTS credits (4 semesters)
In order to gain analytical and research skills students attend a scientific and research seminar. A large part of the seminar is dedicated to the term paper and thesis preparation guidelines.
Term paper (year 1): 6 ECTS credits
Internship (8 weeks in the 4th semester): 12 ECTS credits
Thesis: 24 ECTS credits
Careers and professional opportunities
The interdisciplinary Master of International Business programme is developed for students who have a strong commitment to a career in international business.
Career opportunities
MIB graduates are prepared to become managers, consultants and executives in international companies, their foreign affiliates, branches and representative offices.
Our graduates have a strong competitive advantage at the start of their career as they possess the managerial skills as well as the knowledge in economics, politics, foreign policy, international law, and regional specializations.
Employers of MIB graduates and current students
PricewaterhouseCoopers
KPMG
Ernst&Young
L'Oreal
Korean Embassy in Russia
Michelin
Henkel
Mondelez International
Sakhalin Energy Investment Company
Vogue
Requirements
In accordance with the educational standards of HSE, MIB programme does not require any previous work experience in the sphere of management.
The applicants are expected to have a bachelor or specialty degree, and no specific background is required. Enrollment process does not imply any exams. We accept applications on the basis of portfolio. It should include:
Completed application form,
Resume/CV,
Letter of motivation (maximum 1 page of А4 format, in English),
Scans of diplomas and academic transcripts,
Two letters of recommendation (preferrably one from an employer and one from someone familiar with your academic work),
Scan of English proficiency exam results (IELTS, TOEFL, CAE, BEC Higher, etc.).
Minimum scores:
IETS: 6 overall
TOEFL: 80 IBT; 500 PBT
Applicants should submit test results no more than two years old.
Native speakers of English and students who have completed an entire degree exclusively in English do not need to submit proof of their English ability.
Applicants with no proof of English proficiency will be offered an interview online or on site to determine their English language skills.
You may also include the following:
Publications and research work,
Academic awards, specialized diplomas and certificates,
Grants and scholarships received,
Documents evidencing the completion of courses, workshops, trainings and other in International Business.
Last updated Oct 2019
About the School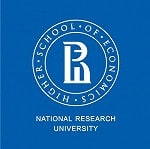 Consistently ranked as one of Russia's top three universities, the Higher School of Economics (HSE University) sets itself apart by its internationally-minded, research-driven approach to higher educa ... Read More
Consistently ranked as one of Russia's top three universities, the Higher School of Economics (HSE University) sets itself apart by its internationally-minded, research-driven approach to higher education. Based in the vibrant center of Moscow, with campuses in St. Petersburg, Nizhny Novgorod and Perm, HSE offers outstanding academics at all levels and includes more than 25 English-taught Master's programmes and 8 English-taught Bachelor's degree programmes.
Read less