Master of International Business
Read more about this program on the school's website
Program Description
The Master of International Business presents an academically rigorous and professionally relevant program of study in contemporary international business issues. The program aims to boost your career advancement in the private, public, inter-governmental and non-profit sectors and will extend skills in the analysis and interpretation of the global business environment.
Through independent research, presentations and case studies, you will acquire the skills needed to gather relevant data for analysis together with the competencies necessary to effectively communicate your decisions. The goals of this degree are to:
Develop the capacity for high-level analysis of international and transnational investment, trade, and management strategy in the context of globalisation
Acquire key skills in communication and negotiation across business cultures
Develop the ability to deal with issues in the international non-profit and inter-governmental sectors as these affect multinational corporations
Study the links between international business strategies and societies, economies and political, and legal regimes
Bridge the gap between the theory of firm internationalisation and the actual internationalisation process in practice
AREAS OF STUDY
SECTION A
Four units (24 points) from the following:
ACM5903 Accounting for business;
BTM5903 Law and business decisions;
ECM5953 Economics
ETM5900 Business statistics
SECTION B
Eight core units (48 points) as follows:
Accounting and finance for International managers
International management
Marketing and the international consumer
International business theory and practice
Introduction to international economics
International trade law
Cross-cultural management communication
International business strategy
SECTION C
Four graduate-level units (24 points) subject to Course Coordinator approval and a maximum of two units (12 points) may be taken from other schools/ faculties.
Contemporary issues in globalisation
International dimension of e-business
International marketing
International finance
Options, future and risk management
International issues in employment law
International study program in international business
You may be considered for credit exemption(s) if you have completed an/a:
undergraduate degree in a relevant discipline* must complete sections (B) and (C)
undergraduate degree not in a relevant discipline*, required to complete all sections above
honours degree not in a relevant discipline* must complete units from (A) and (B)
honours degree in a relevant discipline* must complete all units from (B)
*Relevant disciplines include any major within management, business, and economics with the approval of the course coordinator.
DURATION
1.5 Years (Full-time) /
3 Years (Part-time)
in relevant discipline
2 Years (Full-time) /
4 Years (Part-time)
non-relevant discipline
Scholarships and Financial Assistance
As a student at Monash University Malaysia, you will have access to various scholarships and financial assistance provided by both the university and external benefactors.
Honours Degree Scholarships
Postgraduate Coursework
Postgraduate Research (HDR) Scholarships
External Sponsorship
Study Loans
Other Financial Support
Last updated Apr 2020
About the School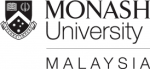 Monash University (Australia's largest) is now ranked 58 globally in the QS World University Rankings! Come, discover and explore your education options at Monash's Malaysia campus. Meet our represent ... Read More
Monash University (Australia's largest) is now ranked 58 globally in the QS World University Rankings! Come, discover and explore your education options at Monash's Malaysia campus. Meet our representatives at a city near you: https://www.monash.edu.my/on-the-road
Read less