Master of Human Resource Management (MHRM)
Home ›
Master ›
Master of Human Resource Management (MHRM)
Program Description
This full-time Master of Human Resource Management (MHRM) degree program is a practical and critical introduction to the philosophy, values, policies, and practices of HRM in the Pakistani context. It provides 21st-century skills, knowledge, and understanding in private and public-sector organizational settings. Contemporary issues in human resource management such as workforce diversity, employee-management relations, recruitment and selection, training and career development, compensation, organizational development and change, and the impact of globalization on organizations are examined.
Objectives
Students who graduate with a Master of Human Resource Management will be able to:
Conduct effective human resource planning
Describe the importance of internal and external organizational environments and the impact of their interrelationships on human resource functions
Explain the processes of job analysis, staffing, appraisal and compensation, career training, and development
Identify various performance appraisal systems and critically evaluate their pros and cons
Learn how to manage/retain the human capital in the organization
Discuss the history of union-management relations
Utilize various processes and tools for bargaining, negotiating, and resolving disputes
Develop effective written and oral communications consistent with the business and professional environment
Apply appropriate information technology to analyze problems and issues, develop business research, report key data, and recommend management strategy and action plans
Interpret and apply human resource principles in a global setting
Describe the history of theories and concepts in human resource management and related fields and apply them in appropriate situations
Evaluate ethical, social, civic, cultural, and political issues as they relate to the environment of human resource management
Rationale
During the last five years, there has been a tremendous addition of major international, multinational and private sector organizations in Pakistan. In addition to this, there has been a realization that the true strength of an organization lies with its human resources. How well an organization is equipped with the tools and techniques of the art of hiring the best people, and developing and retaining them, determines which organization is going to lead the market. This has led to a tremendous demand for specialists in Human Resource Management who can help organizations achieve these objectives. However, apart from a few institutions in the country, there is no other business school that offers a graduate degree in the field of human resource management. The University of Management and Technology (UMT) is well equipped in terms of faculty and other resources to enter this segment, and make its contribution towards the development of human resource function of organizations in Pakistan.

Curriculum Structure
The degree requirements include 60 credit hours of course work. (20 courses of 3 credit hours each).
Entry Requirements
A recognized degree in any area such as BA, BSc or BCom.
Preference will be given to applicants with relevant work experience.
Last updated Jan 2018
About the School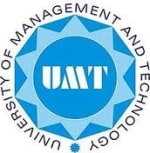 The University takes pride in its institutional climate and academic culture. It provides a friendly and highly supportive environment to its students. There are ample opportunities for positive inter ... Read More
The University takes pride in its institutional climate and academic culture. It provides a friendly and highly supportive environment to its students. There are ample opportunities for positive interaction between students and faculty. UMT encourages students to be receptive to new ideas, to ask objective questions and to pay attention to detail in order to infuse participants with an aptitude for life long learning. It values freedom of speech, permits dissent and welcomes diversity of views. It aims to produce well-rounded individuals who can make positive contributions to society on a personal and professional level.
Read less