Master of Human Capital Leadership
Home ›
MSc ›
Master of Human Capital Leadership
Read more about this program on the school's website
Program Description
One of the top issues facing CEOs and other leaders is managing the dynamics of human capital to meet the strategic business needs. Designed in collaboration with the Human Capital Leadership Institute, CIPD, and Wharton's Center for Human Resources, the MHCL curriculum has a strong anchoring in business with the rigour of an MBA. Through coursework and practical application, you will be transformed to be a future leader of strategic human capital in Asia.
You will also earn the CIPD Level 7 Diploma – the most widely-recognised professional qualifications in the field of HR and Development.
Overview
Understand the foundations of business
Gain perspectives in leading across borders in Asia
Achieve mastery in strategic human resources management
Manage complex human capital challenges dealing with culture, structures, leadership, and talent
Address the global dynamics facing the future of work and leadership
Programme Features
Unique position as Strategic Human Capital Programme
Anchored in business foundations and linked to strategy
Students can opt for professional HR certification (CIPD)
Hot topic workshops related to Human Capital Leadership throughout the period of study
Experience one module internationally during our International segment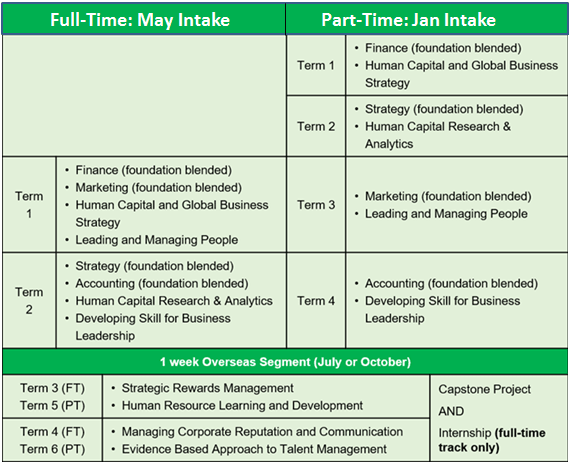 Highlight of Courses
Choose between a 12-month full-time programme for students committed to the curriculum, or a 15-month part-time programme to accommodate working professionals.
Unique position as Strategic Human Capital Programme – Research-based study linked to real-world Human Capital issues.
Anchored in Business Foundations and linked to strategy.
A one-week overseas segment with a top HR college in the US.
Admission Requirements
The Master of Human Capital Leadership programme welcomes all applicants who meet the following criteria for admissions:
Bachelor's degree (in any field).
Minimum relevant work experience (post-Bachelor's degree) of 3 years (part-time track) or 2 years (full-time track).
A good score in the SMU Admission Test / GMAT/ GRE* (Please click here to view the SMU Admission Test Factsheet).
A good TOEFL/IELTS score is required if your degree was not taught in English.
*We will accept good undergraduate GPAs from SMU in place of the admissions test requirement. Speak with your Admissions Manager to find out more.
The part-time track of the MHCL programme is open to all Singaporeans and Singapore Permanent Residents. It is also open to international students who hold a valid Employment Pass (EP) or Dependant's Pass (DP), and do not require a student visa.
The full-time track of the MHCL programme will provide student visas for international students who wish to pursue their studies in Singapore without other employment.
Admission interviews will be conducted for shortlisted candidates.
Fees
Application: S$100
Registration Fee:
S$400 (Locals/ PRs)/S$500 (International Students)
Tuition: S$46,010 (inclusive of GST)
Last updated Jun 2019
About the School

A premier university in Asia, the Singapore Management University (SMU) is internationally recognised for its world-class research and distinguished teaching. Established in 2000, SMU's mission is
A premier university in Asia, the Singapore Management University (SMU) is internationally recognised for its world-class research and distinguished teaching. Established in 2000, SMU's mission is
Read less