Program Description
The New York Academy of Art is a graduate school of fine art focused on progressive representational and figurative art. The MFA at the Academy requires students to learn traditional methods and techniques in the service of creating vital contemporary art. Potential Academy students align with the Academy's mission through observational skills and a balance of conceptual awareness and technical proficiency.
The MFA is a specialized terminal degree at the graduate level for students seeking advanced education in fine arts. It is a concentrated two-year, 60-credit program that requires 85% of coursework to be completed in studio art. Students specialize in one of three concentrations, Drawing, Painting or Sculpture. Applicants must declare their intended concentration. Students may also elect to complete a track in Anatomy or Printmaking. Tracks supplement the concentrations with focused attention on additional areas of study.
Central to the curriculum is the study of figurative and representational art and the reinterpretation of traditional methods for the contemporary artist. An MFA student is expected to achieve mastery of traditional techniques and practices as well as successful engagement with current art methodologies and critical discourse. The achievement of these goals allows students to develop an authentic visual language as a means to communicate their personal vision, resulting in technically and formally sophisticated work that is engaged with the contemporary art world.
Master of Fine Arts Core Outcomes
Proficient working knowledge of anatomy;
Proficient knowledge of composition and design;
Proficiency in perceptual and conceptual approaches to figure drawing;
Advanced ability to interpret and translate human form in space;
Proficient knowledge of traditional and contemporary methods and techniques;
Understanding of the history of visual art and technique;
Ability to reinterpret traditional studio methods for the contemporary artist;
Understanding of art theory;
Ability to engage in critical discourse;
Understanding of how and why the human figure serves as a vehicle for meaning;
Creativity and independent thinking;
Written and oral communication skills;
Independent research skills;
Exposure to professional aspects of a career in the arts.
Drawing
The foundational principles of drawing are the basis of all forms of visual communication. Regardless of the chosen concentration, all students at the New York Academy of Art are immersed in an intensive sequence of drawing courses that present and examine fundamental and advanced perceptual and conceptual approaches to figuration and visual storytelling. Through this engaged and intensive study, students explore the elements of design, composition, scale, proportion, gesture, light on form, value, tonal construction, and the practical application of anatomy and perspective through sustained investigations of the human figure from direct observation.
Painting
The technical, formal and conceptual development of painting is at the core of the curriculum. The intensive two-year program combines the study of historic and contemporary painting methodologies with emphasis on exploration of critical theory allowing students to develop an individual artistic vision. The core studio sequence begins with direct, perceptually-based methods and progresses to advanced synthetic modes of pictorial construction.
Sculpture
The Sculpture Concentration provides students with a functional-working understanding of the conceptual and formal means of expression through the study of traditional modeling of the human figure by hand. Direct observation of the body, supported by the study of anatomical structure, provides a platform for exploring the challenges of creating three-dimensional form and encourages the development of each student's singular vision.
The curriculum offers a solid background in the processes, principles, and hands-on skills necessary to develop works of art that bridge tradition and find placement in a contemporary context. The core sequence begins with an emphasis on skill development in perceptual modeling while providing the opportunity for and critical response to self-directed projects. In the second semester, students master life-scale figure modeling, contextualizing sculpture and integrating formal strategies into compositions with a study of historical precedence. Emphasis on discussion and critique with prominent figurative sculptors creates a dialogue on expression, metaphor and the role of figuration.
Printmaking
The Printmaking Track is a set of three courses providing students with educational depth in lithography, intaglio, relief, and monotype, for application to one's own work as well as the challenges of college-level teaching. It may be taken concurrently with the required concentration in drawing, painting or sculpture. The Printmaking Track is designed to advance printmaking's great tradition of craftsmanship, the Academy's dedication to figurative representation, and most importantly the individual student's artistic vision.
Critiques
Critical feedback is a valuable component of the MFA curriculum and the basis of instruction in thesis coursework. Conversations with Visiting Critics, Senior Critics, and faculty advisors serve to engender new perspectives and approaches, resulting in more thoroughly conceived and masterfully executed work. Critiques include one-on-one exchanges, group presentations, stimulating discussions of aesthetic philosophy, and demonstrations of applied technique.
Professional Practices
The Professional Practices program prepares students for the realities of postgraduate life by developing skills needed to navigate the professional world. Among topics discussed are practical and legal issues faced by independent artists; grant and residency applications; and career opportunities in galleries, museums, and higher education.
MFA Thesis
The MFA thesis project aims to involve students in the professional considerations of research and making artwork intended for the exhibition. It constitutes a body of work intended to showcase the MFA candidate's mastery of skills and personal vision. The Faculty Committee, in consultation with the individual student, selects one piece from that body of work for exhibition in the culminating MFA thesis exhibition.
Last updated Dec 2019
About the School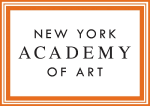 The New York Academy of Art is a graduate school that combines intensive technical training in the fine arts with active critical discourse. We believe that rigorously trained artists are best able to ... Read More
The New York Academy of Art is a graduate school that combines intensive technical training in the fine arts with active critical discourse. We believe that rigorously trained artists are best able to realize their artistic vision.
Read less