Master of Fine Arts in Studio Arts
Home ›
MA ›
Master of Fine Arts in Studio Arts
Program Description
Overview
Whether choosing to work within our nationally recognized disciplines/intensives (ceramics, drawing, jewelry and metalsmithing, painting, print media and graphic art, and sculpture) or across genres, artists can develop a course of study particular to their own self-initiated creative research.
With complete access to the faculty and studios throughout the School of Art, the M.F.A. in studio arts provides students numerous options of study, including seminars that focus on artistic practice, professional practice, and thesis development; critiques that emphasize cross-disciplinary dialogue; and a unique semester residency focused on career development. Focused on artistic practice while developing essential professional skills and abilities, the M.F.A. in studio arts prepares students to succeed in the field of contemporary art.
Why Ceramics?
In the studio arts ceramics intensive, you may pursue study in pottery, sculpture, tile mosaics, or in some cases, other areas of interest. You work in new and traditional techniques with a diverse faculty of working, professional ceramists.
Across all studios, our overriding objective is to cultivate and enrich curiosities. We ask you to become comfortable with the uncertainties of risk while exercising the freedom of exploring what you don't know, embracing the "what if" quotient. We want you to become an innovator and practitioner of change in your respective studio while being cognizant of—and a willing advocate of—tradition. Teaching to the unapologetically functional vessel through to conceptually framed inquires, the faculty encourages an open dialogue with other disciplines. This has been the underlying strength of our program through much of its 115-year history.
Why Drawing?
The practice of drawing in the School of Art forms the bedrock (foundation) of creative ideas to be brought to life by artists for further interrogation and development. The school's faculty believes that fluency in drawing promotes bold, new ways of seeing, thinking, imagining, understanding, and discerning the world. Now more than ever, visual literacy, along with critical thinking and creative problem solving, is vital to the success of our students—at Syracuse University and beyond.
The studio arts drawing intensive seeks to redefine the materiality of drawing at a time when digital technologies dominate visual communication. By embracing the representational, abstract, illustrative, and conceptual, the drawing intensive aims to serve as a platform for experimental methods, concepts, and practices, while respecting time-honored histories and conventions.
The drawing intensive seeks to promote and disseminate drawing research, with emphasis on contemporary practices and theoretical context. Disciplines and activities will include, but not be limited to the following types of drawing:
Representational
Figurative
Structural
Abstract
Illustrative
Conceptual
Contemporary practices
Why Jewelry & Metalsmithing?
Metalsmithing is both an aesthetic and conceptual vehicle. The studio arts jewelry and metalsmithing intensive provides you with a supportive atmosphere of professional faculty who allow you to work traditionally yet present new perspectives on the discipline and question assumptions.
Our facilities accommodate traditional and nontraditional jewelry and metalsmithing techniques. Graduate students have private or semi-private studios in a building that is also home to art education, ceramics, printmaking, and sculpture. Cross-disciplinary work between within this community as well as with the rest of the school and Syracuse University are encouraged.
In addition to the metalsmithing faculty, you will have the opportunity to work with and learn from faculty in other disciplines and take advantage of our strong visiting artist's program.
Why Painting?
The intense yet rewarding experience of the studio arts painting intensive is for painters who wish to work in a variety of styles while developing their technical skills and personal ambitions. We challenge our students to consider the wider implications of their work and respond to the constantly expanding nature of the art world.
You will study with each member of our faculty, themselves active professionals, and experience individual and group critiques, professional seminars, and the invaluable resource that is our prestigious visiting artist's program. We encourage you to take advantage of the community of artists you will be immersed in and explore such disciplines as ceramics, metals, printmaking, sculpture, or photography to enhance your growth.
Our mission is to provide you with the resources and support you need to develop your artistic talents and to understand the forces that drive creative endeavors in today's increasingly interconnected world. With our internationally known faculty, visiting artists, and speakers, we offer you a wide perspective on the creative process and what it means to be an artist. The resources we offer include studios that far exceed what many universities provide as well as global programs that include classes in Europe and other key locations in the United States. Our creative classes are complemented by the richness offered by an outstanding and diverse university environment. The painting classes are medium to small in size, with plenty of individual attention but also with respect for the freedom that each student needs to find his or her creative voice.
Why Print Media & Graphic Art?
The print media and graphic art intensive in our studio arts program is an ever-expanding and dynamic area of study that is a leader in the field of academic printmaking.
Mixed media, public artworks, installation, collaboration, and Lake Effect Editions, our professional, in-house publishing entity, contribute to making print media and graphic art well rounded and vibrant. Digital technologies including but not limited to CNC routers, laser engravers, and large-format ink-jet printing are a top priority here.
We have an impressive array of new media tools for the printmaker, and we continue to embrace the needs of those wishing to honor the time-tested methodologies of the field. In our state-of-the-art studios, we offer courses in lithography, monotype/monoprint, etching, screenprint, relief, papermaking, letterpress, book arts, and digital printmaking. We also present an annual steamroller printing event in the center of Main Campus. Our active visiting artist program gives students valuable experience working side-by-side with the leading figures in the field.
These offerings provide our students with a solid foundation while affording them the opportunity to move freely among the widening definitions of printmaking. Students will acquire technical expertise, a mature body of work that reflects their conceptual interests, and a broad network of contacts that will provide a lifetime membership in the print community.
Why Sculpture?
Diversity and interaction are the cornerstones of our internationally recognized sculpture intensive in our studio arts program. We aim to provide a life-learning experience that promotes artistic growth among students of different aesthetics and viewpoints and encourages interdisciplinary conversations with other members of the school's thriving artistic community.
Our faculty consists of vital artists of national reputation who maintain an active studio experience. Discussions in study and critique go beyond the traditional setting; on- and off-campus exhibitions and our visiting artist's program bring students and faculty together.
The outstanding facilities include workshops for traditional and contemporary applications, including those for metal casting and fabrication, plastics, and a state-of-the-art wood shop. Graduate students are assigned private studios, and project spaces and galleries are dedicated to the showing of student work.
We were ranked no. 20 among the top 20 sculpture programs in the nation by U.S. News & World Report as part of its 2013 specialty rankings for Best Graduate Schools in Fine Arts.
Curriculum
Below are the general program requirements for the M.F.A. in studio arts. Refer to Syracuse University's graduate course catalog for more information about this curriculum and our courses.
Graduate Course Catalog
Program Requirements
Four seminar classes: 24 credits
Seminar 1 Theory and Ideas: 6 credits
Seminar 2 Professional Practices: 6 credits
Seminar 3 Thesis Writing: 6 credits
Seminar 4 Thesis Exhibition: 6 credits
Three graduate critiques: 18 credits
Four studio intensives: 12 credits
Optional semester residency: 6 credits (replaces two studio intensives)
TOTAL CREDITS: 60 LENGTH OF RESIDENCY: 2 OR 3 YEARS
Last updated Jun 2018
About the School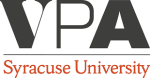 Our faculty offers rigorous and multi-faceted learning experiences that prepare student-artists for professional and entrepreneurial careers.
Our faculty offers rigorous and multi-faceted learning experiences that prepare student-artists for professional and entrepreneurial careers.
Read less