Program Description
Overview
The master of fine arts (M.F.A.) program in film integrates film production with the intellectual study of the medium while providing a strong focus on global cinema. Through international programs, visiting artists from around the world, and a regimen of film history, culture, and theory, our graduate students benefit from understanding film within its historical, artistic, and international contexts.
Consistently ranked as one of the top 25 film programs by the Hollywood Reporter, the program provides students with numerous opportunities to explore cinema on a global level. Select graduates in the program participate In Film Production and Italian Film Studies in Bologna, Italy, where you will attend the world's most famous classic film festival event, Cinema Ritrovato while immersing in all aspects of the film. Those interested in 35mm filmmaking can study in a semester-long program with FAMU (Film and Television School of the Academy of Performing Arts) in Prague, Czech Republic, through Syracuse University Abroad.
Through exposure to the areas of video, photography, computer art, sound, music composition, creative writing, drama, humanities, women's studies, and African American studies, the program encourages an interdisciplinary approach to graduate studies. The objective is to develop a plan of study that puts together a course package designed to support each student's unique talents and interests and to complement the required courses that constitute the rest of the curriculum.
The program does not impose an aesthetic or critical agenda; rather, it encourages students to explore the medium of film in an intelligent yet personal way, fully aware of its history and potential. Students are encouraged to be creative, articulate, and above all, curious about cinema.
During the course of the program, students are required to produce a minimum of three films, including a final graduate project film, and to present these films to the faculty at portfolio review sessions. Prospective students should be aware of the costs involved in filmmaking. Although we provide all of the facilities needed to produce films, we do not provide any materials or lab costs. Film students have 24-hour access to postproduction facilities. The program supports work in digital cinema and super 16mm.
Why our program?
Our program encourages an interdisciplinary approach; you can further enrich your studies by exposure to other disciplines in VPA and the larger University.
Our program is relatively small (12-15 students). Graduate and undergraduate students work closely with one another and with the faculty in an intimate learning environment.
You will benefit from a diverse student body, which includes students from Europe, Asia, the Middle East, and the United States.
Global study opportunities in Prague, Czech Republic, and Bologna, Italy, will complement your Syracuse coursework.
Our faculty members are practicing filmmakers who are active in the Syracuse and international filmmaking communities. Recent recognition includes a New York State Council on the Arts grant.
Our program is nationally recognized; in 2014 it was ranked No. 11 by the Hollywood Reporter on its list of the top 25 film schools in the United States.
When you graduate, you will belong to a global network of enthusiastic VPA alumni.
Facilities
The film program is housed in Shaffer Art Building, which is home to all programs and facilities in the Department of Transmedia. The film production facilities include 4K Hi-end digital film cameras such as Canon C500 and Sony F3 with Odyssey 7Q+ recorders, 4K RAW enabled; Blackmagic Design 4K production cameras; Blackmagic Pocket Cinema Cameras with Metabones Speed booster; Hi quality Zeiss film lenses; and a large array of Canon PL lenses. We also offer students the possibility of shooting 16mm and Super 16mm with our Aaton XTR Production camera as well as Arri SR1, CP16, and Bolex cameras. We have a large range of location lighting and grip gear such as Arri M18 HMI, Arri Compact HMI Fresnel 1.2K, 4x4 Kino-Flo Banks, Kino-Flo Diva-Lite, and Joker-Bug 800W HMI among many others. Our non-linear editing facilities are 4K ready, equipped with the Adobe Creative Cloud, Da Vinci Resolve 12, and our color grading station has a Flanders Scientific Professional broadcast monitor. We count with a top-notch sound mixing studio as well as two lighting studios and green screen.
Visiting artists
You will draw inspiration and insight from the resident and visiting artists who come to the film program and the Department of Transmedia each year. Recent visiting artists have included composer Patrick Doyle; actor/director Giancarlo Esposito; director Abbas Kiarostami; screenwriter Dale Launer; filmmaker Albert Maysles '49; filmmaker Dani Menkin; Jim Morris '77 G'78, producer and president of Pixar; director/producer Joel Schumacher; Cynthia Slavens, director of post-production and marketing at Pixar; actor/director Peter Weller G'05; filmmaker Susan Youssef; and cinematographer Vilmos Zsigmond.
Curriculum
The film M.F.A. degree program requires 60 credits. Below are the general program requirements. Refer to Syracuse University's graduate course catalog for detailed information about this curriculum and our courses.
Program requirements
Major studio: 24 credits
Studio electives: 12 credits
Art history or related academics: 12 credits
Free electives: 6 credits
Graduate seminar: 3 credits
Final presentation: 3 credits
TOTAL CREDITS: 60 LENGTH OF RESIDENCY: 3 YEARS
Last updated Jun 2018
About the School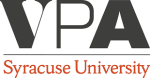 Our faculty offers rigorous and multi-faceted learning experiences that prepare student-artists for professional and entrepreneurial careers.
Our faculty offers rigorous and multi-faceted learning experiences that prepare student-artists for professional and entrepreneurial careers.
Read less