Program Description
Master of Engineering
This research-focused degree is designed for graduates who wish to do further research and develop an innovative solution to an engineering question. Excellence in advanced engineering design, research and development skills are core features of the degree.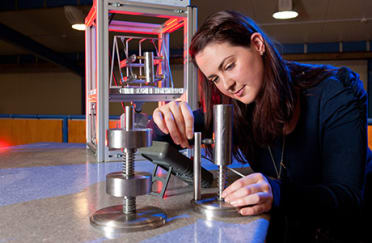 As a Master of Engineering (ME) graduate you will have the opportunity to either seek employment as a professional engineer or start a research career.
The ME normally takes 12 months to complete full-time. It builds on prior studies at the undergraduate level, such as the four-year BE(Hons) or BSc(Tech). The degree requires 120 points, which can either be made up of 30 points in taught papers and a 90-point dissertation (research project), or one 120-point thesis.
If you enrol in an ME via the Faculty of Science & Engineering you can major in Engineering, and your thesis topic may come from our wide range of study areas such as biological engineering, chemical engineering, civil engineering, mechanical engineering, materials engineering, environmental engineering and electronic engineering.
Software Engineering projects are completed via the Department of Computer Science in the Faculty of Computing & Mathematical Sciences.
The Faculty of Science & Engineering fosters collaborative relationships between science, engineering, industry and management. The Faculty has developed a very strong research base to support its aims of providing you with in-depth knowledge, analytical skills, innovative ideas, and techniques to translate science into technology in the real world.
You will have the opportunity to undertake research with staff who are leaders in their field and will have the use of world-class laboratory facilities. Past ME students have worked on projects such as a 'snake robot' for disaster rescue and a brain-controlled electro-mechanical prosthetic hand.
Facilities
The University of Waikato School of Engineering's specialised laboratories includes the Large Scale Lab complex that features a suite of workshops and laboratories dedicated to engineering teaching and research. These include 3D printing, a mechanical workshop and computer labs with engineering design software.
The computing facilities at the University of Waikato are among the best in New Zealand, ranging from phones and tablets for mobile application development to cluster computers for massively parallel processing. Software engineering students will have 24-hour access to computer labs equipped with all the latest computer software.
Build a successful career
Depending on the thesis topic studied, graduates of this degree may find employment in the research and development department in a range of engineering industries, including energy companies, environmental agencies, government departments, biomedical/pharmaceutical industries, private research companies, universities, food and dairy industries, electronics, agriculture, forestry and more. The ME can also be a stepping stone to doctoral studies.
Career opportunities
Aeronautical Engineer
Automotive Engineer
Biotechnologist
Computer-aided Engineer
Engineering Geologist
Food and Drink Technologist
Laboratory Technician
Mechanical Engineer
Medical Sciences Technician
Patent Attorney
Pharmaceutical Engineer
Quality Assurance Officer
Research Assistant
Theoretical Physics Research
Practical Experience
Many ME theses are in collaboration with industry. The Faculty of Engineering has excellent industry collaborations with companies such as Fonterra, Gallagher Group, Oji Fibre Solutions, Tetra Pak and ArborGen Australasia. These strong relationships generate numerous research projects for engineering students, so you will be able to work on real issues with real clients.
Admission and enrolment
Admission requires a relevant Bachelors level qualification or equivalent. Once you have applied to study with us you are welcome to speak with one of our senior academics who will help advise you on your studies based on your goals and previous experience. This will ensure you have all the support and advice you need to succeed in your studies. If you are enrolling via the Faculty of Science & Engineering, please consult our Graduate Handbook for details of relevant staff.
Please refer to the relevant regulations at the University of Waikato Calendar for official details of admission and degree requirements, available subjects, honours eligibility and more.
If you do not hold the appropriate qualifications required for direct entry, you may be eligible to apply for a pathway via a Postgraduate Certificate or Diploma. Contact the Faculty for advice on the possibilities.
Last updated Jul 2019
About the School

This University is provides students with a full and dynamic university experience, distinctive in character, and pursuing strong international links to advance knowledge. A commitment to producing qu ... Read More
This University is provides students with a full and dynamic university experience, distinctive in character, and pursuing strong international links to advance knowledge. A commitment to producing quality research that aims to solve the worlds greatest issues has led to the University being among the 100 universities for research impact.
Read less