Master of Engineering in Naval Architecture and Marine Engineering
Home ›
Master ›
Master of Engineering in Naval Architecture and Marine Engineering
Program Description
*Applications for September 2021 intake will open on October 1, 2020*

The Master of Engineering in Naval Architecture & Marine Engineering (MEng NAME) is an interdisciplinary, industry-focused program that trains students in the design and construction of ships and other structures in the marine environment. The comprehensive and innovative curriculum draws material from Mechanical, Civil, and Materials Engineering, and offers instruction by both leading researchers and industry professionals. Students leave the program prepared for immediate and stimulating work in a vital and growing industry.
Quick Facts
Degree: Master of Engineering
Subject: Engineering
Mode of delivery: On-campus
Specialization: Naval Architecture and Marine Engineering
Program Components: Coursework only
Faculty: Faculty of Applied Science
1 Year Program
The program involves 8 months of intensive coursework that focuses on the design, construction, maintenance, and operation of waterborne vehicles.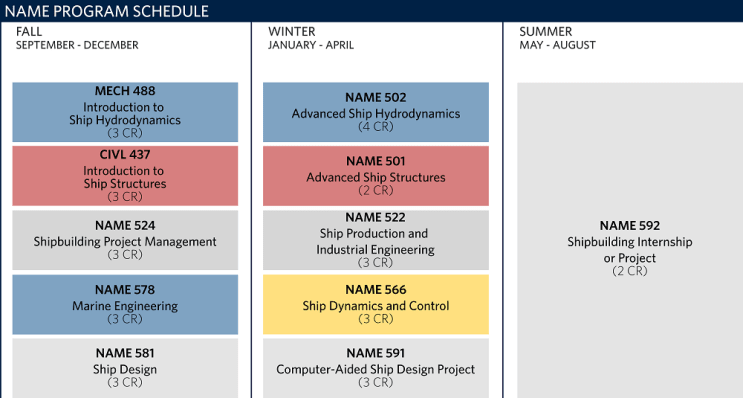 Students in the MEng NAME program require a minimum of 30 credits of coursework, which includes a 3-credit capstone design project and a 2-credit internship. Although the program has a large core with limited flexibility, up to 6 credits may be approved for core course equivalents taken prior to admission, allowing for the streamlined entry and limited room for constrained electives (must be approved by Program Director).
Students will automatically be registered in a standard timetable in August and will be contacted with the course schedule at that time. Students who have taken core course equivalents prior to admission should contact name@apsc.ubc.ca to request approval for chosen electives and a customized timetable.
Internship Placement
Eligible students will have the opportunity to complete a 4-month internship at a marine-related company or agency.
The internship is an enormously valuable experience for students, and one of the main things that attract students to our program. A large number of students have secured internships through the support of the Engineering Co-op Office, with many of those positions turning into long-term, full-time employment.
The department and the Co-op Office are dedicated to fostering positive relationships between our students and the industry, and this means maintaining a commitment to (1) only place students in relevant and rewarding positions (no fetching coffee!), and (2) only send students into the industry when they are ready and able to do an outstanding job in the field. Students, therefore, undergo a rigorous training and evaluation process to ensure that they are both highly capable engineers and well-rounded professionals ready for the workplace.
Industry Engagement
The industry is engaged in all aspects of the program, from curriculum development to project mentorship, to ensure that students get the right education for the jobs that await them.
The NAME program has strong ties to the industry locally, nationally, and internationally. Industry engagement ranges from program/curriculum development to teaching and mentoring students, to internship partnerships.
Industry Advisory Board
The program's industry advisory board includes representatives from Canada's leading ship design, construction, and classification companies. This advisory board makes important program decisions such as what is included in the curriculum and the requirements for the internship, to ensure that the program meets industry needs and best prepares students for the careers ahead of them.
BC Ferries
BCIT
Capilano Maritime
Lloyd's Register
Robert Allan Ltd.
Ron Holland Design
Royal Canadian Navy
Seaspan Vancouver Shipyards
SNAME
Teekay
Vard
Other Supporting Companies
In addition to this advisory board, many other companies also provide tremendous support in the form of internship positions, student mentorship, guest lectures, field trips, and event sponsorship.
Our students benefit from the support of the following companies:
Alion Canada
BC Chamber of Shipping
Department of National Defense
Elliot Bay Design Group
Fednav
Ionada
Irving Halifax Shipyards
L3 MAPPS
Mavi Innovations
Metalcraft Marine
Seabridge
Transport Canada
Wainbee Ltd.
Zodiac Hurricane
Student Experience
Justine
"Getting a chance to be a part of the NAME program at UBC was a great experience. Having small size classes, a close-knit group of students, and interesting courses with extra support from the professors and staff were only some of the advantages. The chance to get an internship in the industry was an added bonus as it provided the working experience and contacts."
Chandan
"The final design project is one of the most valuable aspects of the program. It gives you a chance to learn from, and collaborate with, industry leaders. You cannot put a price tag on that."
Ali
"The program was intense and focused on practical applications of theory. The courses were designed very well by experienced and knowledgeable instructors."

Dan (Industry mentor)
"Working on a realistic ship design project is a great way for students to learn about the ship design process and learn to work together as a team. It is a tremendous experience for their careers."
General Requirements
Faculty-wide
Applicants with Canadian or U.S credentials
International applicants

Applicants must hold the academic equivalent of a four-year bachelor's degree in engineering from UBC, conferred at a recognized institution in North America with:

A minimum overall average of B+ (76% at UBC) in third- and fourth-year level courses, or
Academic standing with at least 12 credits of third- or fourth-year level courses in the A-grade range (at UBC 80% or higher), or
Applicants who do not meet either of the above requirements, but who have several years of relevant professional experience to offset such deficiencies, may be granted admission on the recommendation of the Program Director.

Applicants must hold a credential deemed comparable to a Canadian four-year bachelor's degree in engineering, with:

The credential being in engineering and being conferred from a recognized institute, and
A minimum overall average equivalent to B+ (the MEng Program Office has established specific minimum admission requirements for graduates of different countries), and
A minimum IELTS score of 6.5 or TOEFL iBT score of 90.
Program Specific Requirements
In addition to the above general requirements for admission into a Master of Engineering program at UBC, applicants to the Naval Architecture & Marine Engineering program should also meet the following requirements:
The applicant's bachelor's degree should be in Civil, Materials, or Mechanical Engineering or equivalent. Applicants may otherwise be granted admission on the recommendation of the Director.
Applicants students should have demonstrated proficiency in the areas of Structural Mechanics, Fluid Mechanics, Automatic Controls, and Thermodynamics. Students lacking a background in these subject areas may be required to complete additional coursework at the discretion of the Program Director.
Any applicant whose degree was conferred at a university outside Canada, other than the United States, the United Kingdom, New Zealand or Australia, must present evidence of competency to pursue studies in the English language prior to being extended an offer of admission. Test scores must have been taken within the last 24 months at the time of submission of application, and official test scores ordered from the testing agency are required for the application. Photocopies of test scores are not acceptable. No test waiver is allowed.
Language requirements
English Proficiency Tests and Minimum Requirements
| | | | | | |
| --- | --- | --- | --- | --- | --- |
| | Reading | Writing | Listening | Speaking | Overall |
| IELTS (Academic) | 6.0 | 6.0 | 6.0 | 6.0 | 6.5 |
| TOEFL | 22 | 21 | 22 | 21 | 93 |
International English Language Testing Service (IELTS)
On the IELTS application form, you will be asked to specify institutions where you would like the results to be sent. To ensure UBC receives your results correctly, use the following details on the application:
Name of institution: The University of British Columbia
Name of person/department: Mechanical Engineering
Address: 2054-6250 Applied Science Lane, Vancouver BC V6T 1Z2, Canada
Test of English as a Foreign Language (TOEFL)
Use the University of British Columbia's institution code 0965, and the Mechanical Engineering department code 68.
Give the reason for taking TOEFL "to enter a college or university as a graduate student".
Last updated Sep 2020
About the School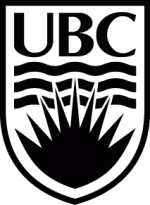 The Faculty of Applied Science oversees administrative procedures for the School of Architecture and Landscape Architecture, the School of Community and Regional Planning, the School of Nursing, and a ... Read More
The Faculty of Applied Science oversees administrative procedures for the School of Architecture and Landscape Architecture, the School of Community and Regional Planning, the School of Nursing, and all engineering activities at the Vancouver campus and the School of Engineering at the Okanagan campus.
Read less