Master of Engineering Science in Petroleum Engineering
Home ›
Master ›
Master of Engineering Science in Petroleum Engineering
Read more about this program on the school's website
Program Description
This comprehensive course will provide you with a multidisciplinary education and hands-on training in petroleum engineering. You will cover a wide variety of subjects central to the petroleum engineering field, including applied geology and geophysics, drilling and reservoir engineering, hydrocarbon phase behaviour, formation evaluation, a petroleum economics and project management.
In your final semester, you will complete an individual research project and develop a thesis under the guidance of one of our highly experienced staff.
To assist your studies, we will provide you with access to top of the range of computer hardware and software, and the Society of Petroleum Engineers online information library.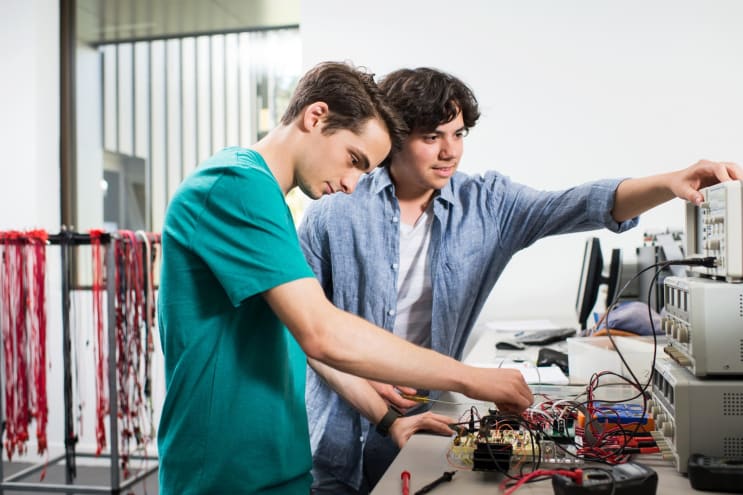 Course description
Curtin's contemporary art and design courses will help you reach a higher level of expertise, through a combination of theory and project-based units. Our flexible design and art postgraduate courses suit applicants with qualifications in design and art, as well as those with knowledge and expertise in other disciplines.
We offer a Graduate Certificate in Design and Art and a Master of Applied Design and Art. Because the first four units are common to both courses, you can enrol in the master degree and choose to exit at the graduate certificate level.
These courses can be tailored to suit your career goals and interests in areas such as:
Animation and game design
Creative advertising
Design and art theory
Illustration design
Graphic design
Digital design
Fashion
Fine art
Photography.
Students who complete the master degree to a high standard can apply for doctoral-level studies.
What you'll learn
Apply knowledge of petroleum engineering to the design and execution of petroleum wells and production facilities to optimise hydrocarbon production from subsurface reservoirs in a safe, clean and efficient manner; develop feasible field development planning and broaden the perceived knowledge of petroleum engineering through research activities
Approach Petroleum Engineering problems in a logical way; analyse various scenarios critically; and employ system thinking, creativity and reflective practices to formulate an optimum and practical solution to relevant problems
Demonstrate the ability to access, evaluate and synthesise information, from a range of sources, using a variety of methods and appropriate technologies. Justify evidence-based conclusions for problems relevant to the practice of petroleum engineering
Work clearly and concisely, to communicate engineering findings effectively, to a professional standard appropriate to a transdisciplinary and varied audience, for a range of purposes and to a professional standard
Use technological resources to effectively collect petroleum production and exploration information; recognise their capabilities and limitations and use appropriately for upstream petroleum engineering applications
Evaluate one's own learning and development needs, set and achieve self-learning goals and develop strategies to maintain currency in professional practice
Recognise the local and global nature of the oil and gas industry and its relationship to and impact on international energy supply and demand issues; evaluate issues from a variety of perspectives and apply international standards and practices within petroleum engineering to participate effectively in a global environment
Recognise the impact and importance of cultural diversity in the implementation of engineering projects; operating with a respect for, cultural perspectives and practices
Demonstrate professional integrity and ethical behaviour at all-time in the planning, conducting and reviewing of engineering projects, both when working independently and in teams. Demonstrate leadership qualities and responsibilities when required
Why study the Master of Engineering Science (Petroleum Engineering)
The petroleum engineering field offers one of the highest salary rates. Graduates entering the industry typically earn salaries of $90 - $100k per annum after completing a three month probation period. It is expected that salaries will increase in proportion to rising fuel costs.
You'll be immediately employable in the industry upon graduation. In fact, most of our students find employment before graduation.
Our graduates often find employment with international companies. Petroleum engineers are amongst the best-travelled professionals in the world.
Professional recognition
Students may apply for student membership of the Society of Petroleum Engineers (U.S). Upon graduation, you may apply for active membership of the society.
Career information
There is a strong demand for qualified petroleum engineers in the oil and gas industry, both within Australia and internationally. Our graduates have found work as fully qualified petroleum engineers in the upstream oil and gas industry.
Entry requirements
Curtin requires all applicants to demonstrate proficiency in English. Specific English requirements for this course are outlined in the IELTS table below.
IELTS Academic (International English Language Testing System)
Writing
6.0
Speaking
6.0
Reading
6.0
Listening
6.0
Overall band score
6.0
Pearson Test of English Academic: 60
Certificate in Advanced English (CAE): 176
Essential course prerequisites
An honours degree or equivalent in a relevant engineering or science discipline including at least first-year university level subjects in both physics and calculus.
Last updated Dec 2019
About the School

Curtin is an innovative, global university known for its high-impact research, strong industry partnerships and commitment to preparing students for jobs of the future.
Curtin is an innovative, global university known for its high-impact research, strong industry partnerships and commitment to preparing students for jobs of the future.
Read less