Read more about this program on the school's website
Program Description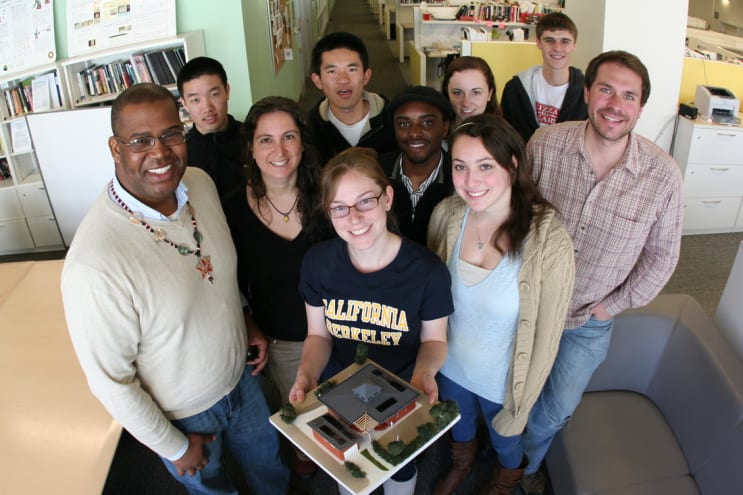 The Master of Development Engineering is UC Berkeley's first professional degree committed to solving complex global challenges across the corporate, nonprofit, and government sectors.
The three-semester master's program merges technology and development for changemaker careers, and offers a curriculum in: design and management of technology, application of emerging technologies, evidence-based assessment techniques, economic development, social problem solving, cross-cultural collaboration, and community engagement. The program's curriculum enables students to further their expertise in one of the following four predefined areas: AI/Data Analytics for Social Impact; Energy and Water Systems and the Environment; Sustainable Design Innovations; and Healthcare Transformations.
The program is offered by UC Berkeley's Graduate Group in Development Engineering, a 30-member faculty coalition who hail from over a dozen schools and departments, including the College of Engineering (ranked third nationally and seventh globally), the Rausser College of Natural Resources (ranked first nationally for environment and ecology studies), the School of Information, the School of Public Health (ranked ninth nationally), the Haas School of Business, (ranked seventh nationally), and the College of Environmental Design, among others.
The Master of Development Engineering is headquartered at the Blum Center for Developing Economies, home to the Development Engineering Ph.D. program, the undergraduate Global Poverty & Practice program, and the Big Ideas Contest, the University of California's social entrepreneurship catalyst. The Blum Center is directed by the College of Engineering's dean emeritus, Professor Shankar Sastry, with award-winning Professors Alice Agogino, Dan Fletcher, and Matthew Potts. Master of Development Engineering students will call Blum Hall home and have access to courses, faculty, and programs across campus.
Why Development Engineering
Also known as "humanitarian engineering," "engineering for change," or "engineering for impact," Development Engineering is a field of research and practice that combines the principles of engineering with economics, entrepreneurship, design, business, natural resources, and social science to create technology interventions in accordance with and for individuals living in low-resource settings. While most people associate these settings with "developing" or "low income" countries, Development Engineering equips practitioners to work on societal problems wherever they exist, whether in California or Bangladesh.
Development Engineering concerns "wicked" systems problems that are highly complex. Wicked problems, as defined by late UC Berkeley Design Science Professor Horst Rittel, are not linear or rule-based. Solving, let alone addressing wicked problems, requires intimate knowledge of the problem context, which is too often overlooked and causes initiatives that implement technology or other approaches for development to fail. To gain traction on solving problems with complex societal and ecological dimensions, it is dangerous to rely on engineering training alone, which is often deeply technical.
Graduates of the MDevEng program will be well-positioned to look at wicked problems holistically and cross-disciplinarily, as well as to take advantage of the rising importance of technological interventions and assessments in the development sector and the need for development engineers in the public and corporate sectors. The program will provide a rigorous framework to mobilize technical thinkers toward social change while recognizing the limitations of technology and the need for multifaceted approaches to solutions.
Learning Outcomes
The objective of the Master of Development is to enable a pathway for students with STEM or social science training to use their expertise to address health access, financial inclusion, climate resilience, and other challenges of our time. The primary learning objectives are to:
Master methods of problem-conception and problem-solving for implementation of technologies in low-income regions;
Develop an understanding of the political and cultural complexity and place-based nature of technological interventions;
Deepen and expand knowledge in one engineering or natural or social science solutions area;
Gain core skills in qualitative and quantitative methods for evaluating technological interventions;
Improve professional skills that involve community-based approaches, teamwork, communication, cross-cultural awareness, capacity building, and sustainable design.
Who Should Apply?
Applicants to the UC Berkeley Master of Development Engineering should be early- to mid-career professionals with an interest in advancing technology-driven solutions for local and global development. Applicants must meet all Graduate Division admission requirements. Strong candidates will have a STEM background with prior work experience in development or applied technologies. Preparation can be a degree in an engineering or science discipline or in social science or natural resource discipline with quantitative coursework.
All applicants must have the requisite technical preparation. At a minimum, all applicants should have a two-course series in a technical area, such as computer science, economics, mathematics, physics, engineering, or data science, dependent on their undergraduate major. While post-baccalaureate work experience is not required for this program, prospective students are encouraged to have one to three years of work experience before applying. Outstanding undergraduates with professional experiences, such as internships, will also be considered. Additionally, non-required qualifications include experience in technology, development, entrepreneurship, social or environmental policy, nonprofit, government, or community engagement.
Students at the time of application will be asked to decide in one of the four following concentration areas–data analytics for social impact, energy, and water systems and the environment, sustainable design innovations, or healthcare transformations–and provide context for their area of interest.
As with all approved graduate-level programs at UC Berkeley, applicants will be held to rigorous academic criteria in order to be admitted to this program. A bachelor's degree, or recognized equivalent, from an accredited institution, is required. Applicants will be evaluated on:
Undergraduate coursework and grade point averages
Previous graduate coursework and grade point averages, if applicable
Quality of relevant work or research experience
Performance on the GRE (recommended but not required) and, if required, the TOEFL
Interest in pursuing a particular problem area that will form the students' concentration focus
Applicants will also be required to submit a statement of purpose, personal statement, and three letters of recommendation, which will be evaluated by the Graduate Group in Development Engineering Admissions Committee for an academic and professional promise, enthusiasm for the field, and academic and career interests that align with the program. Students may be invited for an interview, either in-person or remote, and should be prepared to explain their qualifications, motivations to apply to the program and goals for the program.
Careers
The Master of Development Engineering program will prepare graduates for careers in:
Multilateral organizations (US Agency for International Development, United Nations, World Bank, World Health Organization)
Charitable foundations (Bill & Melinda Gates Foundation, Chan Zuckerberg Initiative, Omidyar Network, Google.org)
Nongovernmental organizations (CARE, Mercy Corps, BRAC, Nature Conservancy, Red Cross, Salvation Army, Doctors without Borders)
Government agencies (municipal, national, federal)
Multinational companies (Honeywell, Google, Salesforce, Facebook, Bechtel, Amazon)
Social enterprises (their own and other social startups)
There is an increasing need for development professionals skills in the design and management of technology, knowledge of emerging technologies, evidence-based assessment techniques, economic development, social problem solving, and the critical 21st-century skills of cross-cultural collaboration and community engagement–and the MDevEng will provide these crucial skills.
Last updated Jul 2020
About the School

The University of California was founded in 1868, born out of a vision in the State Constitution of a university that would "contribute even more than California's gold to the glory and happiness of a ... Read More
The University of California was founded in 1868, born out of a vision in the State Constitution of a university that would "contribute even more than California's gold to the glory and happiness of advancing generations."
Read less