Program Description
The Master of Design is suitable for recent graduates in a design-related discipline or industry professionals who have six or more years in the creative industry.
Working in a simulated industry environment, our postgraduate students will be challenged to research relevant ideas, problem-solve, and create design solutions in response to a variety of real-world briefs. These briefs require our students to work collaboratively with others in order to create a broad range of digital and creative products, services and approaches across a multitude of media platforms.
This project-based interdisciplinary approach means that graduates will complete the programme with an impressive portfolio filled with practical and relevant work experience to show to their current or prospective employers.
Career Pathways
Possible career pathways for graduates of the Postgraduate Diploma in Design include both strategic and design positions within design studios, companies and consultancy agencies:
Design project manager; Systems designer; Merchandising and branding developer or strategist; Sustainability designer; Interactive designer; Mobile technologies designer; User experience designer; Design analyst; Screen designer; Digital animator; Information designer; Product designer and developer; Service designer; Transmedia designer; Packaging designer; Marketing and communications executive; Creative director; Advertising studio director; Media manager; Publisher; Secondary design teacher; Design consultant; Design manager.
Course Components
During the Master of Design, you will undertake the following coursework:
Two (30 credits each), NZQF Level 8.
Master Proposal (15 credits), NZQF Level 9.
Master Project (45 credits), NZQF Level 9.
One (not-for-credit) Postgraduate Toolbox component.
Eligibility
To be eligible for the Master of Design, applicants must:
Hold an honours degree that is relevant to design (e.g Design - Graphic, Fine Arts, Industrial, Product, Cognitive Science/Psychology, Software Engineering, Computer Science, Computer Engineering; OR
A Postgraduate Diploma that is of relevance to design; OR
An undergraduate degree and professional experience in a design-related field as approved by the Media Design School Academic Board.
Last updated Jan 2018
About the School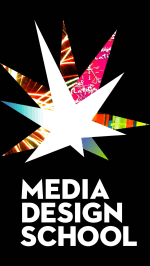 Media Design School is New Zealand's most-awarded tertiary institute for digital and creative technology qualifications
Media Design School is New Zealand's most-awarded tertiary institute for digital and creative technology qualifications
Read less