Program Description
Master of Computer Science
The Master of Science in Computer Science at Sofia University provides students with a broad background in software development and other core disciplines of computer science. It also gives students the opportunity to further their knowledge of foundational and applied topics. Located in Palo Alto, the heart of the Silicon Valley just minutes away from top companies such as Google, Apple, HP, and Facebook provides students with an environment rich in opportunities.
Our faculty members have worked in Fortune 500 companies and startups and received their Ph.D.s from schools such as MIT, Stanford, Carnegie Mellon University, UC Berkeley, Oxford, University of Southern California, and University of Sydney
The Program Features
Onsite and hybrid/online formats
Combinations of technological development with transpersonal values and skills for the practicing professional
Promotion of creativity, cultural sensitivity and mindfulness
Essential skills and values needed for the next generation of well-balanced leaders in the workplace
Small classes and close interaction with faculty
Faculty that are experts in their field that bring cutting-edge technology and real-world computing experience to the classroom.
Concentrations Offered
Artificial Intelligence and Machine Learning
Holistic Leadership and Management
Human-Computer Interaction
Software Engineering
Transformative Computing
Transformative Unmanned Aircraft System Computing
Required Course Work: 54 units
10 CS courses: 4 cores and 6 electives (40 units)
3 Transpersonal Studies courses (9 units)
Capstone or Thesis Project (5 units)
In addition to contemporary coursework in their disciplines, students can expect to take courses in transpersonal psychology, a full- spectrum psychology that encompasses a continuum of human experience and behavior including the spiritual and transcendent aspects of the human experience. Some examples of courses are "Theories of Personality and Personal Growth", "Spiritual and Cultural Values in Today's Professional Environment" and "Mind and Body Interaction in High-Stress Work Environments."
Last updated Jan 2018
About the School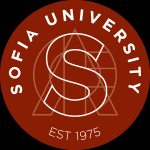 Sofia University has built itself on a foundation of transformative, transpersonal education since 1975.
Sofia University has built itself on a foundation of transformative, transpersonal education since 1975.
Read less