Master of Arts in Urban and Public Affairs
Home ›
MA ›
Master of Arts in Urban and Public Affairs
Program Description
The Master of Arts in Urban and Public Affairs trains students in public policy, urban studies, and grassroots organizing, examining ways policy and community engagement can effect positive change.
Our program combines graduate seminars in urban studies, politics, sociology, and public policy with hands-on experience in community-based research, policy design, policy analysis, advocacy, and implementation. Graduates are uniquely equipped to formulate policy and initiatives for more equitable and vibrant urban areas, inspired by thoughtful engagement with the theory and practice of social justice.
Learning Outcomes
Student will:
master foundational concepts of urban history, sociology, and politics, and demonstrate the capacity to apply these ideas in real-world settings
demonstrate expertise in one or more areas of urban public policy
contemplate models of social change and social justice while developing the requisite skills and knowledge to actuate change
apply knowledge gained in the classroom in various and diverse community settings
apply knowledge gained in the community to inform classroom learning and scholarship
build networks through interactions with professionals from fields including public policy, advocacy, community organizing, and public service
engage in meaningful career planning through both self-reflection as well as through interactions with colleagues and professionals in the field
contribute to the public discourse around contemporary urban policy issues
demonstrate professional skills in writing, urban and participatory research, and policy analysis
propose, design, and implement a research project that combines the conceptual and practical tools provided by the program
Our two-year, 36-unit master's program brings together the best of our many years of experience with urban and public affairs programming. The curriculum trains students to understand and shape policy, with a focus on the urban and metropolitan histories that impact our region.
Students receive both classroom and hands-on training in the mechanics of urban policy and advocacy. The community-based research requirement gives students experience conducting applied urban research and analyzing policy alternatives. The capstone project and full-time summer internship allow them to develop expertise in specific areas of urban, regional, or public policy while building the personal and professional networks that will help them launch their careers upon graduation.
Schedule
Our program is full time with courses offered in the afternoons and evenings, plus occasional Saturday workshops. Students are welcome to explore part-time options. Many electives are offered in the evenings from 6:30 to 9 p.m. Occasionally electives are offered in the afternoon. Required courses are offered in both the afternoons and evenings. Students should be prepared to attend required classes as early as 3:30 or 4:30 p.m. a few times a week. Schedules may vary each semester.
SAMPLE TIMELINE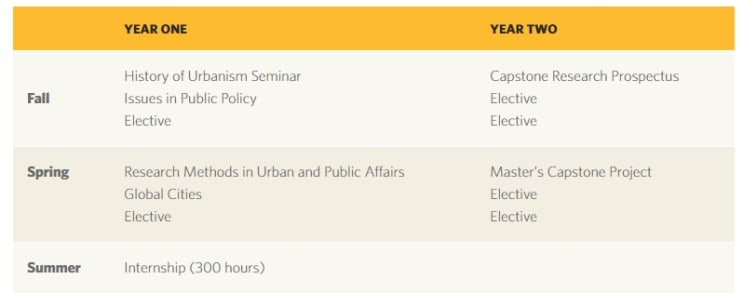 Capstone Project
Students are required to complete a capstone project that synthesizes their expertise on a topic related to urban and/or public affairs.
Past topics include:
A Defense of Rent Control: The Social Contract and Government Intervention in SF's Housing Market
Organizing Anarchy: Creating Meaningful Change From Local Places
Food Access in the Heart of the City
Reinventing Cities by Reviving Transportation
Innovations in Inclusion and Cultural Competency: The Role of SF Nonprofits in Meeting the Needs of LGBTQ Homeless
The Solidarity Economy: Transitioning to a Sustainable Path for an Uncertain Future
Access to Access: Are Immigrants Fully Served Under the Affordable Care Act?
Lessons from the Best Worst Job Ever
Last updated Feb 2018
About the School

As one of the country's premier Jesuit Catholic universities, the College of Arts and Sciences pairs a rigorous academic curriculum with an urban, global perspective. The college's vision of success i ... Read More
As one of the country's premier Jesuit Catholic universities, the College of Arts and Sciences pairs a rigorous academic curriculum with an urban, global perspective. The college's vision of success involves both the head and the heart, with outstanding faculty members giving students the skills and compassion to fashion a more just and humane world.
Read less