Program Description
MA TESOL Program produces graduates with the skills to train teaching faculty who excel in their roles as educators, creative scholars, and researchers. This program will prepare teachers for a wide variety of positions both in the US and abroad. Our students will be equipped with the specialized knowledge and field skills for teaching English to speakers of other languages. Upon graduation, they will be competent professional educators with demonstrable leadership skills. Students can choose to take the program on campus or online.
The Westcliff MA TESOL program prepares you for a career in TESOL instruction or administration. At Westcliff University you will
Work with diverse students, make teaching demonstrations, and lead projects based on the latest research in the TESOL field.
Build a foundation in TESOL principles for teaching and for administration.
Develop your ability to think critically and problem solve creatively.
Take advantage of workshops and guest speaker presentations, offered throughout the year on both online and hybrid programs.
Network with students and faculty working in diverse TESOL backgrounds.
Equally important, you will learn from professors who are experienced TESOL instructors, administrators, and curriculum and program developers.
MA TESOL Program Objectives
The following educational objectives are those of the MA TESOL Program:
Demonstrate principles of language pedagogy and of current best practices in teaching English to speakers of other languages; explain how these principles are based on research into language acquisition and the teaching of the various skill areas.
Demonstrate proficiency in spoken and written English at a level commensurate with the role of a language model by illustrating knowledge of the English language and skills required to explain the English language system.
Apply current TESOL pedagogy in the creation of effective lesson plans for diverse groups of learners in a variety of teaching contexts; integrate new technology into these lesson plans.
Explain current theories concerning the cognitive, affective, social, and cultural factors involved in the acquisition and use of second languages and apply this knowledge in effective lesson design and classroom interactions with second language learners.
Identify the skills necessary for effective leadership in and outside the classroom; apply these skills to individual professional development in and outside the classroom.
Integrate ethical values in learning and teaching.
MA TESOL Program Required Courses
TSL 502 Vocabulary Instruction
TSL 507 Pronunciation Instruction
TSL 512 Writing Instruction
TSL 515 Second Language Acquisition
TSL 520 Grammar Instruction
TSL 527 Methods of Teaching ESL/EFL
TSL 532 Listening and Speaking Instruction
TSL 542 The English Language in Society
TSL 545 Reading Instruction
TSL 552 Special Topics in TESOL
TSL 590 Curriculum Design
TSL 600 Practicum
Total 36 credit hours
Graduation Requirements
Students must complete prescribed credit hours with a cumulative G.P.A of 3.0 or higher. Students must apply for graduation and meet all academic and financial requirements.
Last updated Jan 2020
About the School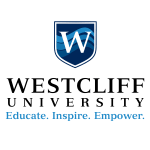 Westcliff University was established to provide quality education for students wishing to enter the fast growing fields of Business and Education. Westcliff University, which received its initial appr ... Read More
Westcliff University was established to provide quality education for students wishing to enter the fast growing fields of Business and Education. Westcliff University, which received its initial approval with the Bureau for Private Postsecondary Education in 1993, offers various programs in the College of Business and the College of Education. Westcliff University's curriculum consists of graduate and undergraduate degree programs in business and education as well as other certificate programs. While some schools only teach theoretical concepts, Westcliff University prepares students for the practical and theoretical elements required in the job market today. Westcliff University offers full-time working students a chance to enroll in innovative online and hybrid distance education courses that are convenient and affordable.
Read less