Master of Arts in Sustainable Cultural Heritage
Home ›
MA ›
Master of Arts in Sustainable Cultural Heritage
Program Description
The M.A. program in Sustainable Cultural Heritage trains graduates to face the most important challenge in the heritage industry today: its long-term viability.
Rome is at the center of debates about global heritage. With major international organizations in the city, as well as the greatest concentration of heritage monuments and works, nowhere in the world provides a better base to prepare a student for a career in this field.
Today, in order to make cultural heritage both sustainable and socially useful it is necessary to recognize the need for a multidisciplinary approach to the heritage spectrum. Those who wish to work with heritage will have to undertake many different responsibilities across many areas of expertise.
This M.A. shapes a new generation of professionals. Liberal Arts, Humanities, and Social Science graduates acquire the management and business skills to work worldwide. Thanks to AUR's connections and collaborations with numerous cultural institutions both in Rome, Italy and the Mediterranean, this M.A. provides practical experience in professional circumstances that will shape each student's career.
Potential career paths
Potential employment paths include governmental and non-governmental heritage agencies, local government, museums, heritage centers and attractions, tourist boards, heritage education etc.
This MA has a clear focus on employability. At the end of the course you will have:
enhanced your skills and knowledge, improving your chances of employment as a heritage practitioner;
developed intellectually and personally through direct contact with heritage professionals;
gained a critical understanding of the policies and practices underpinning heritage management;
developed an understanding of the nature of heritage and its relevance to society; and
received guidance on career opportunities across the heritage sector, including where to find jobs and how best to apply for them.
Course postgraduates have gone on to careers in archaeology and heritage-related organizations across the globe.
Duration: 15 months
Starting date: Fall 2016
Credits: 39
Courses and Thesis
The total number of credits for the M.A. program is 39 of which 30 credits is for coursework, 3 for the internship and 6 for the thesis.
Core courses: 18 credits total
Internship: 3 credits
Electives: 12 credits total
Thesis: 6 credits total
Prerequisite and Admission Requirements
a completed B.A./B.Sc. degree in Liberal Arts, Humanities, or Social Sciences
a minimum undergraduate GPA of 3.0 at their previous institution
students who completed their B.A. in a language other than English must demonstrate proficiency in English language by submitting the official test scores o TOEFL (Test of English as a Foreign Language) Paper-based: 550 and Internet-based: 80 o IELTS (International English Language Testing System): 6.5
The prerequisite for admission is a Bachelor's degree in Liberal Arts, Humanities or Social Science and excellent knowledge of English.
Costs for U.S. citizens and permanent residents and Canadian citizens: 20,000 US Dollar
Costs for citizens and permanent residents of countries other than the United States or Canada: 15.000 Euro
Documents necessary for application :
Motivation Letter (700 words minimum) explaining specifically why you are interested in the Sustainable Cultural Heritage M.A. program;
A letter of recommendation from an undergraduate professor at your previous academic institution;
Official undergraduate transcript, which lists the courses you have taken and the grades/degree received;
If your degree was conducted in a language other than English, your TOEFL or IELTS scores (this can also be taken on campus at various points in the year);
An up-to-date Curriculum Vitae;
A scan of your passport photo page.
Program Description
In balancing theory and practice this Master's Program prepares students for employment in heritage administration, development control, and consultancies, as well as for continuing in academic research.
This program addresses the following issues and needs:
Practical skills to be able to budget and manage projects, to fundraise and to ensure that heritage is not exploited by illegal trafficking.
An understanding of the complexity of heritage economics, its relationship to tourism, to the local community and to conservation issues.
An appreciation of the role of heritage in the broader political and legal context, including issues of contested heritage, dark heritage and an understanding of the role of heritage in forming an identity at the local, regional, national and transnational levels.
Learning Outcomes
Program Objectives:
To provide an overview of the interdisciplinary nature of the field.
To give the necessary heritage management tools in line with international, national and regional strategies to enhance cultural heritage management.
To provide an understanding of the tools, techniques, and processes for documenting and assessing cultural resources, producing a management plan, and implementing it.
To foster an understanding of the role of heritage agencies and organizations at international, national, local and regional levels.
Upon completing the Master's program in Cultural Heritage Management students will be able to:
Communicate orally and in written form, at a professional level and debate issues with practitioners in the field;
Carry out the tasks of employees in the heritage management sector such as planning, marketing, management and funding of sustainable heritage-related projects. This includes the ability to examine and critique heritage management theory;
Critically assess both their own work and the daily challenges encountered in cultural heritage;
Discuss the contribution of Non-Governmental Organizations (NGOs) and International Organizations (IOs) to cultural heritage;
High level analytical and research skills necessary to study at the graduate level and to write research papers;
Ability to plan and execute an extensive research project;
Ability to use and analyze source materials, including non-literary sources, and to appreciate the context of these sources;
Ability to critically analyze the use of heritage in different political, religious, social and ethnic contexts;
Ability to analyze the role of heritage in creating local, regional, national and transnational identity and to appraise issues of contested and dark heritage (that is heritage from periods of tragedy or war or discredited political regimes);
Ability to critically analyze the economics of heritage particularly in relation to conservation needs, the impact upon local communities and tourism.
Last updated Jun 2019
About the School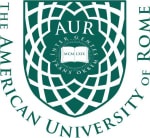 The American University of Rome (AUR) is one of the oldest degree-granting American universities in Italy. Students obtain an accredited United States of America bachelor degree upon completion of the ... Read More
The American University of Rome (AUR) is one of the oldest degree-granting American universities in Italy. Students obtain an accredited United States of America bachelor degree upon completion of the academic program (typically four years in duration.) The US bachelor's degree is universally recognized as a standard of success of higher education.
Read less