Program Description
About
The MA program in the Department of Sociology is a two-year graduate program designed to provide students an intellectually stimulating and vibrant academic environment to enhance their "sociological thinking" through graduate-level coursework and thesis-based research. Each year, we seek to admit a small number of interested, enthusiastic, and qualified students.
Since our cohorts are small, students in our program benefit from close mentorship opportunities with supportive and interested faculty. Students also benefit from flexibility in course offerings and personal attention in designing a program aligned with their individual research interests. Typically, students will require a bachelor's degree in Sociology to be admitted into the program, but a bachelor's degree from other cognate disciplines, combined with a planned program of research grounded in sociological inquiry, will also be considered. Applicants are required to contact a potential supervisor prior to applying to the program to ensure suitability of their proposed research and to confirm a willingness on the part of the faculty member to act as their supervisor.
Faculty members in the Department of Sociology are actively involved in research, including many projects that may lend themselves well to graduate thesis work. Research interests among faculty are wide-ranging, and include interests in cultural, social, and political theory, gender and sexuality, social control, family and work, social trends, religion, youth, political sociology, sport and physical activity, global inequalities and population challenges, and population aging, thus providing students with a rich array of research areas to pursue (for a listing of specific research interests by individual faculty members see uleth.ca/artsci/sociology/department-sociology-faculty-research-information). The methodological approaches department members utilize are also diverse, and include interviewing, fieldwork, autoethnography, surveys, contextual analysis, global comparative analyses, and statistics. The department also has affiliations with several research centers and projects that draw faculty from multiple departments, which may be in line with student needs and research interests. These include the Centre for Culture and Community, the Prentice Institute for Global Population and Economy, the University of Lethbridge Research Data Centre, the Centre for Oral History and Tradition, and the Institute for Child and Youth Studies.
We look forward to welcoming you to the MA program in the Department of Sociology!
Finding a Supervisor
Students are required to secure a potential supervisor prior to submitting an application for this program. For further information please visit our Search Supervisors page.
Career Opportunities
Our MA program is oriented toward intellectual and academic research to prepare students for further academic pursuits, such as a Ph.D. As such, the course curriculum emphasizes a solid grounding in both social theory and qualitative or quantitative methods. However, the academic and analytic skills acquired in the program have clear relevance to many employers, and a number of our graduates have gone on to have successful careers in non-university settings, such as teaching, counseling, management, human resources, community outreach, art curation, and recreation.
Last updated Feb 2020
About the School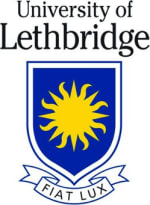 The University of Lethbridge was built on a commitment to students and the student experience, small classes and the liberal arts. Those founding principles are still at the forefront of what we do. T ... Read More
The University of Lethbridge was built on a commitment to students and the student experience, small classes and the liberal arts. Those founding principles are still at the forefront of what we do. Today the U of L is respected around the globe and is recognized as a research-intensive, comprehensive university.
Read less