Program Description
The Master in Communication with a specialization in Multimedia Journalism prepares journalists capable of producing journalistic products in tune with the requirements of the digital era and with the knowledge to use the new digital platforms that are present in the field of communications. It offers students the knowledge to understand the new tendencies and requirements of journalism in a changing and global world. The curriculum focuses on the theory and practice of journalism.
The students will master diverse areas in the field of communications and will be able to develop new products in numerous multimedia platforms that will transcend territorial frontiers and have a global reach. They will master the traditional news formats but will focus on the use of multimedia formats. At the same time, they will understand the needs of the modern communication markets, and the legal, ethical foundations that protect freedom of speech and press.
The Master in Communications-Multimedia Journalism degree is a component of the multiple disciplines offered by the School of Social Sciences and Communications.
Program Objectives
The general objectives of all school curricula and programs are to:
Maintain academic excellence through study, teaching and social research.
Promote the knowledge and preservation of local, national and universal cultural values.
Develop the understanding that collaboration is necessary to achieve the sharing of ideas within disciplines, institutions, communities, and nations.
Develop the capacity to analyze problems and seek solutions.
Promote understanding of the human condition, helping students to view the world with compassion and promoting responsible and ethical behavior.
Provide the student with interdisciplinary knowledge that makes it possible to understand modern society and its primary social problems.
Help the student to obtain a scientific and philosophic education, analytical and observant of human and organizational behavior.
Foster critical analysis and research of the economic, social and political situation in the United States today, and encourage interest in searching for alternative models and solutions.
Prepare the student to pursue graduate studies in the social sciences and communication fields.
Based on the School of Social Sciences and Communications (SSCC) objectives the Master in Communications Multimedia Journalism has the following objectives:
Apply the principles and laws that protect freedom of speech, press, and assembly both at the national and international levels.
Analyze the history and development of communications in society and the role of professionals that work in the field.
Apply the principles of social respect and diversity that permeates society and understand its relation to communications and diversity of cultures in a global society.
Apply the principles, theories, concepts and fundamental models of social communications in the presentation of written and audio-visual news stories.
Apply the ethical principles of the profession, respecting truth, accuracy, impartiality, and diversity.
Demonstrate critical thinking, creativity, and independent thinking skills and use them to solve conflicts and problems in a creative form in the field of multimedia journalism.
Apply investigative techniques to obtain the necessary information to identify problems in the journalistic field and establish the strategies needed to solve them.
Write correctly and clearly in forms and styles appropriate in the field of multimedia journalism.
Apply the most recent tools and technologies of communications and recognize its impact in today's digital era.
Critically evaluate their own work and that of others for accuracy, precision, and clarity in the use of English and Spanish.
| | |
| --- | --- |
| Curricular Sequence | Credits |
| Core Professional Courses | 15 |
| Major Courses | 15 |
| Elective Courses | 3 |
| Total | 33 |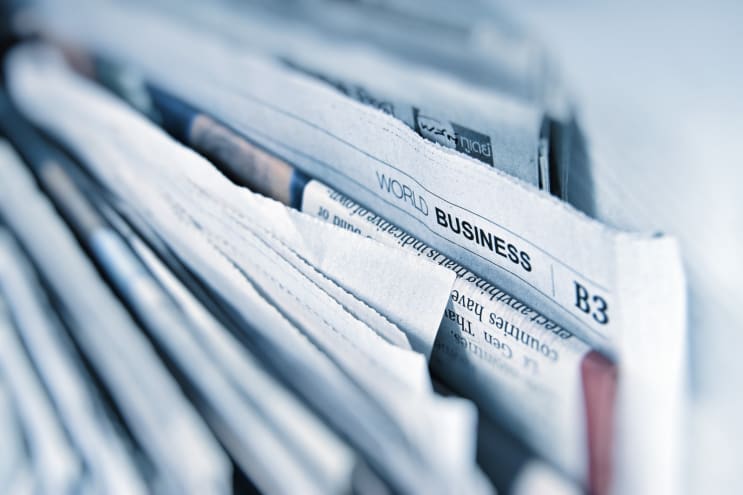 AbsolutVision / Unsplash
Curriculum
Core Professional Courses (15 Credits)*
COMM 51O-O Contemporary Theories of Communications
COMM 511-O Development and Management of Media Enterprises
COMM 515-O Research Methods in Communication
COMM 517-O Communications and New Media
COMM 520-O Advanced Writing for the Media
Major Courses (15 Credits)
COMM 540-O Journalism and Globalization
COMM 541-O Fundamentals of Multimedia Journalism
COMM 542-O Journalistic Writing for Multimedia
COMM 545-O Investigate Journalism for Multimedia
COMM 550-O Project
Elective Courses (Students will select one of the following courses) (3 Credits)
COMM 512-O Legal and Ethics Aspects of Communications
COMM 543-O Journalism and Public Affairs
COMM 544-O Environment, Conflict and Crisis News
*Language skills in English and in Spanish will be assessed with a placement test. Additional language courses may be needed according to the student's scores on placement tests. If students qualify for Preparatory Language Courses or developmental Language Courses, they must enroll in the courses immediately to increase academic performance in the language. Students must abide by the minimum required hours and policies set by the state and local education agencies for practicum experiences. Students must comply with state and local education certification requirements for the degree, as applicable.
Last updated Dec 2019
About the School

La Universidad Ana G. Méndez, Recinto Online hace accesible a la comunidad local e internacional una educación superior con los más altos estándares de calidad. Para lograr este propósito, hemos utili ... Read More
La Universidad Ana G. Méndez, Recinto Online hace accesible a la comunidad local e internacional una educación superior con los más altos estándares de calidad. Para lograr este propósito, hemos utilizado tecnologías innovadoras para ofrecer un servicio ágil y eficaz al estudiante. Creamos programas académicos y cursos de educación continua que siguen un modelo educativo y un diseño instruccional que busca promover la formación integral del estudiante.
Read less