Master of Arts in Latin American Studies
Home ›
MA ›
Master of Arts in Latin American Studies
Program Description
Master of Arts in Latin American Studies
The Latin American Studies Program at the University of Miami takes an interdisciplinary approach to the study of the politics, economics, cultures, and societies of Latin America and the Caribbean. Courses in the program are offered in departments from every school and college at the University of Miami, and the program's faculty research topics ranging from development economics to immigrant health care, from indigenous music to Caribbean colonial literature, from the archaeology of the region's earliest people to present-day questions of resource conservation and management. Our students become true experts who can speak to a wide range of issues confronting Latin America; experts who can contribute proactively to development and cooperation as well as to business and political analysis in ways that their peers with a more traditional disciplinary focus simply cannot.
Program Overview
The Master of Arts in Latin American Studies is a 30-credit interdisciplinary degree characterized by a distinct level of flexibility in allowing students to create a course of study focused on Latin American and the Caribbean that serves the unique interests of each student. Combining core courses offered by the program with a large variety of co-listed and cross-listed courses offered by departments, programs, and units throughout the University of Miami, the program offers tremendous diversity in course selection. We encourage students to combine course offerings from around the university into a cohesive course of study that allows them to specialize in an area, topic, country, theme, or issue of their choosing and thus to tap into the many resources available at the University of Miami for students with a passion for Latin America and the Caribbean, including the history of Hispanic people, literature, migration, cultural studies, and anthropology.
General Admission Requirements
In addition to holding the baccalaureate degree from an institution accredited by SACS or another regional accrediting body, the applicant for admission to the Graduate School should have the prerequisite coursework required by the program. In general, those applying for graduate admission should have achieved an overall average grade of "B" or better (3.0 G.P.A. on a 4.0 scale). International students will be required to give evidence of adequate knowledge of English through a TOEFL or IELTS test score.
Applicants must also complete/provide:
The online application form.
Official transcripts of all college work, both undergraduate and graduate.
The official score report of the GRE (Graduate Record Examination) - all applicants must submit recent (within five years) GRE scores.
International applicants whose native language is not English must take either the Test of English as a Foreign Language (TOEFL) or the International English Language Testing System (IELTS). TOEFL and IELTS scores are valid for 2 years after the test date.
A resume or curriculum vitae and a statement of purpose (submitted through the online application system).
Three (3) letters of recommendation (submitted online through the recommendation system in the application.).
Application fee of $85.
Applicants interested in fellowship opportunities should complete the Application for Graduate Assistantships and Fellowships and return it to William Pestle, at w.pestle@miami.edu.
Official transcripts, GRE score reports, and TOEFL or IELTS scores (if applicable) should be mailed to:
Dr. William Pestle
Latin American Studies Program
University of Miami
P.O. Box 248106
Coral Gables, Florida, 33124-2005
International Student Admission Requirements
All international students who have been admitted to a program of full-time study at the University of Miami need to enter the U.S. on a student visa. To apply for an F-1 visa, you must provide the U.S. Embassy or Consulate with a Form I-20 or DS-2019, passport, statement of funds, and other documents as required by the U.S. Embassy or Consulate. Please visit the International Student and Scholar Services (ISSS) website for further information regarding visas, travel, pre-arrival information, etc. The Form I-20 or DS-2019 can only be issued after you have been admitted and have submitted proof of adequate financial support for your studies and living expenses. For questions regarding the issuance of the Form I-20 or DS-2019, please contact your individual department.
Last updated November 2019
About the School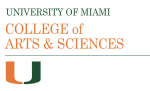 The College of Arts & Sciences is located in suburban Coral Gables, just minutes from downtown Miami, one of the most diverse, dynamic, and global cities in America. A&S students and scholars ... Read More
The College of Arts & Sciences is located in suburban Coral Gables, just minutes from downtown Miami, one of the most diverse, dynamic, and global cities in America. A&S students and scholars live, work, research, and play in Miami, an endless resource for internship and volunteer opportunities, language and cultural immersion, intellectual exploration, and lively entertainment. In turn, the city views the College as its primary brain trust. A&S scholars work closely with government agencies, businesses, and nonprofit organizations across the region to improve the economic output and quality of life of our shared community.
Read less