Master of Arts in Global Leadership and Sustainable Development
Home ›
MA ›
Master of Arts in Global Leadership and Sustainable Development
Program Description
Across the world, there is a growing need for sustainable and resilient solutions to many of the complex problems we face. As the need becomes more and more apparent, the demand for sustainability professionals increases as well. The Master of Arts in Sustainability (MASUST) is designed to prepare students to lead change initiatives in a globalizing world in the growing field of sustainability. Students learn to search for the underlying causes of global environmental, economic, and social problems and design and lead responses that produce sustainable outcomes for the current and future generations.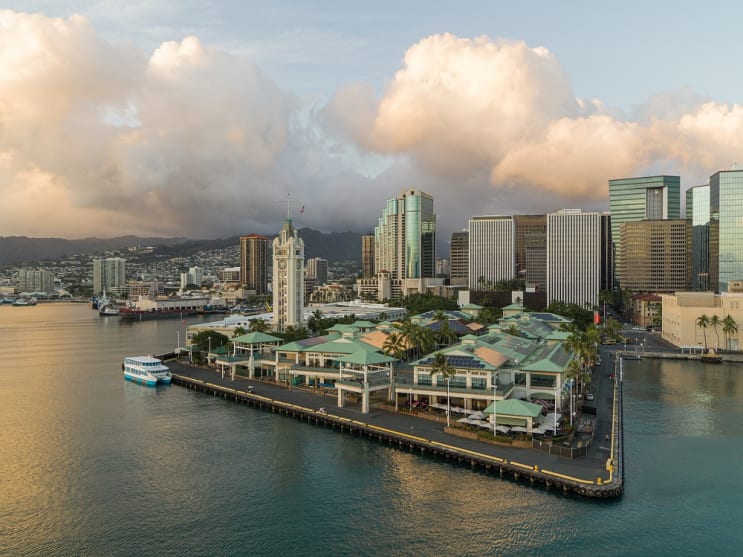 Why HPU for MASUST?
The MASUST program at HPU emphasizes leadership development in the increasingly critical field of sustainability. Through an interdisciplinary approach, the Sustainability program builds students' conceptual and practical skills to think and work holistically across human, social, economic, and ecological systems.
HPU attracts students from all fifty United States and more than 65 countries, providing a truly international feel. The MA-SustainabilityT program reflects that diversity. By joining our program, you will share your commitment to sustainability with fellow MA-Sustainability students from a wide range of geographic areas and cultural and professional experiences. Furthermore, the environmental surroundings and cultural settings of our unique location in Hawaii provide a rich microcosm in which to explore and implement sustainable practices.
Admissions Requirements
Individuals wishing to apply to the MA-Sustainability degree program at HPU are required to submit the following:
Application
Transcripts
Two Letters of Recommendation
Statement of Purpose
Resume
$55 Application Fee
Students from a variety of backgrounds are attracted to this graduate program. Therefore, to ensure each student is adequately prepared for the academic rigors of a graduate-level program, the following courses (or an undergraduate equivalent) must be satisfactorily completed as a foundation for graduate studies:
CSCI 3201 Info Mgmt Using Spreadsheets and Databases or MIS 2000 Info Tools for Business
SOC 3100 Methods of Inquiry
SOC 3200 Social Statistics
Program Learning Outcomes
Students who successfully complete the Master of Arts in Sustainability program will:
Think systemically and thus identify and analyze the structural causes that underlie global issues and problems.
Search collaboratively for solutions to global problems and issues that meet the expectations of multiple stakeholders within ecological limits.
Critique events decisions, and issues related to globalization in terms of both their short and long-term consequences across multiple stakeholders, including the natural world.
Recognize that the dynamic, complex, and interdependent nature of globalization forces requires transparency and democratic processes for optimum solutions if social justice is to be achieved.
Analyze global issues using systems thinking concepts and tools, e.g. causal-loop diagrams, timeline analysis, structural analysis.
Engage in self-reflection of their leadership potential and put in place a personalized plan to develop the leader within.
Conceptualize, initiate, and lead change programs that enhance the sustainable development dimension of human systems.
Recent MAGLSD graduates enjoy rewarding careers at companies around the world, including:
Hawai'i Department of Land and Natural Resources
Norwegian National Rail Administration
Cincinnati Health Department
U.S. Department of Veterans Affairs
California Center for Sustainable Energy
Pacific Northwest Laboratory
Success comes naturally to HPU MA-Sustainability alumni, including:
Lauren Reichelt ('17), Clean Transportation Manager, Blue Planet Foundation
Aaron McDonald ('14), Ph.D. student, University of Oregon, Lundquist College of Business
Danielle Lien ('13), Coordinator, Green Climate Fund Agency at Conservation International
Lauren Ballou ('12), Environmental Planner, Vanasse Hangen Brustlin, Inc. (VHB), Boston, MA
Josh Prigge ('11), Director of Regenerative Development, Fetzer Vineyards
Jonathan Chin ('10), Energy Analyst, DBEDT, Honolulu, HI
Katie Fisk ('10), Disaster Reservist, FEMA, Denver, Colorado
Yasser Alkhalaiwi ('10), Corporate, Litigation and Labor Lawyer, Omar Al Rasheed & Partners Law Firm, Riyadh, Saudi Arabia
Last updated Oct 2020
About the School

At HPU we believe that it is our responsibility to give back to the community and respect the land we live in. Students, faculty, staff, and the broader university community are encouraged to find exp ... Read More
At HPU we believe that it is our responsibility to give back to the community and respect the land we live in. Students, faculty, staff, and the broader university community are encouraged to find experiential learning opportunities with community impact that perpetuates our Hawaiian values of pono, kuleana, and aloha.
Read less