Program Description
The M.A. in Food Studies is an interdisciplinary program that aims to provide knowledge and skills on the current situation and developments surrounding sustainable food production and consumption, more generally on how we affect the Earth's resources with our food choices. It will focus on the international dimensions but also on how the associated policy and regulatory frameworks are framed and implemented at regional, national and sub-national levels by the public and non-profit sectors as well as by the food industry.
The Program offers students the option to focus on a more professional-based path, according to their career aspirations, or a research-based path if they wish to pursue research at the Ph.D. level.
It is a flexible program that allows students to acquire research methods and techniques and also to choose courses to enhance their business or multimedia communication skills. Students with entrepreneurial ambitions can follow a course of study whereby they will gain both conceptual grounding and hands-on skills in relation to the business of food, including accounting and finance, marketing, strategy and other functional business areas in both large and small corporate entities. Students may also choose multimedia communication and learn concepts and theories of visual communication related to food in an ever-evolving digital environment, along with technical skills for a variety of multimedia products. Students will also have the opportunity to hone their writing skills in relation to food in its various professional forms, including technical writing for the scientific community, policy-makers, and consumers.
Potential career paths
Students will be able to choose between two options for their career goals:
a professional path leading to work in international, non-profit or private sector companies or to become an entrepreneur in the food business or to work in communication and digital media related to food.
a research-based path, towards a Ph.D. or other research-oriented academic and professional work.
Courses and thesis
Core courses: 15 credits total
Electives courses: 15 credits total
Thesis: 6 credits total
Prerequisite and Admission Requirements
a completed B.A./B.Sc. degree in the sciences, humanities or social sciences.
a minimum undergraduate GPA of 3.0 at their previous institution.
a basic understanding of statistics and their use in social science research.
students who completed their B.A. in a language other than English must demonstrate proficiency in English language by submitting the official test scores

TOEFL (Test of English as a Foreign Language) Paper-based: 550 and Internet-based: 80
IELTS (International English Language Testing System): 6.5

Bachelor's degree in Humanities, Sciences or Social Sciences and excellent knowledge of English.
Costs for U.S. citizens and permanent residents and Canadian citizens: 20,000 US Dollar.
Costs for citizens and permanent residents of countries other than the United States or Canada: 15.000 Euro.
The goal of the M.A. Program in Food Studies is to provide students with the knowledge, critical thinking and transferable skills related to the global and local dimensions of sustainable food production and consumption, to the business of food and to communicating about food.
It is a flexible Program whereby students will be able to focus their course of studies on topics of their interest in relation to pursuing research at the Ph.D. level or in more direct relation to their professional career goals and aspirations.
Documents necessary for application :
Motivation Letter (700 words minimum) explaining specifically why you are interested in the Food Studies M.A. program.
A letter of recommendation from an undergraduate professor at your previous academic institution.
Official undergraduate transcript, which lists the courses you have taken and the grades/degree received.
If your degree was conducted in a language other than English, your official TOEFL or IELTS scores (this can also be taken on campus at various points in the year).
An up-to-date Curriculum Vitae.
A scan of your passport photo page.
The Program addresses:
The worldwide societal concerns on the choices facing humankind in relation to feeding an increasing world population, the pressures exercised on natural resources, the risks of the loss in biodiversity, the spread of obesity, the persistence of undernutrition and the impact of climate change.
The interdependence of nations and the ways in which governments, the business industry, and civil society are dealing with these issues through policies, programs, and regulatory frameworks.
The business and communication models and practices towards sustainable food production and consumption.
Learning Outcomes
Upon completing the Program students will be able to:
Demonstrate a high level of knowledge of the main factors impinging on sustainable food production and consumption at the global level and relate them to their own countries' situation.
Evaluate the nexus between food production-consumption and the environment.
Analyze the main policies and regulatory frameworks related to food and their implementation at international and national level.
Examine and compare the main tenets of food-induced rural development policies and programs, in both developed and developing countries, and with particular reference to Italy, within the European context.
Depending on the selected path, students will acquire specific academic and transferable skills; at the end of the program they will be able to:
Conduct research by framing a research question, identifying and applying the appropriate quantitative or qualitative methods.
Write a research paper.
Defend a thesis.
Analyze and present complex statistical data in a clear and effective way.
Appraise the macroeconomic environment and government policies impinging on public policies and on private business development.
Perform financial analyses, budget, and forecasting for business in the food sector.
Appraise and apply elemental marketing strategies, market research and market assessment techniques.
Work as a consultant, using management consultancy skills.
Prepare for a career in the food-environment sectors.
Communicate persuasively both orally and in writing, in different contexts and situations.
Write professionally about food through narrative prose and/or technical writing for the scientific community, policy-makers, and consumers.
Conceive a media strategy and produce communication projects to be accessed and displayed over a wide variety of media platforms (print, web, video, social media).
Duration: 15 months
Start date: Fall 2015
Credits: 36
Last updated Jun 2019
About the School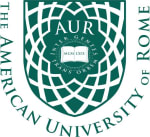 The American University of Rome (AUR) is one of the oldest degree-granting American universities in Italy. Students obtain an accredited United States of America bachelor degree upon completion of the ... Read More
The American University of Rome (AUR) is one of the oldest degree-granting American universities in Italy. Students obtain an accredited United States of America bachelor degree upon completion of the academic program (typically four years in duration.) The US bachelor's degree is universally recognized as a standard of success of higher education.
Read less