Read more about this program on the school's website
Program Description

Read more about how RIT is tackling the coronavirus crisis here
Overview
At a time of significant transition in the profession, RIT's architecture program allows for full incorporation of the skills and knowledge critical to the 21st-century architect. The program produces broad-thinking architects well-grounded in the principles and practices of sustainability who can apply their knowledge and talents to the architectural problems posed by the modern city.
Plan of study
Students are required to complete 105 credit hours. Designed as a full-time program, courses are offered on campus, primarily during the day. Much of the course work is studio-based and includes technical courses, sustainability courses, and electives. In addition to three required sustainability courses, students take one sustainability elective. Students prepare a thesis during their final year of study. Students take four graduate electives, drawn from courses offered by the colleges of Art and Design, Business, Engineering, Engineering Technology, and Liberal Arts. In addition to course work, students must fulfill one co-op experience and one global experience.
The program is designed for students with a broad range of interests and backgrounds who are interested in studying architecture at the graduate level, whose undergraduate degrees were obtained in fields either inside or outside of architecture. The curriculum has been shaped by the global emphasis of sustainability, factors that impact urbanism, and the application of the principles of design and craft; along with a focus around building technology, materials, construction, and systems.
Sustainability
With a global need for a more sustainable world, including buildings and their impact on energy consumption and carbon footprints, the focus of many courses reflects the conditions of sustainable design and practice.
Technology
Design exploration is enhanced through the understanding of the implication of technology on both the design process and product. The program enables students to focus and collaborate in many specialized areas of technology, including engineering, computer science, imaging science, materials and construction, and products and remanufacturing.
Urbanism
Because a degraded urban environment has grave implications for social, economic, cultural, and environmental health, the program pays particular attention to urban settings and urban principles. The complexity of the urban environment requires an interdisciplinary approach to architecture education—one that references economics, public policy, sociology, and regional culture. The program focuses on the practices and principles of preservation and adaptive reuse. The city of Rochester, New York, serves as an active learning environment for students.
Integrated learning/integrated practice
Like all strong design programs, the program's core education takes place in the studio. The studio curriculum integrates construction technologies, material science, and mechanics into the design. From the outset, students often approach design problems within teams, learning to value, and leverage collective intelligence. The integrated learning model prepares students for the increasingly integrated practice of architecture, where integrated project delivery is fast becoming the dominant model, and architects are orchestrating teams of professionals from a variety of fields, including engineering, management, science, and computer science.
Accreditation
The master of architecture program received accreditation in 2017 by the National Architectural Accrediting Board (NAAB), www.naab.org.
Industries
Architecture and Planning
Interior Design
Design
Renewables and Environment
Government (Local, State, Federal)
Higher Education
Curriculum
Architecture, M.Arch. degree, typical course sequence
First Year
ARCH-611 Architectural Representation I
ARCH-612 Architectural Representation II
ARCH-621 Architectural History I
ARCH-622 Architectural History II
ARCH-631 Architectural Design I
ARCH-632 Architectural Design II
ARCH-641 Fundamentals of Building Systems
ARCH-761 Understanding Sustainability
Second Year
ARCH-731 Architectural Studio I: Site
ARCH-734 Architectural Studio II: Urban
ARCH-741 Integrated Bldg Systems I
ARCH-742 Integrated Building Systems II
ARCH-751 Architectural Theory
ARCH-752 Urban and Regional Planning
ARCH-762 Industrial Ecology Funds
ARCH-763 Sustainable Building Metrics
Third Year
ARCH-733 Architectural Studio III: Adaptive
ARCH-735 Architecture Studio IV: Integrative
ARCH-743 Integrated Building Systems III
ARCH-744 Integrated Building Systems IV
ARCH-753Research Seminar/Thesis Prep
Graduate Sustainability Elective
Graduate Electives
Fourth Year (fall only)
ARCH-771 Professional Practice
ARCH-790 Thesis
Graduate Electives
Summers
ARCH-698 Global Experience
ARCH-699 Coop Architecture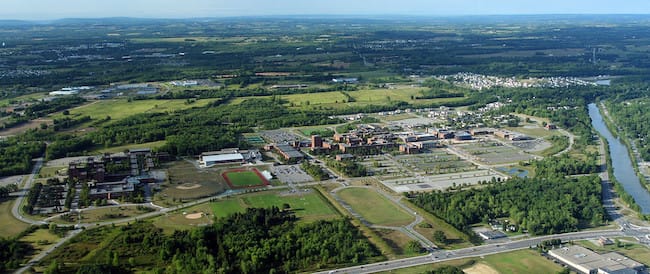 Admission Requirements
To be considered for admission to the M.Arch. program in architecture, candidates must fulfill the following requirements:
Complete a graduate application.
Hold a baccalaureate degree (B.Arch., BS, BA, BFA, or equivalent) from an accredited university or college from an accredited institution.
Have a minimum cumulative GPA of 3.0 (or equivalent).
Submit official transcripts (in English) of all previously completed undergraduate and graduate course work.
Successfully complete at least one semester each of college-level math (e.g. algebra, pre-calculus, calculus, etc.) and science (e.g. physics, earth science, chemistry, etc.).
Submit a personal statement of educational objectives.
Submit scores from the GRE.
Submit two letters of recommendation from academic or professional sources.
Submit a PDF digital portfolio of creative work, which may include sketches, constructions, graphics, and/or photographs. While student portfolios do not require examples of architectural drawing/design, evidence of creative talent will be important in determining admission. (Refer to Portfolio Requirements for more information.)
International applicants whose native language is not English must submit scores from the TOEFL, IELTS, or PTE. A minimum TOEFL score of 79 (internet-based) is required. A minimum IELTS score of 6.5 is required. The English language test score requirement is waived for native speakers of English or for those submitting transcripts from degrees earned at American institutions.
Portfolio Guidelines
All applications must be accompanied by a PDF digital portfolio. Print or bound portfolios or digital portfolios in formats other than PDF will not be accepted or reviewed. Please note, all PDF portfolios should be less than 6.0mb. Larger files will not be accepted or reviewed. In the event the review committee requires additional information or higher resolution images, the applicant will be notified.
Guidelines for portfolio preparation:
Image quality: A medium quality image setting on a digital camera is sufficient. No images should be pixelated.
File size: The total size in an 8.5"x11" format and cannot exceed 6.0mb. Alternatively, students may use the PDF portfolio feature (found under FILE, in more recent versions of Adobe Acrobat) to create a portfolio.
Orientation: Landscape orientation is preferred.
Cropping: Crop out unnecessary objects from the images so that there are no distractions from the work presented.
Image enhancement: If the image files of your work are not accurate after photographing, image-editing software is allowed to correct the appearance of the files submitted. Please use caution. It is important to maintain the integrity of the original artwork.
Filename: Only one PDF portfolio file is allowed. It should be labeled using the following format: UARC_XX_LASTNAME.PDF, (XX is equal to the code for the academic year to which you are applying, ex: 2019 would be 19, 2020 would be 20, etc.) Enter the last name in all capital letters in place of LASTNAME. Do not enter given names or middle names in this field.
Submission: All PDF portfolio files must be submitted via email to gradinfo@rit.edu. Students should include their name in the subject line of the email. Files delivered on CD/ROM or USB drives will not be reviewed or accepted.
Last updated May 2020
About the School
With more than 80 graduate programs in high-paying, in-demand fields and scholarships, assistantships and fellowships available, we invite you to take a closer look at RIT. Don't be fooled by the word ... Read More
With more than 80 graduate programs in high-paying, in-demand fields and scholarships, assistantships and fellowships available, we invite you to take a closer look at RIT. Don't be fooled by the word "technology" in our name. At RIT, you will discover a university of artists and designers on the one hand, and scientists, engineers, and business leaders on the other – a collision of the right brain and the left brain.
Read less