Program Description
Established in 1984 at Drury University in Springfield, Missouri, the Hammons School of Architecture is an accredited five-year professional degree program which offers a Master of Architecture degree. The required architecture courses are integrated with the liberal arts curriculum of the university. The objective of this integrated curriculum approach is preparation for professional architectural practice within the broadest possible educational context.
The first two years of the five-year program are considered the pre-professional years. Enrollment in the first year of the pre-professional program is limited based upon high school GPA and SAT/ACT scores.
During the first two years of this program, coursework includes a liberal arts body of knowledge in collaboration with drawing, design, history and theory, computer graphics and technology. Students who successfully complete these initial studies continue on to the professional program to continue advanced courses in architecture and the Engaging Our World (EOW) curriculum for the concluding three years.
Within the professional program, students must choose an area of concentration from three broad categories: Design Theory and History; Technology and Sustainability; or Urban and Regional Studies. Alternatively, students may propose an individually defined concentration that may be suited to the student's interests and career goals. Included in the 170 credit hours are a foreign study experience, a community design effort, summer coursework and a summer internship. The foreign study may be taken either as a semester abroad at the Drury Center in Greece or through an alternate summer study abroad program. The community design project is taken through the Center for Community Studies (CCS). The internship is an opportunity for each student to work in the profession. Students can also explore other fields and complete, concurrently, majors and minors in the humanities, the sciences, business administration, and the visual and performing arts.
Co-curricular activities such as the Convocation lecture series, architecture lecture series, art and architecture exhibitions, student-designed and built community projects, and travel expeditions to surrounding states contribute to a rich and meaningful educational experience. The faculty has a strong commitment to teaching and to nurturing individual student development. There is also a strong collaboration with the American Institute of Architects Springfield Chapter.
The Hammons School of Architecture facility, constructed in 1991, is an exceptional structure that provides the proper setting for this unique educational experience. The heart of the building consists of the welcoming studio environment supported by computers, classrooms, and a well-equipped shop. The 250-seat auditorium is used for academic, professional and public functions that make the school an important cultural center in Southwest Missouri.
The National Architectural Accrediting Board requests that each student is advised of the following:
In the United States, most state architecture registration boards require a degree from an accredited professional degree program as a prerequisite for licensure. The National Architectural Accrediting Board (NAAB), which is the sole agency authorized to accredit U.S. professional degree programs in architecture, recognizes three types of degrees: the Bachelor of Architecture, the Master of Architecture, and the Doctor of Architecture. A program may be granted a 6-year, 3-year, or 2-year term of accreditation, depending on the extent of its conformance with established educational standards.
Master's degree programs may consist of a pre-professional undergraduate degree and a professional graduate degree that, when earned sequentially, constitute an accredited professional education. However, the pre-professional degree is not, by itself, recognized as an accredited degree.
The next accreditation visit for the program is in 2016.
100 Level Courses:
Introduction to Architecture
Architectural Design II: Proportion, Scale, and Space
Architectural Representation
Why Buildings Matter
Why Cities Matter
200 Level Courses:
Architectural Design III: Concept, Environment, and Site
Architectural Design IV: Human Needs and Activities
Introduction to Computers in Architecture
Introduction to Building Systems
Structures I
History of Architecture, Urbanism, and Art I
History of Architecture, Urbanism and Art II
Theories of Architecture
300 Level Courses:
Architectural Design V: Synthesis
Structures II
Environmental Systems I
History of Modern Architecture
Design/Build Special Project
BIM and Advanced Computer Modeling
400 Level Courses:
Architectural Design VI: Community Studies
Architectural Design VII: Urban Context
Travel Journal: Mediterranean Cultures
Professional Communication
Journaling: Urban Form in the Global Context
Culture and Place: The Greek Legacy
Culture and Place: The Theoretical and Historical Context
Architecture Internship
Facility Programming
Research
Master of Architecture Courses
500 Level Courses:
Architectural Design VII: Comprehensive Studio
Architectural Design IX: Exploration
Architectural Design X: Thesis
Architecture Topics: Technology and Sustainability
Environmental Systems II
Structures III
Architecture Topics: Design Theory and History
Architecture Senior Seminar
Professional Practice
Architecture Topics: Urban and Regional Studies
Selected Topics
Research
Last updated Nov 2018
About the School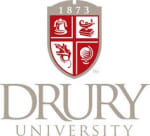 Drury University is an independent university, church-related in the liberal arts tradition, and committed to personalized education in a community of scholars who value the arts of teaching and learn ... Read More
Drury University is an independent university, church-related in the liberal arts tradition, and committed to personalized education in a community of scholars who value the arts of teaching and learning.
Read less