Program Description
Overview
RMIT Architecture has an international reputation for design excellence and leads the way both in Australia and overseas by producing graduates who are design innovators.
With a strong focus on ideas-led venturous design exploration, RMIT's Master of Architecture will assist you to develop a sophisticated understanding of architecture, while providing you with a diverse set of advanced skills and learning experiences.
You'll continue to develop the core skills of architectural design learnt in the degree to an advanced level. You will enhance your understanding of architecture and design-based research, acquire diverse skills, undertake a wide variety of learning experiences and gain a critical awareness of your own work.
RMIT Architecture and its graduates continue to achieve at the highest levels and are acknowledged by the national and international architectural profession.
At the annual 2018 Victorian Architecture Awards run by the Australian Institute of Architects, RMIT's architecture community featured prominently across the 58 awards and 16 categories, receiving a number of key and prestigious awards.
Key achievements
The New Academic Street (NAS) by Lyons with NMBW Architecture Studio, Harrison and White, MvS Architects and Maddison Architects won this year's highest honour: the coveted AIA Victorian Architectural Medal and the Henry Bastow Award for Educational Architecture.
RMIT Professor Carey Lyon is the Director of Lyons and the fifth RMIT Professor in a row to lead prestigious Victorian Medal-winning projects
M@ STUDIO Architects, a research-led practice lead by RMIT Professor Vivian Mitsogianni and Dean Boothroyd with staff, alumni and current students was awarded the 2017 AIA Melbourne Prize for their NGV 2016 Architecture Commission win.
RMIT Lecturer Ben Milbourne was awarded the Australian Institute of Architects 2017 Victorian Emerging Architect Prize.
Graduate Ton Vu was one of 10 students worldwide shortlisted for The Architectural Review's "Global Architecture Graduate Awards", and the only candidate to make the list from an Australian or New Zealand university.
The Master of Architecture is the next step on the path to becoming a design architect with professional accreditation.
Top 3 reasons to be part of RMIT Architecture
Study in design-focused and practical, hands-on studios that model industry best-practice.
Learn from local and international leading architects in small classes and design studios.
Be immersed in an urban design laboratory in Melbourne, Australia's design capital.
Details
How you will learn
It's all centred around learning through design studios
RMIT Architecture's highly celebrated design studios are situated within an urban campus, which means you will be immersed a laboratory of design exploration and at the centre of innovation.
Studios are located across the city campus and within the multi-award-winning RMIT Design Hub designed by RMIT architecture alumni Sean Godsell. Design studios are one of the major reasons that make RMIT Architecture and its graduates so highly regarded by industry.
What is a Design Studio?
Design studios provide a unique way of exploring ideas by challenging future designers. Studios are run by academics and practising design leaders from local and international architectural and design firms.
The design studio model emulates the best practice of local and global design firms. The studios allow you to explore design, connect with your peers, industry and integrate with other disciplines.
Studios make up the majority of this program and are taught in small groups. You select which design studio you wish to follow from approximately 20 options, completing one per semester during the course of your studies.
Each design studio focuses on a particular theme and project per semester. In your final year, you will complete a design thesis project of your choice, which is referred to as your 'major project'. This project will develop on the research outcomes reached the conclusion of your architecture studies.
You can undertake studios and seminars in other programs such as landscape architecture, interior design and industrial design, as well as in the urban design and digital design research areas. This will foster pathways into our postgraduate Master of Urban Design.
Recent Studio Partners:
RMIT Associate Lecturer Amy Muir – MUIR Architecture
RMIT Professor of Architecture Carey Lyon – Lyons Architecture
RMIT Associate Professor Paul Minifie and Dr Jan van Schaik (lecturer) – MvS Architects
RMIT Adjunct Professors Howard Raggatt and Ian McDougall – ARM Architecture
Sandra Manninger & Matias del Campo – SPAN Architects Vienna, Detroit, Shanghai
Tom Verebes – OCEAN CN Studio, Beijing.
Industry connections
RMIT Architecture is renowned for its strong, long-standing links with industry through our teaching staff, many of whom are internationally recognised, award-winning practising architects. In the design studio context, you will have the opportunity to work on real-world projects with local and international communities and industry partners. Public lectures are held throughout the year, led by prominent local and international architects.
International opportunities
RMIT Architecture has a huge range of international exchange agreements with universities in the USA, Europe and Asia. You'll also have the opportunity to choose design studios that require overseas travel, to work with students from international universities.
Recent design studios have included collaborations with students in Berlin, Germany and architecture practices in Shanghai, China.
RMIT's Global Mobility supports students to undertake an exchange or short-term mobility activity with over 165 partner universities worldwide.
Career
Our graduates find work in architecture, design and building practices in the private and public sector. In small to medium-sized practices, graduates are engaged in a broad range of activities from design to project management. In large architectural firms, graduates may work across a number of disciplines and often pursue international work opportunities.
Professional recognition and accreditation
Completion of this 2-year Master program, following the 3-year Bachelor of Architectural Design program, meets the academic requirements for registration as an architect under the Architects Registration Board of Victoria and for membership of the Royal Australian Institute of Architects. Professional experience is required for registration.
Admissions
You must have successfully completed an Australian architecture-specific bachelor degree (or equivalent overseas qualification).
You will be selected competitively based on your grades and folio.
Entry requirements
Prerequisites: none
Selection tasks
If you have successfully completed the Bachelor of Architectural Design from RMIT University with a GPA of 2.5 out of 4.0 or above, you are guaranteed entry into Master of Architecture. You do not need to submit a selection task.
If you have completed the Bachelor of Architectural Design from RMIT University with a GPA less than 2.5 out of 4.0 or another architecture-specific Bachelor degree from a different institution, you will be required to submit an online selection task by 10 November comprising:
a personal statement outlining the motivation for applying for the program (maximum one A4 sheet).
a curriculum vitae (CV) including personal details, academic achievements and professional experience (any work experience you are currently undertaking).
an academic transcript of academic results from previous or current studies.
a folio of your work – see below.
Please note: The link to submit the selection task will appear on the applicant dashboard after you have submitted your application.
If you are short-listed, you will be invited to attend an interview in December.
Folio requirements
Format: A3 or A4 size PDF document
Maximum length: 30 pages
Maximum file size: 10MB
Your folio should include examples of your personal creative/design projects and concepts/ideas that lead to the final design piece. You may include any creative examples, including but not limited to:
images
drawings
sketches
paintings
models
photographs
computer work
of personal creative/design projects as well as concepts/ideas that lead to the final design piece.
Pathways
Pathway options
The Bachelor of Architectural Design provides a pathway into this program and is also portable into professional programs in architecture with a similar structure agreement.
A grade point average (GPA) of 2.5 or greater will guarantee a place in this program, though those students with a GPA of less than 2.5 can still apply.
To work as a registered architect
Completion of this two-year Master degree meets the academic requirements for registration as an architect in Australia. Additional professional experience and the completion of the registration examination through a State Architect's Registration Board is required for registration.
Fees
Fee summary
Entry for this program is primarily through Commonwealth Supported Places (CSPs).
Government financial assistance is available to eligible students regardless of the type of place you enrol in.
2019 indicative fees
Commonwealth supported places (CSP) range from AU$6,566 to AU$10,958*
Full-fee places: AU$36,480*
* Amounts quoted are indicative fees per annum, and are based on a standard year of full-time study (96 credit points). A proportionate fee applies for more or less than the full-time study load.
Additional expenses
Student services and amenities fee (SSAF): AU$303 maximum fee for 2019.
Other items related to your program, including field trips, textbooks and equipment.
Fees are adjusted on an annual basis and these fees should only be used as a guide.
Scholarships
RMIT awards more than 2000 scholarships every year to recognise academic achievement and assist students from a variety of backgrounds.
Last updated Aug 2019
About the School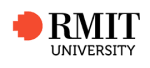 One of Australia's original tertiary institutions, RMIT University enjoys an international reputation for excellence in professional and vocational education, applied research, and engagement with the ... Read More
One of Australia's original tertiary institutions, RMIT University enjoys an international reputation for excellence in professional and vocational education, applied research, and engagement with the needs of industry and the community.
Read less