MA Architecture (ARB/RIBA Part 2) March
Home ›
Master ›
MA Architecture (ARB/RIBA Part 2) March
Program Description
Course overview
Emphasising design as a research practice, our MArch course challenges you to use your cross-disciplinary skills and knowledge to develop effective strategies and models for sustainable practice.
This may be within the context of the production of buildings, the spaces between them or the urban contexts in which they occur.
On this course, you'll consolidate your architectural experiences, both in education and in practice, while simultaneously questioning your preconceptions of the discipline.
By the end, you'll be equipped to adopt a critical position within the profession and in wider society. You'll also be able to initiate and deliver projects grounded in design-based research and continue a process of learning through practice-based experimentation and enquiry.
The course carries full and unconditional prescription from the Royal Institute of British Architects (RIBA) and the Architects Registration Board (ARB) as satisfying the Part 2 criteria.
Course details
Year 1
In year one, you'll undertake a number of tutor-led studio design projects. Lecture and seminar series are interwoven with studio design projects and inform their content.
Design Research 01
You'll embark on an extended piece of complex architectural design research, leading to a rigorous proposal. It should demonstrate your ability to devise ambitious architectural strategies, structural and sustainable objectives and approaches and coherent responses to the site within the project as a whole.
Design Research 02
You will extend and amplify the architectural design research initiated in the first module, leading to a rigorous proposal or proposals for a complex architectural design.
Design Technology
You will devise and implement a programme of research into technologies and experimentation. This usually emerges from the themes and issues in your design research project. The unit includes a series of programmed interdisciplinary workshops to introduce key skills and concepts, providing specialist inputs and opportunities to evaluate individual research from different vantage points.
Dissertation (option1)
This unit comprises a period of self-directed research on a subject related to the historical, theoretical and critical concerns of architecture. You will present a written dissertation (8,000-10,000 words) in which you will be expected to develop and articulate a sustained argument that demonstrates a high level of understanding of the subject area through analysis and evaluation.
Dissertation (option 2)
As with option 1, your dissertation will relate to the historical, theoretical and critical concerns of architecture. You will complete a research project, presented using alternate media (film, installation, software etc.) and an exegesis (2,000-3,500 words).
Year 2
In year two, you'll develop your own research agendas, drawing heavily upon the issues and methodologies introduced in year one.
Thesis 01
You'll develop and present your design thesis project. The format of presentation may include the production of diverse media, for example, models, drawings, installation, video, photography and text.
Thesis 02
This second phase involves the development and presentation of the thesis. The format of presentation is agreed with individual thesis tutors and may include the production of models, drawings, installation, video, photography and text.
Future Practice
Through lectures, workshops and tutorials, this unit is designed to provoke experimentation, risk-taking, exploratory and playful work while addressing the rigours of professional practice. A range of topics, including business (including marketing and advertising), economics, law and legal, management, media, systems and operation, and professional practices will be covered. There is also a series of talks centred around the RIBA stages: pre-agreement, ideas-design, pre-construction, construction and completion.
Realisation
You'll produce a technologically-driven realisation which arises out of an issue identified in your design Thesis. You are required to apply your understanding of technical knowledge to the resolution of building design problems, or to the development of novel approaches to design issues through rigorous, well–documented experimentation.
Fees and additional course costs
Tuition fees
The course fees per year for 2020 entry are:
UK and EU students full-time - £9,250
International students full-time - £16,250 (standard fee)
International students full-time - £15,600 (full early payment fee)
Additional course costs
In addition to the tuition fees please see the additional course costs for 2020 entry.
These fees are correct for the stated academic year only. Costs may increase each year during a student's period of continued registration on course in line with inflation (subject to any maximum regulated tuition fee limit). Any adjustment for continuing students will be at or below the RPI-X forecast rate.
Fee discounts & scholarships
To support all of our current students and our recent UK and EU alumni to progress to the next level of study, we have developed a new range of fee discounts across a range of courses.
Read more about fee discounts
Facilities
As well as dedicated postgraduate open plan studio spaces, for group tutorials and personal working, there is a 3D workshop with machines for working in wood, metals, plastics and ceramics and a fully-equipped computer studio with Macs and PCs programmed with the latest industry-standard software for design and animation. There are also laser cutters, 3D printers and a virtual reality lab on campus.
What our students say
"I would definitely recommend the MArch course at UCA. The curriculum is challenging, interesting and ambitious in its scope and this really brings the best out of students who fully embrace it. The course taught me to approach projects with a great deal of rigour and develop manifestos that are both conceptual and contextual."
Beth Lambert, Master of Architecture
Entry requirements
UK entry requirements
A good Honours degree in Architecture (normally 2.1 or above) with Part 1* of the professional qualification recognised by the ARB and RIBA
and
Normally one year in an architectural practice following the Part 1 qualification.
*The process for confirming Part 1 equivalence of overseas qualifications is undertaken by the ARB, the independent statutory regulator of architects in the UK, and also the UK's Competent Authority for Architects.
International entry requirements
To view the equivalent entry requirements for your country please check our website.
Your portfolio
For this course, we'll require you to attend an Applicant Day and bring your portfolio for assessment. Further information on how to compile a portfolio and the specific requirements for examples of work to be included will be provided on the Applicant Portal after you've applied.
Last updated May 2020
About the School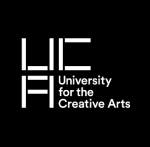 Oscar-winning filmmakers, world-renowned fashion designers, television presenters, celebrity jewellers and Turner Prize nominees are just some of the high-profile graduates from the University for the ... Read More
Oscar-winning filmmakers, world-renowned fashion designers, television presenters, celebrity jewellers and Turner Prize nominees are just some of the high-profile graduates from the University for the Creative Arts. As a specialist creative arts university, we have created a unique community for our students, where like-minded people can share in the creative process and inspire one another. Collaboration between courses is encouraged, with fine artists studying with budding filmmakers and fashion designers working alongside architects. In this way, our students benefit from exposure to a range of disciplines. Choosing to study with us will give you the freedom to discover your own personal style through a winning combination of industry-focused courses, state-of-the-art facilities, and inspirational expert staff.
Read less