Program Description
Our Programme
Offered in full-time mode, the HKU Master of Accounting programme will develop your core competencies in accounting, finance, management and business analytics that are vital for you to succeed as a professional accountant, financial expert and business leader.
Our programme delivers a rigorous learning experience across a wide spectrum of fields, including financial and managerial accounting, taxation, auditing, law, financial management, corporate governance, accounting analytics, strategic management, and business leadership. The curriculum has the following distinctive features:
A comprehensive postgraduate curriculum encompassing accounting, finance, management, and business analytics
Theories that explicate the important roles of accounting in economic decisions
Professional training in business leadership, strategic management reporting, and advanced financial and performance management benefited from the partnership with ACCA (the Association of Chartered Certified Accountants)
Accounting data analytics that converts information into executable actions
A capstone course to tie the various elements of the study together through real-world business projects
Students are required to successfully complete twelve 6-credit courses (72 credits), including eight core courses (48 credits) and four elective courses (24 credits). Those who have failed a core course are required to retake it. If the failed course is an elective, another elective can be chosen as a substitute. To graduate from our programme, the number of failed courses over the entire period of study cannot exceed two, and a cumulative GPA of 2.0 or above must be achieved. An attendance rate of 70% is required for all MAcct courses, failure to meet this requirement will result in a fail grade in the course concerned.
Schedule
The curriculum extends over a minimum of one academic year to a maximum of two academic years. The student will normally finish the programme in one academic year.
Classes are conducted on weekdays (morning/afternoon/evening) and Saturdays (morning/afternoon) at the HKU Cyberport Campus. Certain courses may be held at our Admiralty Town Centre or other venues.
Boot Camp (Mandatory for all students)
To make sure you can fulfil the requirements for professional accounting accreditations, a Boot Camp covering Economics, Marketing Management for Accountants and Statistical Analysis will be offered.
Each topic will consist of 15 class hours
There will be an examination after completion of each course
Students are required to attend all classes and pass all three boot camp courses
Pre-course Support
Online coursework and a list of suggested readings will be provided to help students to grasp the fundamental concepts of financial accounting.
Course Exemption
Course exemption of up to two core courses may be granted, except for the capstone course, if you:
(a) Can produce evidence, such as transcript and course syllabus, that a course is equivalent in content to another course taken elsewhere for which a satisfactory grade has been obtained; or
(b) Are holding relevant professional qualifications which were obtained before admission to the programme.
No credits will be given for the exempted course and you will be required to take an approved alternative elective course of the same credit value.
Partnership with The Association of Chartered Certified Accountants (ACCA)
A key part of our exclusive partnership with ACCA focuses on incorporating its Strategic Professional level exams into our curriculum. ACCA offers teaching guidance, case studies and learning materials to ensure that the content of its Strategic Professional exams is directly integrated into our programme.
The global economy is going through a time of unprecedented change – globalisation, digital technology, regulatory pressure and social expectation are transforming the business landscape. The world needs forward-looking, strategic thinkers with a blend of business and finance skills and ethical integrity more than ever.
With key elements of ACCA's Strategic Professional level embedded in this programme, we are setting a new standard by fully integrating deep, broad and relevant technical expertise with ethics and professional skills. Every element has a real-world focus, equipping students with a unique blend of skills and specialisation options which will super-charge one's career and impress employers.
Partnership with KPMG
The collaboration between the HKU Faculty of Business and Economics and KPMG emphasis on bringing KPMG's analytics technologies and real-life business experience to our Master of Accounting students with a wide range of programmes and activities, such as courses, seminars, workshops, mentorship and internships. Not only will they grasp the knowledge of the latest analytics tools, but they also gain both academically and practical knowledge from the industry practitioners.
Admissions Schedule
Application for Intake 2020 is about to begin (the application system will open in early September 2019).
Application Deadlines:
Round 1: 12:00 noon (HKT), October 22, 2019
Round 2: 12:00 noon (HKT), December 30, 2019
Round 3: 12:00 noon (HKT), February 13, 2020
Admissions Requirements
To be eligible for admission to the Master of Accounting programme, you must:
Hold a recognized Bachelor's degree;
Obtain statements from two referees, regarding suitability for the programme; and
Obtain a TOEFL/IELTS* score if you are not from an English-medium university.
Candidates with a good GMAT/GRE scores or possessing a business Bachelor's degree or have accounting-related work experience will be favourably considered.
*School codes for test score reports:
TOEFL: 9671 | GRE: 2482 | GMAT: FS2-WL-21
TOEFL and IELTS score reports are valid for two years only. GMAT score reports are valid for five years. For example, if you submit your application form on February 2, 2017, then only the report of TOEFL/IELTS test taken after February 1, 2015, is considered valid. Also, please make sure you can arrange the official test report to us in time as the test authorities may not issue your report when the test result has expired.
Last updated Sep 2019
About the School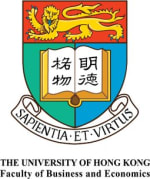 Tracing its roots back over a century, the University of Hong Kong (HKU) today proudly stands as one of the leading institutions of higher education in Asia. And with it, the Faculty of Business and E ... Read More
Tracing its roots back over a century, the University of Hong Kong (HKU) today proudly stands as one of the leading institutions of higher education in Asia. And with it, the Faculty of Business and Economics (FBE) has grown to become a widely recognised and respected business school in the region.
Read less