Program Description
Jumpstart Your Career with the Tulane Master of Accounting (MACCT) Program
Tulane's Master of Accounting (MACCT) program allows you to master the principles of accounting by working through a curriculum tailored specifically for you, your background and your career goals.
Through specializations and industry-specific opportunities, you'll quickly turn your interests into technical expertise. Not to mention that you'll be part of a uniquely accessible and supportive alumni network that spans the globe.
Our full-time MACCT program offers both a 10-month option and an 18-month option, so you can choose to work at your own pace. Whichever option you choose, you'll be ready for a successful career in accounting.
Experience Freeman Learning
In Master of Accounting classes, you'll gain a comprehensive knowledge of accounting by working through a customized curriculum tailored to you—your background, career focus, and CPA interests. Through electives and opportunities for breadth in a variety of specializations, you'll transform your interests into technical expertise.
At Freeman, learning is experiential. You'll interact with internationally-recognized faculty and peers from around the globe. Case studies and hands-on group projects prepare you for career success.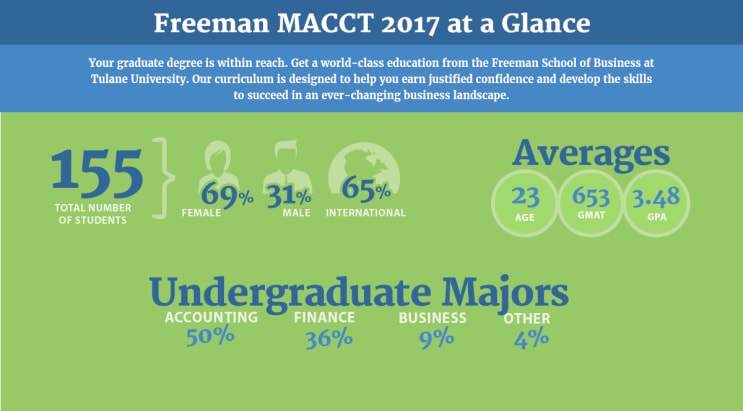 Master of Accounting Curriculum
Tulane's Master of Accounting program has an industry-endorsed curriculum designed to be flexible, allowing students to tailor their education to their personal and professional goals. All students will work closely with an academic advisor to design an individual course of study.
Accounting Prerequisites
(must be completed prior to beginning the program)
Financial Accounting (Freeman School ACCN 2010 or equivalent)

Managerial or Cost Accounting (Freeman School ACCN 3010 or equivalent)

Intermediate Accounting I & II (Freeman School ACCN 3100 & 4110 or equivalent)
Core Courses (18 credits)
Ethics in Accounting and Finance

Auditing

Advanced Financial Accounting

Advanced Managerial Accounting

Business Law

Principles of Entity Taxation
Electives (12 credits)
Accounting Information Systems

Energy Accounting and Valuation

Financial Statement Analysis

Forensic Accounting

Government and Not-For-Profit Accounting

Research in Taxation

Taxation of Individuals

Taxation of Partnerships and S Corporations

Core Courses in the Risk Option (see below)
Students who have an accounting undergraduate degree may be eligible to take the MACCT Risk Option with the following core courses:
Core Courses (12 credits)
Advanced Auditing

Accounting Research

Accounting for Business and Financial Risk

Accounting and Controls for Operational Risk
The remaining 18 credits are electives; nine elective credits should consist of graduate coursework related to a specific business discipline or industry (e.g., finance, taxation, energy, management).
Master of Accounting Specializations
Tulane's Master of Accounting program provides specializations that allow students to tap into the expertise of Freeman's stellar faculty, both within accounting and in other areas, to craft an interdisciplinary education or to deepen their knowledge in a specific area of accounting. All MACCT students work one-on-one with their faculty advisor to develop a course of study appropriate for their academic preparation, interests and career goals.
Students' ability to pursue a specialization will depend on their background in accounting. While no specialization is required, the expertise gained by completing a specialization will help students stand out to potential employers in the job market.
Analytics
Energy
Entrepreneurship
Risk Management
Strategic and Innovation Management
Structured Finance
Taxation
Career Outcomes
MACCT students acquire earned and justified confidence by completing one of the most exacting accounting programs in the region. By crafting an individual curriculum tailored to your interests, you will be prepared to sit for the CPA exam in the state of your choosing. In fact, our alumni have won the Sells Award in three of the last five years.
With a reputation for excellence in accounting spanning more than 30 years, Freeman has built strong relationships with the industry's leading employers. Our students have gone on to have successful careers at:
Bank of China

Capital One

Deloitte

Ernst & Young

IBM

KPMG

MTG Corporation

Pfizer

PricewaterhouseCoopers

Royal Bank of Canada

The Walt Disney Company

Wells Fargo
Local Experience, Global Reach
Living in New Orleans creates unique opportunities that enrich professional and personal growth. Freeman welcomes students from around the globe because we know the best leaders are those who know how to recognize, respect and leverage diversity. The diversity of our students and the excellence of our reputation translate into a valuable global network for graduates.
Application Requirements
Our application process is designed to be completed online. We will review applications for admission with unofficial transcripts and score reports. Official copies of transcripts and test scores are required after enrollment is confirmed. In addition, please upload complete course descriptions or syllabi for all accounting courses you have taken or will complete by enrollment.
Requirements
Online Application Form ($125 application fee)

Resume (uploaded online)

One Essay (uploaded online)

One Letter of Recommendation (submitted online)

Undergraduate Transcript/s from Accredited University (uploaded online)

GMAT Score Report or GRE Score Report (uploaded online)
In addition, international students are required to submit
TOEFL/IELTS/PTE Score Report

Affidavit of Support and financial documentation certifying funds

A course-by-course transcript evaluation if educated outside of the United States
APPLY NOW!
Last updated Mar 2020
About the School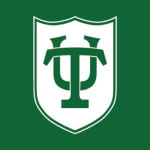 A. B. Freeman School of Business at Tulane University, originally the College of Commerce and Business Administration, was established in 1914 and is a founding member of the Association to Advance Co ... Read More
A. B. Freeman School of Business at Tulane University, originally the College of Commerce and Business Administration, was established in 1914 and is a founding member of the Association to Advance Collegiate Schools of Business (AACSB), the premier accrediting body for collegiate schools of business. Today, the Freeman School is a leading internationally recognized business school with nearly 3,000 students in programs spanning the globe.
Read less