Master in Visual Effects for Cinema
Home ›
Master ›
Master in Visual Effects for Cinema
Read more about this program on the institution's website
Program Description

Presentation
The visual effects sector opens up a wide range of professional profiles dedicated to the design, generation and production of digitally generated images that will be created and / or integrated into all types of audiovisual productions.
The ESCAC Master in Visual Effects for Cinema provides students with comprehensive, creative and technical training, providing a solid foundation, both practical and formal, to enter the visual effects industry. We take advantage of the environment of the film school to put this knowledge into practice in a real production system in constant interaction with the rest of the departments in the sector.
The Master in Visual Effects offers comprehensive, creative and technical training. It provides the basis, both practical and formal, for inserting yourself into the world of digital production visual effects. You will put this knowledge into practice in a real production system, which is in constant interaction with the rest of the filmmaking departments of the school.
This course delves into the theoretical-technical aspects of film production, enabling the student to successfully navigate the production direction of a feature film, from the conception of the script to the standard copy.
Who is it for?
Professionals in the audiovisual sector who want a comprehensive and intensive immersion in the world of visual effects, in a film and production environment. Including post-production professionals who want to update and / or jump into the film industry.
Computer, Multimedia, Video Game Engineers ... who want to complement their CV with a complete training in visual effects for cinema.
University graduates in Audiovisual Communication, Design, Fine Arts or other university-level degrees related to the audiovisual field.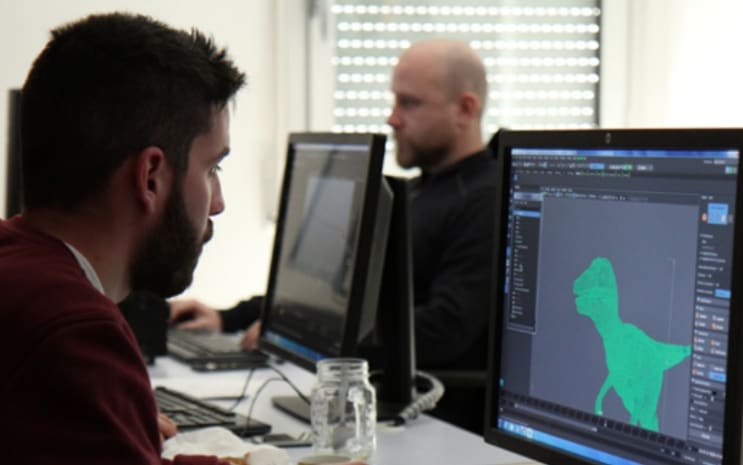 Competencies
The Master is structured as follows:
At the end of the master, the student will be able to:
Have the technical bases to work as a generalist in the world of 3D and 2D digital effects, as well as the starting points to specialize in any of its environments.
Having the creative skills and critical eye necessary to excel in an industry where technique and creativity merge.
Work as a team and in a real film production environment, knowing the industry pipeline, and developing a project that will serve them, once the course is over, as a portfolio or professional demo reel.
Methodology
The Master is structured as follows:
The course is divided into two main blocks: a first phase of acquiring the technical bases, with a large number of individual practices for each of the subjects, and a second half focused on the development of a professional finishing project that can serve the student of cover letter to the professional world.
Teaching plan
The curriculum will be divided into five main blocks:
Composition
To provide students with the necessary knowledge for the integration of all the elements, both those filmed and those created digitally, in a single piece.
Modeling
Provide students with the necessary knowledge so that they can sculpt characters, settings, objects and other elements necessary for the construction of a digital environment.
FX
Provide students with the basic notions so that they can understand and execute the mechanisms of production of fluids and particles in the 3D environment.
Accessories
Provide students with a complementary introduction to other departments that may influence their professional development.
Draft
Get students to carry out an audiovisual product with VFX of professional finish and made according to the work processes of the industry, including filming in collaboration with the other departments of the center.
Lab PRO
The Master is structured as follows:
The ESCAC Visual Effects and Animation Laboratory is created to offer Master and Degree students the possibility of specializing through participation in professional projects under an in-house internship program. The laboratory is a non-profit company that annually hires 10 ex-trainees to develop professional projects under the supervision of seniors in the sector. The coordination is in charge of Lluís Castells, a graduate of the school and winner of three Goya Awards for El Orfanato, Eva and Anacleto, secret agent.
In this way, we want to offer students a first work experience with accompaniment and special attention in their development, guiding them in the production methodology of a study. The group's participation in the internal organization of the Lab is also promoted, assuming positions within the work teams for each project.
The Laboratory program is open, and in its first year it has assumed the making of the visual effects of two feature films: Bajocero, by Lluís Quílez and Malasaña by Albert Pintó (in post-production phase); Alfred García and North State video clips (directed by Geoffrey Cooper and Nür Casadevall, respectively), the Escac spot (Carlos Alonso) or various collaborations with other school departments. All projects in which the Lab has collaborated, whether internal or external, are carried out by ex-alumni of the school.
The Lab allows students to delve into the selected specialty, through project tutoring and professional practices. Which will allow you to improve your access reel to the industry.
Why become part of the ESCAC Community?
You will become part of the ESCAC Community, which will allow you to develop your talent in an environment where creative spaces and interaction between graduates of different promotions are promoted. Did you know that Javier Ruiz Caldera continues to shoot his films with ESCAC colleagues? The same as Juan Antonio Bayona, Mar Coll, Kike Maíllo, Patricia Font ... because ESCAC does not end when you finish your studies, the Community continues in the professional sector.
This is the best time in history to dedicate yourself to Audiovisual: there has never been such a variety of screens at the service of so many users. These screens need content to supply products to a global audience, and consequently, large technology companies invest in audiovisual creation.
ESCAC talent. Graduates with nationally and internationally recognized careers have been trained at our school. Film directors, producers, cinematographers, editors, VFX supervisors ... Look at the credits of the movies and series, you will find in them a lot of ESCAC talent.
Our pedagogical system is based on learning by doing. We want you to learn by doing, and you will do it accompanied by the best professionals in the sector.
At ESCAC we train storytellers. We will teach you to tell your story regardless of the specialty you have chosen.
The works of graduates and the school's producer (ESCAC Films) have been recognized with more than 500 national and international awards:
Year after year our graduates are among the nominees for the Goya and Gaudí Awards, obtaining 20 Goya Awards and more than 30 Gaudí Awards.
In addition, they have won important awards at international festivals: Award for Best International Short Film awarded by the Sundance Festival (2006), or third prize at Cinefoundation - awarded by the Cannes Festival (2015).
At ESCAC we have the collaboration of large companies and institutions that participate in the training of our students. Movistar, Department of Culture of the Generalitat de Catalunya, SGAE Foundation, Cinesa, Zeta Cinema, Film Factory, Filmax, Deaplaneta, Mediaset, etc.
International campus: In these 25 years, more than 5,500 students of 23 different nationalities have passed through our campus, which contribute to the cultural and community enrichment.
Our school is recognized by CILECT (an organization that brings together the best film schools worldwide), and we are the only one in the state with official recognition.
ESCAC trains its students based on transversal competences, providing knowledge and tools to develop a subsequent professional activity in any field of content creation.
Last updated Mar 2020
About the School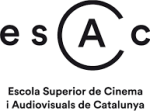 El cine no se estudia, se aprende. Centro Universitario con titulación oficial lider en la formación de cineastas. Por nuestras aulas han pasado profesionales de la talla de J.A.Bayona (Director de J ... Read More
El cine no se estudia, se aprende. Centro Universitario con titulación oficial lider en la formación de cineastas. Por nuestras aulas han pasado profesionales de la talla de J.A.Bayona (Director de Jurassic World II), Oscar Faura (DP de Imitation Game), Bernat Vilaplana ( Montador de Hellboy II), Oriol Tarrago (Diseñador de sonido de Jurassic World 2), Kike Maillo (Diretor de EVA), Marc Coll (Directora de 3 días con la Familia) y más de 40 premios Goya, Gaudi, Bafta y Ariel entre otros.
Read less