Program Description
NB! Online Open House event on 4th of February 2021 at 17:00 (GMT+2) - REGISTER HERE
Admissions information and required documents: https://www.artun.ee/en/admissions/masters/admissions/
Programme website: https://www.artun.ee/en/curricula/urban-studies/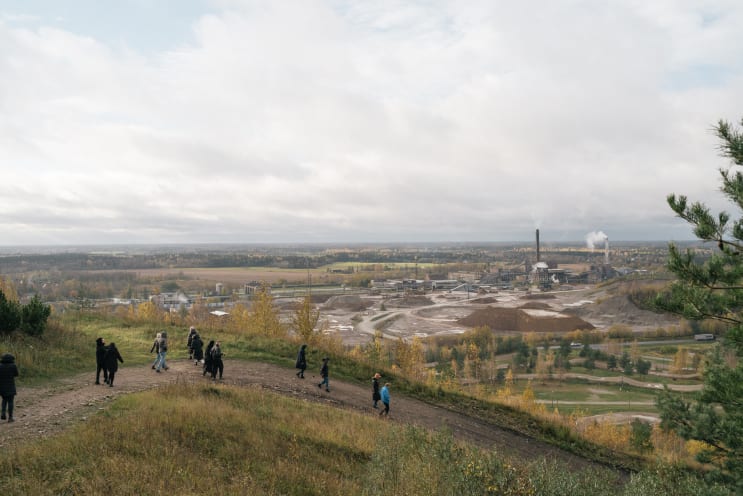 The Master of Urban Studies is a two-year, English-language program focused on contemporary urbanism. The program combines history, theory and practice to rethink prevailing understandings of urbanization, and to contribute to building more equitable urbanisms than the current ones. The main premise of the program is that the subject of urban studies is ireducible to the "city": the global urban arena today, more than ever before, is where struggles over our collective future play out.
This transcdisciplinary program builds on insights from critical urban geography, urban planning and architectural history. Urbanism is seen through the conceptual lenses of socio-spatial dialectics and uneven urban development. Themes addressed in the program include housing and gentrification; urban nature and ecology; infrastructure and global networks. Urban Studies will introduce you to the basics of urban design and planning, as well as to a range of skills such as how to conduct a field work, write about urbanism and develop urban strategies. The art school/architectural department where you will study provide a great environment to combine critical thought and creative imagination.
Urban Studies prepares you for a career in planning, public policy and community advocacy. Our alumni work as urban designers in the private sector, as planners in public administration (municipal, regional and state-level), and as consultants in the NGO sector. They have founded advocacy organizations, and many are active as urban activists. The program provides a good basis for PhD studies.
"Growing up in Lasnamäe, I have always been attentive to its inhabitants and dynamics. During my studies in the Urban Studies Master's program at EAA, this initial interest crystallized into a more coherent set of ideas and steps. I started the Lasnaidee project, organizing community events and struggling to change the negative image associated with the neighborhood. The studies helped me understand that beneath this image one finds valuable public spaces and rich everyday life. With the Urban Lab, I organized guided walks where experts and visitors can see this for themselves. I am continuously engaged with the issues of cooperation and community organization, and I have recently become more involved with the planning process itself. While perhaps less colorful, planning is key for the just and equitable development of a city."
– Maria Derlõš, MA Urban Studies '15
CURRICULUM
The core of the Urban Studies curriculum is our signature urban research studio, in which you will analyze and participate in actual urban situations through a combination of desk research, field work, and multi-sited interventions. It differs from an architecture/urban design studio in that we approach design as a practice that is inextricable from and determined by social, political and economic fields. The research studio allows for different outcome formats, such as essays/written reports, installations and happenings.
Additionally the curriculum consists of lecture courses, seminars, a design studio, thematic workshops and skill-based training sessions. Occassionally we organize a master class, and we do not shy from experimental teaching methods, such as reading retreats.
The curriculum combines individual and group study. You will be studying in a small group of no more than twelve students and will be supported by regular consultations with the faculty.
The program consists of 120 ECTS divided in four semesters.
Semester 1
Studio: Urbanization (8 ECTS)
Contemporary Urban and Architectural Theory (6 ECTS)
Studio: Art and The City (4 ECTS)
Urban History (2 ECTS)
Drawing (2 ECTS)
Urban Geography (1 ECTS)
Model Making (1 ECTS)
Semester 2
Studio: Urban Futures (8 ECTS)
Urban Ethnography (4 ECTS)
Urban Models (4 ECTS)
Housing: Design and Politics (3 ECTS)
Urban Tourism and Consumption (2 ECTS)
Detailed Planning (2 ECTS)
Semester 3
Urban Design Studio (9 ECTS)
Studio: Production of Urban Space (8 ECTS)
Contemporary Urban and Architecture Theory 2 (3 ECTS)
Master's Thesis Seminar (3 ECTS)
Contesting the City (2 ECTS)
Observation Practice (1 ECTS)
Internship (1 ECTS)
Semester 4
Master's Thesis (30 ECTS)
Additionally, you will collect 15 ECTS in general subjects.
ADMISSIONS
Suitable MA candidate has a Bachelor's Degree or equivalent qualification in architecture, landscape architecture, geography, construction, art history, sociology, urban planning, political science, or other arts & humanities fields.
The selection process has two rounds. First, the candidates are evaluated on the basis of their CV, previous study performance, motivation letter, and architectural/urban design portfolio or/and writing sample. Shortlisted candidates are then invited for an interview.
In the second round, in-depth interviews are conducted with prospective candidates.
Depending on their previous education/experience, the candidates present an architecture/urban design portfolio, or/and a writing sample (realized/published work is not required, but is an advantage) in a field relevant to urban studies (architecture, urbanism, urban planning, geography, sociology, political sciences, art history, etc.).
Your application should demonstrate intellectual curiosity and an imaginative grasp of the urban question. We require that the candidates have a strong academic record, and a clear idea how their education and experience have prepared them for the urban studies program. They will display that they can think independently and work collaboratively, and pursue studies across urban theory and design. It is necessary to have a good command of English language.
Last updated Jan 2021
About the School
The Estonian Academy of Arts, founded in 1914, is the only public university in Estonia offering higher education in fine arts, design, architecture, media, visual studies, art culture, cultural herit ... Read More
The Estonian Academy of Arts, founded in 1914, is the only public university in Estonia offering higher education in fine arts, design, architecture, media, visual studies, art culture, cultural heritage and conservation. Located in the capital city, Tallinn, it is an active study and research institution and the leading national centre of innovation in visual culture. Studies take place in our new building with an innovative and inspiring environment.
Read less