Master in Transport and Geoinformation Technology
Home ›
Master ›
Master in Transport and Geoinformation Technology
Program Description
A functional and well-developed transport system is essential in a sustainable and prosperous society. The creation and maintenance of such a system demand knowledge of transport and geoinformation technologies, as well as an understanding of how new technologies and policies are adopted, how they interact and how they affect our daily activities.
Transport and Geoinformation Technology at KTH
The master's program combines two closely related aspects of the built environment: transport systems and geoinformation technologies. The program enables students to either specialize in one of these main subjects or develop their own interdisciplinary study plan, making use of each student's unique background and interests. The recommended courses form a foundation for both subject areas, and students can choose a subject area by selecting the most appropriate sequence of the elective courses. Most courses combine interactive lectures with laboratory work. Many also include an in-depth term project. The courses make use of modern data collection instruments and quantitative modeling and processing software.
In the final term degree project, students apply their acquired knowledge and skills in solving scientific problems in the main subject areas of the program. They conduct independent investigations characterized by critical analysis and synthesis; they learn how to analyze, formulate and define scientific problems, find and evaluate possible solutions and, finally, present the results in a thesis. In addition, students will gain practical training in scientific communication and presentation, both orally and in written form. The degree project may be carried out at KTH or in a company or organization outside of the university. The topic can be developed by the student alone or together with supervisors.
Transport systems
Transport systems deal with the movement of people and goods across space, and the socio-technical systems that support that movement. Skilled transport engineers and planners must combine elements of engineering, planning, economics, and systems analysis, to provide guidance on how transport systems should be designed, built, operated, and evaluated. As a specialist in transport, you will learn how to analyze complex transport networks in which the goal is for people to carry out their daily activities in ways that support economic activity while minimizing environmental impacts.
To grapple with the complexity of modern transport systems, transport planners and engineers need a high level of technical competence, but at the same time need to engage with policy-makers, stakeholders and the public who use the transport system so as to ensure that our solutions truly meet societal needs. Finally, we work across disciplinary boundaries to fully appreciate the possible effects of the transport system on urban development, the economy, and ecological systems.
In the study of transport, we emphasize a systems approach that helps us both to manage the complexity of transport networks and to provide information that helps society make the best decisions about how to invest resources in long-lasting transport infrastructure. Nearly all of our graduates find a career in a city or county administration, in a transport ministry, as a consultant at a private firm, or as a researcher.
Geoinformation technology
Geoinformation technology, also known as geospatial technology or geomatics engineering, is a science dealing with the acquisition, storage, management, analysis and delivery of geographic and spatially referenced information. Knowledge of the built and natural environment in the form of maps and databases is necessary for almost all fields of human activities. Today, we take it for granted that we use GPS receivers built into mobile phones or installed in cars to find our way to the restaurant, cinema or to an address that we have "googled". Professionals in disciplines such as urban planning, land administration, real estate registration and many others use maps, city models and spatial databases for decision support. Geoinformation technology is not only about the collection of geographical data and its visualization; it also provides tools for using and interpreting the data for a different kind of analysis, for example finding optimal routes, identifying patterns, making predictions.
Geoinformation technology is a perfect choice for those of you interested in applied mathematics and computer science. You will learn, both theoretically and practically, how to acquire geographic data using different sensors or data sources and how to perform processing and analysis so as to be able to produce the required solution and its visualization. Today's and tomorrow's labor market is growing in this sector and is in need of experts like you. You can work as a provider, analyst or user of spatial data and geoinformation technologies in both private companies and governmental agencies.
This is a two-year program (120 ECTS credits) given in English. Graduates are awarded the degree of Master of Science. The program is given mainly at KTH Campus in Stockholm by the School of Architecture and Built Environment (at KTH).
Career
Securing sustainable development and preventing climate change is a top priority for mankind. It cannot be achieved without well-organized, well-functioning and environmental-friendly transport systems. A prerequisite for planning, designing and constructing all necessary infrastructure are precise and up-to-date geographic databases. There is great demand for experts within transport systems and geoinformation technologies in both the private and government sectors.
Examples of career opportunities for graduates include:
Geoinformation analyst: gathering, analyzing, and reporting on geospatial data at national mapping and cartographic agencies (such as Lantmäteriet in Sweden).

Transport planner/modeler: helping the city or regional governments to plan, design and operate transport systems and to analyze the transport effects of new developments to achieve sustainability (for example, consultant companies like WSP, ÅF or regional governments).

Consultant at a private firm in areas ranging from surveying, mapping, and geoinformation processing to transport planning and traffic engineering (such as Digpro or Ramböll).

Railways engineer; undertaking strategic planning of rail systems including infrastructure, rolling stock, timetable management, and traveler information services (for example at SL, SJ or local and national railway companies).

GIS expert in fields ranging from urban planning to land and resource management to environmental monitoring (municipalities, consultant companies).
Students
Find out what students from the program think about their time at KTH.
Tianshu Shang, China: "Compared with the cities in Asia, Stockholm is really a relaxing place, with wonderful views and great foods. It is also a dynamic place with big companies and start-ups. I'd like to say that it is a place with lots of opportunities."
Sustainable development
Graduates from KTH have the knowledge and tools for moving society in a more sustainable direction, as sustainable development is an integral part of all programs. The three key sustainable development goals addressed by the master's program in Transport and Geoinformation Technology are:
Industry, Innovation, and Infrastructure

Sustainable Cities and Communities

Climate Action
Transport Systems and Geoinformation Technologies, the main focus areas of the program, are crucial infrastructures in the creation of sustainable cities, countries, and communities in general. Today's transport systems are responsible for a large part of the greenhouse gas emissions causing global warming. Transition to zero-emission transport is one of the greatest challenges of our generation. The design and operation of modern transport systems are not possible without accurate and up-to-date geographic databases. The courses in the program address issues of planning and designing transports systems, as well as issues of collecting and analyzing geographic data. Expertise in these subject areas is a prerequisite for finding new innovative solutions for improving the transport and information infrastructures, as well as new solutions for green transport systems.
Courses
The two-year master's program in Transport and Geoinformation Technology consists of three terms of courses and one final term dedicated to the master's degree project. Each term consists of approximately 30 ECTS credits. Depending on which track you choose, you will study different courses. The courses presented on this page apply to studies starting in autumn 2020.
Year 1
Conditionally elective courses
GIS Architecture and Algorithms (AG2411) 7.5 credits

Geovisualisation (AG2412) 7.5 credits

Digital Image Processing and Applications (AG2413) 7.5 credits

Spatial Analysis (AG2414) 7.5 credits

Spatial Databases (AG2425) 7.5 credits

Map Projections and Reference Systems (AG2926) 7.5 credits

Railway Traffic - Market and Planning, Basic Course (AH2026) 7.5 credits

Transport Data Collection and Analysis (AH2170) 7.5 credits

Traffic Engineering and Management (AH2171) 7.5 credits

Public Transport (AH2173) 7.5 credits

Transport Policy and Evaluation (AH2301) 7.5 credits

Transport and Sustainable Development (AH2303) 7.5 credits

Urban Modeling and Decision Support (AH2307) 7.5 credits

Global Navigation Satellite Systems (GNSS) (AH2923) 7.5 credits
Year 2
Mandatory courses
Research Methodology and Communication Skills (AH2178) 7.5 credits
Conditionally elective courses
Web and Mobile GIS (AG2417) 7.5 credits

A GIS Project (AG2421) 7.5 credits

Degree Project in Geoinformatics, Second Cycle (AG243X) 30.0 credits

Geodata Quality and Adjustment Theory (AG2927) 7.5 credits

Degree Project in Geodesy, Second Cycle (AG293X) 30.0 credits

Railway Signalling System (AH2029) 7.5 credits

Degree Project in Transport Science, Second Cycle (AH203X) 30.0 credits

Degree Project in Railway and Rail Traffic, Second Cycle (AH204X) 30.0 credits

Logistics and Transportation (AH2102) 7.5 credits

Traffic Simulation Modelling and Applications (AH2174) 7.5 credits

Degree Project in Systems Analysis and Economics, Second Cycle (AH222X) 30.0 credits

Individual Choice Modeling and Market Analysis (AH2314) 7.5 credits

Laser Scanning Technology (AH2915) 7.5 credits

Theory and Methodology of Science with Applications (Social Science) (AK2038) 7.5 credits
Admission requirements
To be eligible for the program, you must have been awarded a bachelor's degree, be proficient in English and meet the program-specific requirements.
Bachelor's degree
A bachelor's degree, equivalent to a Swedish bachelor's degree, or equivalent academic qualifications from an internationally recognized university, is required. Students who are following longer technical programs, and have completed courses equivalent to a bachelor's degree, will be considered on a case-by-case basis.
English proficiency
English language proficiency equivalent to (the Swedish upper secondary school) English course B/6 is required. The requirement can be satisfied through a result equal to, or higher than, those stated in the following internationally recognized English tests:
TOEFL Paper-based: Score of 4.5 (scale 1-6) in written test, a total score of 575.
TOEFL ITP is not accepted.

TOEFL iBT internet-based: Score of 20 (scale 0-30) in written test, a total score of 90

IELTS Academic: A minimum overall mark of 6.5, with no section lower than 5.5

Cambridge ESOL: Cambridge English: Advanced (CAE) Certificate in Advanced English or Cambridge English: Proficiency (CPE) (Certificate of Proficiency in English)

Michigan English Language Assessment Battery (MELAB): Minimum score of 90

The University of Michigan, ECPE (Examination for the Certificate of Proficiency in English)

Pearson PTE Academic: Score of 62 (writing 61)
Specific requirements for the master's program in Transport and Geoinformation Technology
A bachelor's degree, equivalent to 180 ECTS credits, in civil engineering, urban planning, environmental science, geodesy, geographic information systems, computer science or another field with clear relevance to the program. At least 60 ETCS credits in transport engineering and planning, geomatics, physics, computer science, statistics, and/or mathematics are required. A minimum of 3.0 ECTS credits per course should be in:
Computer programming

Linear algebra

Geographic information systems or database technology, or geodetic surveying

Mathematical statistics

Single-variable calculus
Application documents
Certificates and diplomas from previous university studies

Transcript of completed courses and grades included in your degree

Proof of English proficiency

A copy of your passport including personal data and photograph, or other identification documents
Specific documents for the master's program in Transport and Geoinformation Technology
Letter of motivation or degree project proposal

Curriculum Vitae indicating relevant work experience and computer skills

One Letter of recommendation

Summary sheet
Last updated Apr 2020
About the School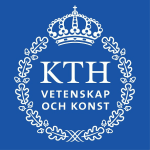 KTH Royal Institute of Technology has served as one of Europe's key centres of innovation and intellectual talent for almost two hundred years. Recognized as Sweden's most prestigious technical univer ... Read More
KTH Royal Institute of Technology has served as one of Europe's key centres of innovation and intellectual talent for almost two hundred years. Recognized as Sweden's most prestigious technical university, KTH is also the country's oldest and largest. With over 12,000 students and an international reputation for excellence, the university continues to nurture the world's brightest minds, helping to shape the future.
Read less