Read more about this program on the school's website
Program Description

Tourism is a globally important industry that offers a wide range of career opportunities. The MSc Tourism and Marketing degree at Lincoln is designed for students interested in a career in tourism as a global industry that offers a wide range of career opportunities.
The programme is designed to develop an understanding of marketing in the context of tourism. Students will have the opportunity to study a range of modules in tourism and marketing with the aim of developing an understanding of tourists as consumers and how destinations can be branded and promoted. Students will also have the chance to develop critical-thinking and organizational skills, which aim to support them to become an effective professional.
The programme is taught by a team of international academics. In addition, the course benefits from guest speakers, who are professionals in marketing or tourism.
How You Study
The taught element of the programme consists of seven compulsory modules and one optional module. The compulsory modules are:
Consumer Behaviour
Destination Management and Marketing
International Marketing and Customers
Marketing Communications
Research Methods and Design
Sustainability of Tourism and Events
The Visitor Experience at Cultural and Heritage Attractions
Optional modules will run as far as at least 10 students select them. Timetabling arrangements may limit the availability of modules to some students. As the options reflect staff research interests, they may alter over time due to staff availability.
Options:
Brand Management
Digital Marketing
Disaster Management
Global Relationship Marketing
Group Consultancy Project
International Entrepreneurship
Social Entrepreneurship
The Business of Aviation Management
Students then progress to undertake the final dissertation stage of the programme. The dissertation is designed to encourage innovation and diverse pathways to the final assessed product. In this respect, the dissertation is an extended project that can accommodate a range of independent work.
Contact hours and Independent Study
Each module typically consists of two or three weekly teaching hours over a teaching term of 12 weeks. You will normally study four modules per semester and therefore 8-12 hours per week.
The postgraduate level study involves a significant proportion of independent study exploring the material covered in lectures and seminars. As a general guide, for every hour in class students are expected to spend two-three hours in an independent study.
If you are planning to study the degree on a part-time basis, you will be studying two modules per term with 4-6 hours of contact time on a weekly basis.
How You Are Assessed
The main assessment method is assignments where students are expected to think critically while investigating issues in-depth, based on independent reading and research. Assignments also develop written argumentation and communication skills that are important for many careers.
Presentations aim to develop students' ability to make persuasive oral arguments and meet the needs of employers who often look for graduates with confident spoken communication skills. Other assessment methods include exams and poster presentations.
In addition to formal assessments, students have a chance to submit formative assessments that assist them in producing the final assessments. Some assessments involve group work that enables students to enhance their team working skills. All final projects - dissertation, consultancy project, start-up venture - involve a substantial piece of written work and research.
Assessment Feedback
The University of Lincoln's policy on assessment feedback aims to ensure that academics will return in-course assessments to you promptly – usually within 15 working days after the submission date.
Entry Requirements
An honours degree and quality of the application.
International Students will require the English Language at IELTS 6.0 with no less than 5.5 in each element, or equivalent http://www.lincoln.ac.uk/englishrequirements
The University of Lincoln offers international students (non-EU/UK) who do not meet the direct entry requirements for a postgraduate degree course the option of completing a degree preparation programme at the university's International Study Centre. To find out more please visit http://www.lincoln.ac.uk/isc
Modules
Brand Management (Option)
Brands are ubiquitous in our current world and influence our consumption behaviour in both indirect and direct ways. This module provides students with the opportunity to develop a critical understanding of the different elements of branding including brand value, identity, and associations. The lectures focus on branding theory while the seminars involve case analysis with an emphasis on applying theoretical knowledge to real-life situations.
Consumer Behaviour (Core)
This module aims to introduce consumer learning, attitude formation and change, and the complex consumer decision-making process, which are illustrated by examples from multiple sectors including retail and tourism.
Destination Management and Marketing (Core)
The module is designed to provide a comprehensive approach to international destination management and marketing. Destinations continue the growth and face fierce competition in a global tourism market. Through this module, students can learn conventional and contemporary management and marketing trends and issues in light of the global tourism situation.
International case studies aim to enhance the understanding of destination management and marketing on a global scale, and a field trip to a popular tourist destination provides a first-hand experience of examining attributes of the destination and suggesting the management and marketing strategy to the destination.
Digital Marketing (Option)
This module provides the opportunity to explore how the increasing pressures and opportunities created by new media formats and electronic communication tools are shaping marketing strategy. The module covers themes such as social media marketing, mobile marketing, data analytics, and digital marketing campaigns.
Disaster Management (Option)
The module follows a coherent and holistic approach to disaster management in its reconciliation of the key processes of preparedness, response, recovery, and rehabilitation. It draws upon experience from major disasters around the world – both historical and contemporary.
Dissertation (Core)
The dissertation provides an opportunity for students with a range of experience and interests to apply and develop their existing skills and knowledge to an independent study project, which affords an opportunity for both the expression of original thought and creativity; together with the application of analytical skills and critical reasoning. Our approach to the dissertation is to facilitate innovative approaches and diverse pathways to the final assessed piece of work; in effect, the dissertation is an extended research project.
Global Relationship Marketing (Option)
Relationship marketing can be seen as the process of creating added value for organizations by managing their connections with internal and external stakeholders. This can include customers, employees, suppliers, and distributors. Central to the module is the development of a perspective that sees an increasing role for co-creation with consumers in relationships and the effective implementation of appropriate customer experiences.
Group Consultancy Project (Option)
This module aims to further enhance managerial competence and capability by providing the opportunity for students to develop the skills to become competent management consultants. Such competency is highly valued as it can help facilitate internal and external organizational consultancy interventions that add value at both an operational and strategic level.
International Entrepreneurship (Option)
Entrepreneurship is an essential skillset in the development at the global level of new and existing businesses, social enterprises and more broadly societies and their economies. Enterprise is defined as the application of creative ideas and innovations to practical situations, combining creativity, ideas development and problem-solving with expression, communication, and practical action. Entrepreneurship is the application of enterprise skills to creating and growing organizations in an international context in order to identify and build on opportunities. This module draws on the latest UK QAA Guidance on Enterprise & Entrepreneurship in Higher Education and aims to develop, at an international level, enterprise awareness, an entrepreneurial mindset, and entrepreneurial capability, which can lead to entrepreneurial effectiveness which can be applied in a range of contexts.
International Marketing and Customers (Core)
The aim of this module is to provide students with the opportunity to develop an understanding of marketing concepts applied in an international context. The module is designed to provide students with a clear comprehension of marketing tools available and their use within an international environment, understanding the cultural diversity of their customers.
Marketing Communications (Core)
Marketing Communications is the process of informing, persuading and reminding customers, intermediaries, employers and public of a company's product and or services. The module aims to define the task of communications from a managerial perspective within an international context. The module principally focuses upon the nature of the communication process, the obstacles that are encountered in international communication and the ways in which these problems are overcome.
Research Methods and Design (Core)
This module aims to prepare students for undertaking the research for their dissertation and other assignments. It is designed to introduce students to the core principles of the research methods they are likely to encounter in their research, the basics of research design and the organization of the independent study.
Social Entrepreneurship (Option)
This module is designed to encourage students to explore the concepts of social enterprise and entrepreneurship. Social entrepreneurs utilize innovative business practices to collaborate with community networks to co-create solutions to social and environmental problems. This module will provide students with the opportunity to develop the understanding and knowledge necessary for future social enterprise creation and development, either as social entrepreneurs or facilitators and activists in the field.
Sustainability of Tourism and Events (Core)
This module is designed to provide students with the opportunity to develop an explicit understanding and the capability to seek out creative and innovative solutions for the sustainable development of tourism and events. This module takes the view that sustainable tourism or event management needs to be seen as a dynamic process of change, rather than a static goal to be achieved, and therefore must be tackled with ever-evolving, flexible strategies. Relevant theories and concepts are linked to practice through case studies or exercises.
The Business of Aviation Management (Option)
This module examines aviation business structures and spans airlines, airports and non-airline/airport aviation organizations. The module analyses the organizational structures of different aviation organizations in the sector (e.g. PLC versus Private). The aim of the module is to provide students with the opportunity to develop management skills and techniques applicable to the aviation industry and in doing so both aviation tactical and strategic/corporate management techniques are analyzed.
The Visitor Experience at Cultural and Heritage Attractions (Core)
Cultural and heritage sites, festivals and events are growing in number and popularity. Moreover, the divide between fixed attractions and events is to some extent dissolving. Attractions such as museums and galleries are increasingly attempting to reinvent themselves as spaces for multiple uses. This module asks who the visitors are, and what they hope to gain from the experience. It is designed to provide students with an opportunity to develop a critical understanding of the approaches adopted with the intention of enhancing the visitor experience.
Features
Special Features
The Business School has an experienced team of staff, which is made up of academically and professionally qualified lecturers with relevant industrial experience and finance experts with wide research interests.
As part of the School, students will have the opportunity to learn from industry experts. Previous speakers have included representatives from organizations such as Deloitte, Santander, HSBC, Innocent, The Institute of Internal Auditors and Sir David Tweedie (ex-Chairman of the IASB).
Students also have the chance to build their skills and knowledge further with extra-curricular activities such as joining a society, volunteering or becoming a Student Ambassador.
Facilities
The Lincoln International Business School is based in the David Chiddick building alongside Lincoln Law School. The building provides students with teaching and learning space including lecture theatres, workshop rooms, an IT/language lab and a mooting chamber, along with places to meet and eat with friends and staff.
The building provides high-quality spaces for teaching and group learning and is the perfect setting for successful Business School students to learn and develop.
Sage 50 and SPSS software is available within the Business School for student use.
Careers
Career and Personal Development
The University Careers and Employability Team offer qualified advisors who can work with you to provide tailored, individual support and careers advice during your time at the University. As a member of our alumni we also offer one-to-one support in the first year after completing your course, including access to events, vacancy information, and website resources; with access to online vacancies and virtual and website resources for the following two years.
This service can include one-to-one coaching, CV advice, and interview preparation to help you maximize your future opportunities.
The service works closely with local, national and international employers, acting as a gateway to the business world.
Fees
Other Costs
For each course, you may find that there are additional costs. With regards to textbooks, the University provides students who enrol with a comprehensive reading list and you will find that our extensive library holds either material or virtual versions of the core texts that you are required to read. However, you may prefer to purchase some of these for yourself and you will be responsible for this cost.
Tuition Fees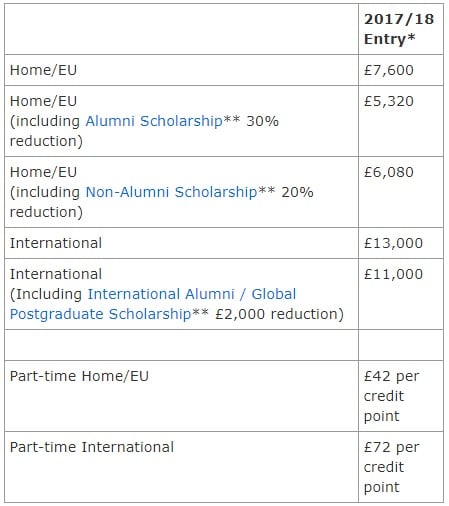 * Academic year September- July
** Subject to eligibility
Loans
A new system of postgraduate loans for Master's courses will be introduced in the UK, beginning from the 2016-17 academic year. Under the new scheme, Individuals will be able to borrow up to £10,000 for the purpose of completing an eligible postgraduate Master's qualification.
Postgraduate Loans
Individuals will be able to apply to borrow up to £10,000 for the purpose of completing an eligible postgraduate master's qualification.
Postgraduate Taster Days
Wednesday 18 October 2017
Wednesday 21 February 2018
Saturday 7 April 2018
Wednesday 6 June 2018
Wednesday 4 July 2018
Scholarships
As a postgraduate student, you may be eligible for scholarships in addition to those shown above.
Guidance for Part-time Postgraduate Fees
To complete a standard Master's Taught programme, you must complete 180 credit points.
Full-time students will be invoiced for the programme in full upon initial enrolment.
For part-time students, tuition fees are payable each credit point enrolled. To calculate your part-time fees, multiply the part-time fee per credit point by the number of credits you intend to complete within that academic year. This is usually between 60 and 90 credit points per year.
For example, if the fee per credit point for your programme is £38, and you enrol in 60 credits, the tuition fee payable for that academic year will be £2280.
For further information and for details about funding your study, scholarships, and bursaries, please see our Postgraduate Fees & Funding pages.
The information contained on this page is correct as of October 24, 2017. For the most up to date course information, please visit https://www.lincoln.ac.uk/home/course/toumktms/
Last updated Mar 2020
About the School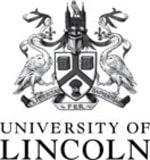 Since being opened by Queen Elizabeth II in 1996, the University of Lincoln has invested more than £300 million in its buildings and facilities.
Since being opened by Queen Elizabeth II in 1996, the University of Lincoln has invested more than £300 million in its buildings and facilities.
Read less