Program Description
Introduction:
M.A in Teaching English is a professional degree that prepares students to teach English to adult speakers of other languages in accredited higher education institutions and in community settings. Through this program, students will develop scholarly and professional understanding in four main areas that are central to this program: language, learning, research methods and teaching methods. The program teaches educators specific skills for assessing English learners' proficiency and content area knowledge.
The program offers a unique supervised teaching practicum in an intensive English program. This experience equips graduates to analyze language and to meet the English language learning needs of learners and to enter the field as a professional.
Students will have opportunities to study a variety of important topics, including language learning methods, critical pedagogy, English as an international language, English for academic purposes, language testing and assessment, learning transfer, materials development, non-native English speakers in TESOL, second language acquisition and psycholinguistics.
Master Degree in TEFL
The curriculum includes 32 credits of required coursework. Students must write and defend a final thesis.
Core Courses: 6 courses required; 12 credits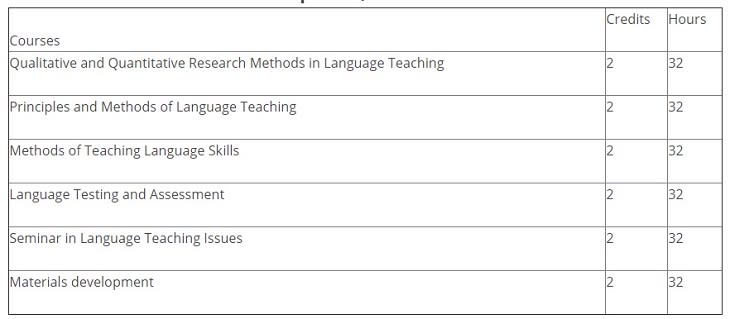 Elective Courses: 7 courses required; 14 credits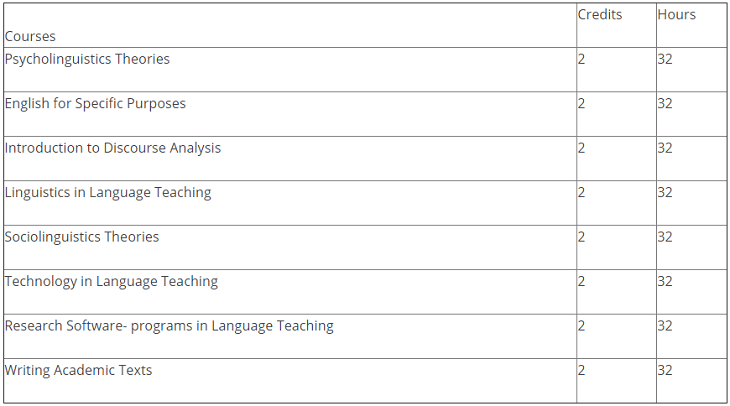 Thesis: 6 credits
Course Description:
Qualitative and Quantitative Research Methods in Language Teaching:
Course Content:
Introduction to Research, Starting Research Projects, Gathering, Compiling and Coding Data, Analyzing Research Data, Analyzing Quantitative Data, Analyzing Qualitative Data, Presenting Research Studies, Presenting Research Results, Writing Research Reports
Principles and Methods of Language Teaching
Course Content:
Language, Learning, and Teaching, First Language Acquisition, Age and Acquisition, Human Learning, Styles and Strategies, Personality Factors, Sociocultural Factors, Cross-Linguistic Influence and Learner Language, Communicative Competence, Theories of Second Language Acquisition
Methods of Teaching Language Skill
Course Content:
Understanding L2 Reading, Exploring Research in Reading, Teaching Reading Using Evidence-Based Practices, Investigating Reading through Action Research
Language Testing and Assessment
Course Content:
Conceptual Foundation, Constructing an Assessment Use Argument, Developing and Using Language Assessments in the Real World
Materials development
Course Content:
Approaches to Teaching, Lesson Planning and Classroom Management, Classroom Dynamics, Syllabus Design and Instructional Materials, Task and Project Work, Learning Strategies, Teaching Grammar, Teaching Pronunciation, Teaching Speaking, Teaching Listening, Teaching Vocabulary, Teaching Reading, Teaching Writing, Assessment, Technologies in the Classroom, Professional Development
Theories of Psycholinguistics
Course Content:
General Issues, Language Comprehension, Language Production and Conversational Interaction, Language Acquisition, Language in Perspective
English for Specific Purposes
Course Content:
Approach not product, Theories of learning, Needs analysis, Application, Materials evaluation
Introduction to Discourse Analysis
Course Content:
What is discourse analysis?, Discourse and society, Discourse and pragmatics, Discourse and genre, Discourse and conversation, Discourse grammar, Corpus approaches to discourse analysis, Critical discourse analysis, Doing discourse analysis
Linguistics in Language Teaching
Course Content:
Sounds and Meaning, Words and Meaning, Structure and Meaning, Textual Meaning, Contextual Meaning, Meaning and Reality
Sociolinguistics Theories
Course Content:
Social stratification as a factor, Sex as a factor of linguistic choice, Amsterdam survey Brouwer and van Hout 1992, Age as a factor of linguistic choice, Choice and change, Cultural dimensions of linguistic choice, Linguistic choices across language boundaries, Functional restrictions, Public choice utility
Technology in Language Teaching
Course Content:
Cultural and Ecological Consequences, Educational Consequences
Research Software in Language Teaching
Course Content:
SPSS, NVivo, WordSmith
Writing Academic Texts
Course Content:
Writing a paragraph, Writing an essay, Sentence structure
Last updated Mar 2018
About the School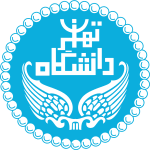 Kish International Campus was established in 2007 in order to facilitate the enrolment of foreign students.
Kish International Campus was established in 2007 in order to facilitate the enrolment of foreign students.
Read less