Program Description
Master in Systems Engineering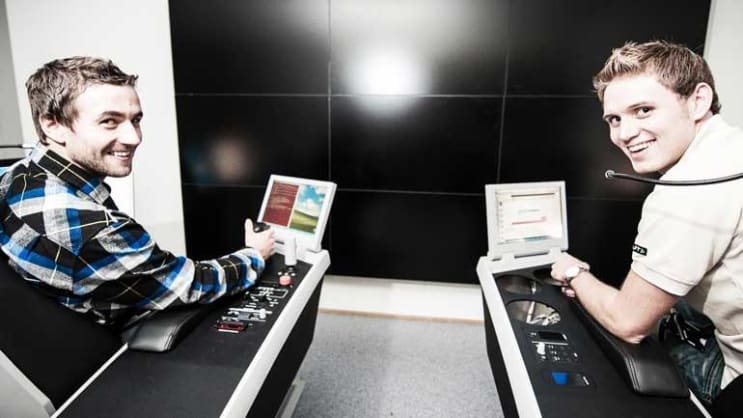 The Master program in Systems Engineering at NISE is a unique program in Norway due to the close and committed collaboration with international and leading high-technology companies.
We collaborate with our industry partners and offer internships in a variety of businesses! You can also study the Master's program in Systems Engineering part time if you already work in a company or you can study single courses (with or without study points) if you are interested in learning more about Systems Engineering and Subsea.
This is Systems Engineering
Systems Engineering is a recognized method for developing systems in the automotive and oil industry, in computing, networking, communication, and R&D. With a Master's Degree in Systems Engineering, you will be eligible to participate in and lead the development of large complex products and systems that require the involvement of many disciplines.
Norwegian Institute for Systems Engineering (NISE)
Was established by the joint efforts of Norwegian Center of Expertise-System Engineering (NCE SE) and Buskerud University College (from 2016 University College of Southeast-Norway). NISE is organized as a department within the Faculty of Technology in Kongsberg. NISE's most important task is to contribute to enhancing the technical collaboration between research institutions and the technology companies in NCE SE.
By collaborating with the leading international research and development (R&D) university - Stevens Institute of Technology (SIT), NISE offers the expert knowledge in Systems Engineering associated with important technology disciplines such as materials, mechatronics, requirements management and industrial domains, especially in Subsea. SIT has been the model for establishing NISE with USN since 2006. Some SIT professors have part-time teaching and research obligations with NISE.
What type of job will I get
You will be attractive on the labor market with a master's degree in Systems Engineering. Since the program is a partnership between the University College and a number of high - technology companies, job opportunities are good and many of our students continue to work in the same company as they work through the program. As you study, you will work as an engineer within the discipline of your bachelor's degree. Throughout this program you will acquire knowledge on how to manage small and/or large complex systems - 'you will get a global view!'
This is what you will learn
The Master Program in Systems Engineering consists of both mandatory and elective courses. Take a look at the study plan for an overview of the courses studied during the different semesters.
Mandatory courses:
SEFS 6102 Fundamentals in Systems Engineering
SEAD 6102 System Architecture and Design
SEPM 6102 Project Management for Complex Systems
SESI 6201 Systems Integration
Elective courses
In addition to the mandatory courses in Systems Engineering, you will specialize in a subject area through a choice of elective courses.
The subject you choose to specialize in depends on your current area of expertise, your current job, the needs of your employer and your future plans.
These areas are available for specialization:
Control and Signal Processing
Product Development
Embedded Systems
Systems Engineering
Subsea Engineering
Study part of your degree abroad
The University College has an agreement with Stevens Institute of Technology (SIT) in New Jersey, USA and most of our full-time students choose to study 4th semester there. SIT offer most of their master's courses as intensive courses meaning you can travel New Jersey for a shorter period before returning home to work on the assesment.
Last updated Feb 2020
About the School

The University of South-Eastern Norway (USN) is headed by Rector Petter Aasen. USN was established as a university on the 4th of May 2018.
The University of South-Eastern Norway (USN) is headed by Rector Petter Aasen. USN was established as a university on the 4th of May 2018.
Read less
Drammen ,
Porsgrunn ,
Rauland ,
Hønefoss ,
Porsgrunn ,
Bø i Telemark ,
Kongsberg ,
Horten ,
Hønefoss
+ 8 More
Less