Master in System and Software Engineering
Home ›
MSc ›
Master in System and Software Engineering
Program Description
Programme Overview
The aim of the programme is to train professionals in the area of industrial production of software, information and communication technologies and systems for various purposes. The master's programme in System and Software Engineering is aimed at training administrative managers, project managers and development teams, at a technological, economic and managerial level who will be able to organize effective administration for the projects of software development within a given budget and deadline.
The contents of the master's programme are fully in line with international recommendations on teaching software engineering in master's programmes, including Integrated Software and Systems Engineering Curriculum - Graduate Software Engineering 2009 (GSwE2009): Curriculum Guidelines for Graduate Degree Programs in Software Engineering, Computing Curricula 2005 and Software Engineering 2004, which are part of educational standards series Computing Curricula ACM and IEEE CS.
An important part of the educational process is developing teamwork skills in an environment typical for software development along with participation in real team projects, practical training and internships in leading Russian and Western companies which develop, consult and manage software projects.
All disciplines are taught in English.
Partners
An important feature of the learning process is to obtain the skills of teamwork in typical conditions of software development process. Our partners provide our students with an opportunity to participate in real team projects with practical training and internships in the leading Russian and foreign companies in specialized in development, consulting and software project management.
Our partners:
IBM
Microsoft
Group-IB
PROGNOZ
Pm-Soft,
DialogScience,
LLC NTC IT ROSA
Web games
NetCraker
Yandex
R-Style Softlab
CS-soft
Kaspersky Lab
InterProgma Solutions
EMPATIKA
Fors Group
AT Consulting
Nanotech Express
JetBrains
HeadHunter
Career
The master's programme involves internships – full-time practice in leading IT companies, including partner companies. Agreements on vocational training have been signed with Microsoft, EPAM, CyberPlat, PMSOFT group, DialogNauka, International Center for Informatics and Electronics, ROSECO, ТЕКАМА and others.
Our graduates will work in stated above organisations and other leading Russian and international software manufacturers, research centres of transnational companies, system integrators and IT departments of large Russian companies and governmental bodies. They will be highly sought after professionals in a fast-growing labour market, and able to effectively participate in the industrial implementation of the processes of development, maintenance and support of complex software systems.
Requirements
Students are selected on the basis of their portfolio, which includes required and optional components. The Admission Committee may invite the applicant for an interview.
Required:
Application form.
Bachelor's (Specialist's or Master's) diploma and official transcripts of previous educational studies. (if you have not yet received your Bachelor's diploma, please include an official copy of your most recent academic transcript).
You need to have a degree in one of the following fields of study: Computer Science and Engineering, Computer and Information Sciences, Information Security Management in Technical Systems, Electronics, Radio Engineering and Communication Systems, Applied Mathematics and Computer Science, Systems Traffic Control and Navigation or at least to have courses in Algorithms and Data Structures, Programming, Databases Theory and Advanced Mathematics (Calculus, Linear Algebra, Probability Theory and, Mathematical Statistics) in your diploma or certificates.
The Admission Committee takes into consideration the number of hours, the final assessments and your university ranking.
CV, which confirms your professional experience (please indicate your position and the list of duties) or scientific activity in the Programme Engineering field of study, including educational internship.
Letter of motivation (~500 words, not more than one page of printed text), describing your reasons for applying in the context of your long-term career goals and background. The quality of your English is also evaluated.
At least one letter of recommendation. Please provide your recommenders with HSE's letter of recommendation guidelines.
Exam results confirming language proficiency. Valid IELTS certificate (>= 6.0), TOEFL IBT(>= 80), TOEFL PBT (>= 500), TOEFL CBT (>= 232), CAE (grade C (pass)), CPE (grades A, B or C), BEC Higher (grades A, B or C).
Optional:
List of articles in scientific and professional journals, conferences, collections of student work, etc., indicating the author's name and the title of the publication.
Professional development, training, specialized online courses, etc. The list of courses in which took part, with an indication of the received document/certificate.
Any additional academic evidence that may help the selection committee evaluate the candidate in the positive light, such as certificates of prior academic achievements, publications and conference presentations, participation in academic Olympiads.
Valid international certificates give an applicant the maximum score (100 points) for the portfolio (it is necessary to submit two certificates, one form each category).

GRE with a minimum score of 165 for quantitative reasoning 165, and 3.5 for analytical writing (or GMAT with a minimum score of 680).
GRE Computer Science Subject Test with a score not less than 700 (or a GRE Subject test in Mathematics with a score of not less than 700).
Last updated Feb 2020
About the School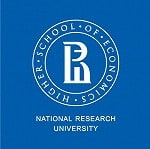 Consistently ranked as one of Russia's top three universities, the National Research University Higher School of Economics (HSE University) sets itself apart by its internationally-minded, research-dr ... Read More
Consistently ranked as one of Russia's top three universities, the National Research University Higher School of Economics (HSE University) sets itself apart by its internationally-minded, research-driven approach to higher education. Based in the vibrant centre of Moscow, with campuses in St. Petersburg, Nizhny Novgorod and Perm, HSE offers outstanding academics at all levels and includes more than 40 English-taught Master's programmes and 8 English-taught Bachelor's degree programmes.
Read less