Master in System Engineering and Informatics
Home ›
Master ›
Master in System Engineering and Informatics
Program Description
C-SIA System Engineering and Informatics
Field of study: C-SIA-EIA Economic Informatics
Level of qualification: Master continuing
Mode of study: full-time
Qualification awarded: Master's degree
Specific admission requirements: Completed bachelor degree program and entrance examination, if required.
Qualification requirements and regulations: Finished Bachelor's degree program with a bachelor diploma.
Specific arrangements for recognition of prior learning: There are no specific arrangements for recognition of prior learning. The recognition procedure of the university is guided by Act No. 111/1998 on Higher Education Institutions and the university "Study and Examination Rules".
Profile of the program
Graduates during their studies receive wide and advanced application and creative knowledge of systems and software engineering, theoretical foundations of informatics, highly specialized knowledge of ICT and IS/ICT and principles of their utilization, advanced database, network, and multimedia technologies and artificial intelligence.
He or she is able to participate in the process of informatization of organizations and independently work in the field of information and communication technologies deployment.
Graduates also have sufficient knowledge and skills for effective management of companies specializing in products and services within the tertiary sector of the national economy. They also have sufficient knowledge for effective management of commercial activities in a company of any specialization.
Key learning outcomes
to develop students' knowledge of information and economic science
to provide students with the personal skills and professional perspective to be effective in the sphere of information systems and technologies
to develop student´s advanced knowledge of economic, managerial and social to analyze and understand economic phenomena
to promote methods by which economic and managerial processes are investigated, monitored and controlled
the graduates are able to practically implement large-scale software systems and manage all phases of their life cycle
the graduates are able to apply theoretical foundations and methods for analysis and modeling of enterprises and their processes
the graduates understand the principles of design and implementation of programming languages, they know and they are able to apply formal apparatus
Occupational profile
Graduates from this program are qualified for working in enterprises oriented on development, purchase, and selling of information systems and information technologies.
They can use their experience also in specialized departments of manufacture-oriented and service-oriented organizations responsible for the operation and development of their ICT and IS/ICT. After finishing the required study plan the graduates are qualified for immediate employment in practice and preparation for continuing their studies in graduate programs.
Graduation requirements: Min. 120 ECTS, state final exam, defence of the master's thesis.
Access to further studies: Successful graduates may proceed to the doctoral study program.
Programme supervisor: doc. Ing. František Dařena, Ph.D.
To obtain 60 ECTS credits per academic year, students should choose courses from any other study program taught at the university.
Last updated Sep 2019
About the School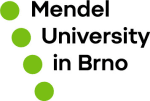 Mendel University in Brno is the oldest independent specialized university in the Czech Republic. It was established as the University of Agriculture in Brno in 1919, and since 2010 it has been using ... Read More
Mendel University in Brno is the oldest independent specialized university in the Czech Republic. It was established as the University of Agriculture in Brno in 1919, and since 2010 it has been using the name Mendel University in Brno (MENDELU). The university has a diverse community and a global network of students, staff and alumni (see https://bit.ly/2UieUCw)
Read less