Master in Sustainable Technology
Program Description
The master's program in Sustainable Technology is based on the concept of industrial ecology with a focus on the understanding of interactions between technical, economic, social and ecological systems and processes. Industrial ecology is an interdisciplinary framework for designing and operating industrial systems as living systems interdependent with natural systems. It seeks to balance environmental and economic performance within an understanding of local and global ecological constraints.
Sustainable Technology at KTH - Principles and Applications of Industrial Ecology
The courses in the program cover a range of interdisciplinary subjects connected to industrial ecology. The students are introduced to tools and knowledge that will enable them to apply technology in a more sustainable way. The first semester is dedicated to mandatory courses that will give you an insight in the concepts of industrial ecology, ecosystems and impact of socio-technical systems, system analysis tools used in decision-making and a good base for scientific work
Since the program covers a broad spectrum of courses, students can during their third and fourth semesters either choose their own specialization, for example, more technology-oriented courses or more management-oriented ones, or choose to mix courses from different areas to acquire broad knowledge in industrial ecology.
After completing all course work, students carry out a six-month-long degree project for their final term. The project is carried out in either an academic environment (university, research institute, or equivalent) or in a public or industrial setting (municipality, city, power plant, consulting agency or other industry/business). While suitable degree project topics may be proposed and assigned by program lecturers, or by specialists from related industries/businesses, students are encouraged to define projects on their own and to seek environments in which these can successfully be carried out.
The pedagogical concept applied in the learning process is to work with projects, best practice and case studies; consequently, considerable effort is put into training students in discussion, critical analysis and written and oral presentations. It is also a high priority to link courses and projects to practical experience through cooperation with companies, institutions, and public authorities.
This is a two-year program (120 ECTS credits) given in English. Graduates are awarded the degree of Master of Science. The program is given mainly at KTH Campus in Stockholm by the School of Architecture and Built Environment (at KTH).
Career
Students graduating from the master's program in Sustainable Technology have a broad spectrum of knowledge and skills adapted to work with sustainable development, both in the private and public sectors. The interdisciplinarity of the program together with the ability to address complex problems, system views and critical thinking makes the student a valuable employee in many kinds of industries and organizations.
Our students obtain positions as environmental consultants, advisors to local or regional authorities in planning and implementation processes or as officers in government agencies, but also as environmental managers and advisors in both public and private companies. In view of the growing awareness of the need to build more long-term sustainable societies, graduates from the program will have the skills to become key players in the development of strategies for a sustainable future. Graduates from the program work at all types of companies and organizations, for example, Climate technology center, Ragn Sells (waste management), Consultant companies such as WSP and SWECO, energy-related companies like E.ON, with research in companies and organizations like IVL Swedish environmental institute and in municipalities. Many students also continue with doctoral studies at both KTH and elsewhere, mainly in their home countries.
Students
Find out what students from the program think about their time at KTH.
Evdoxia Tsafou, Greece: "Studying at KTH has been life-changing for me because of its approach to learning. In KTH you will, of course, have lectures and labs on various courses, but you will also have many interactive and collaborative ways of learning through seminars, workshops, and study visits."
Sustainable development
Graduates from KTH have the knowledge and tools for moving society in a more sustainable direction, as sustainable development is an integral part of all programs. Sustainable development is at the core of the master's program in Sustainable Technology since Industrial ecology is about steering today's industry and society towards greater sustainability and resource efficiency. Several courses include system changes for achieving more sustainable production and consumption. Accordingly, all sustainable development goals are of interest in the program. The three sustainable development goals most apparent in the program are:
Sustainable Cities and Communities

Responsible Consumption and Production

Climate Action
Depending on your chosen elective courses, you can acquire specific tools and skills aimed at creating a sustainable future, such as system analytical tools, scenario methodologies such as backcasting, management systems in companies and environmental modeling. This will make you a strong candidate for working both in companies (in their sustainability offices), organizations such as the UN, Climate technology centers and a range of consultant companies dealing with environmental and sustainable projects.
Courses
The two-year master's program in Sustainable Technology consists of three terms of courses and one final term dedicated to the master's degree project. Each term consists of approximately 30 ECTS credits. The courses presented on this page apply to studies starting in autumn 2020.
Year 1
Mandatory courses
Environmental System Analysis and Decision making (AL2181) 7.5 credits

Introduction to Industrial Ecology, larger course (MJ2615) 7.5 credits

Technology and Ecosystems, Larger Course (MJ2659) 7.5 credits

Research Methodology and Theory of Science (MJ2673) 7.5 credits
Conditionally elective courses
Transdisciplinary Approaches for System Innovations (AL2115) 7.5 credits

Waste Management (AL2130) 7.5 credits

Environmental Modelling (AL2134) 7.5 credits

Cleaner Production and Industrial Environmental Technology (AL2143) 7.5 credits

Applied Ecology (AL2156) 7.5 credits

Environmental Management (AL2160) 7.5 credits

Ecological Economics (AL2190) 7.5 credits
Year 2
Mandatory courses
Degree Project in Industrial Ecology, Second Cycle (AL227X) 30.0 credits
Conditionally elective courses
Life Cycle Assessment (AG2800) 7.5 credits

Sustainable Food Production and Consumption (AL2110) 7.5 credits

Material and Energy Flow Accounting for Cleaner Production (AL2142) 7.5 credits

Environmental Management II, Advanced Course (AL2161) 7.5 credits

Sustainable Development in Developing Countries (AL2195) 7.5 credits

Smart Cities and Climate Mitigation Strategies- Project-Based (MJ2685) 7.5 credits
Admission requirements
To be eligible for the program, you must have been awarded a bachelor's degree, be proficient in English and meet the program-specific requirements.
Bachelor's degree
A bachelor's degree, equivalent to a Swedish bachelor's degree, or equivalent academic qualifications from an internationally recognized university, is required. Students who are following longer technical programs, and have completed courses equivalent to a bachelor's degree, will be considered on a case-by-case basis.
English proficiency
English language proficiency equivalent to (the Swedish upper secondary school) English course B/6 is required. The requirement can be satisfied through a result equal to, or higher than, those stated in the following internationally recognized English tests:
TOEFL Paper-based: Score of 4.5 (scale 1-6) in written test, a total score of 575.
TOEFL ITP is not accepted.

TOEFL iBT internet-based: Score of 20 (scale 0-30) in written test, a total score of 90

IELTS Academic: A minimum overall mark of 6.5, with no section lower than 5.5

Cambridge ESOL: Cambridge English: Advanced (CAE) Certificate in Advanced English or Cambridge English: Proficiency (CPE) (Certificate of Proficiency in English)

Michigan English Language Assessment Battery (MELAB): Minimum score of 90

The University of Michigan, ECPE (Examination for the Certificate of Proficiency in English)

Pearson PTE Academic: Score of 62 (writing 61)
Specific requirements for the master's program in Sustainable Technology
A bachelor's degree, or equivalent, corresponding to at least 180 ECTS credits, in science or technology.
Application documents
Certificates and diplomas from previous university studies

Transcript of completed courses and grades included in your degree

Proof of English proficiency

A copy of your passport including personal data and photograph, or other identification documents
Specific documents for the master's program in Sustainable Technology
Degree project proposal

Certificate showing relevant work experience, if applicable

Autobiographical Statement (Motivation Letter)

2 letters of Recommendation
Last updated Apr 2020
About the School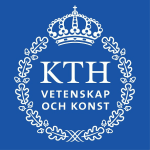 KTH Royal Institute of Technology has served as one of Europe's key centres of innovation and intellectual talent for almost two hundred years. Recognized as Sweden's most prestigious technical univer ... Read More
KTH Royal Institute of Technology has served as one of Europe's key centres of innovation and intellectual talent for almost two hundred years. Recognized as Sweden's most prestigious technical university, KTH is also the country's oldest and largest. With over 12,000 students and an international reputation for excellence, the university continues to nurture the world's brightest minds, helping to shape the future.
Read less