Read more about this program on the school's website
Program Description
OVERVIEW
A comprehensive 10 months program with a practice-based approach on sustainable design and environmental sustainability in the professional context of MC Architects, supported by industry site visits, project study trips, client and community meetings.
SOS is
a professional school aimed at recent graduates to build experience in a setting that integrates education, research and practice.
a comprehensive program, combining principles with a practice-based approach to the design and application of the most advanced methods, processes and tools.
a training opportunity distinguished by its main focus on the application of sustainable architecture, from urban to product scale, from developing to advanced communities.
Our Vision: to Design the Future
to advance a humanistic approach in architecture and urban design while addressing our present and future challenges
to advance architecture's cultural, social, economic and environmental impact, relevance and value
to define processes of transformation for a sustainable world and lead systemic change through collaboration
Part 1
3 MONTHS
Three Foundation Courses
PREPARATORY FOR ALL PROJECTS CONSISTS IN LECTURES TUTORIALS WORKSHOPS AND MASTERCLASSES
Common Ground
apply an understanding of the principles, strategies and analytic techniques of environmental design to real-world design problems
Leading Practices
to provide the ability and potential for design professionals "to lead in the professional, in practice and in projects
Environmental Design
the Culture of Sustainability through dialogue with different personalities, but who share a vision of the future.
Design for Circular Economy
to understand the principles, strategies and analytic techniques of circular design applied to products and systems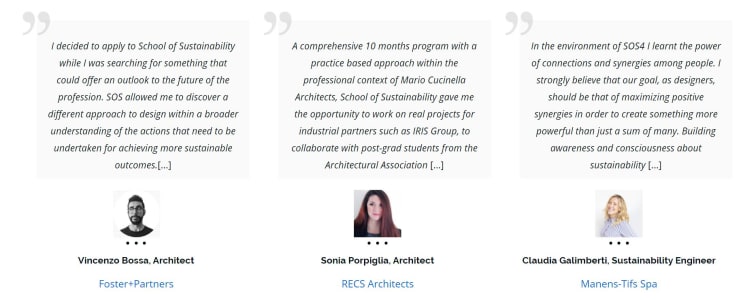 Part 2
2 MONTHS
Case studies
Simulation
Project research
Part 3
5 MONTHS
Four Project Tracks
FULL-TIME PROJECT AS A DIRECT SIMULATION OF PROFESSIONAL PRACTICE
Post Carbon Architecture
Designing the next generation of buildings
Track Leader: Andrea Rossi/ MC Architects
5 months, full time in teams
Theme
The real estate and the construction sectors are responsible for 50% of global CO2 emissions. Growth forecasts indicate that over the next 20 years, built areas will increase by 50%, which will have a significant impact on the resolution of the environmental crisis. Despite the great attention paid by international politicians (The Conference of Parties, Europe Roadmap 2050, Architecture 2030) towards the de-carbonization of our society, to date building professionals and the construction industry lack the knowledge and skills needed to develop buildings with zero impact.
Approach
A holistic approach to design allows for environmental strategies specifically suited to the local context and avoids seemingly appropriate choices, made at the design stage, which may have negative impacts in later stages (construction, use, reuse, recycling, disposal). Choices of materials and construction techniques become crucial to reducing the environmental impact of the building during its entire lifespan.
One of the challenges today is to redefine the relationship between architecture and engineering as not only technological but genetic. Building owners, designers, and builders are called upon to radically change their design approach, identifying the evolution of traditional building techniques and searching for emerging technologies for unique opportunities to restore a deep connection with the climate, the culture and the natural landscape of the site of each intervention.
Social Business
Regenerating the urban environment by creating job opportunities
Track Leader: Martina Ruini, MC Architects
5 months, full time in teams
Theme
To date, 3.5 billion people, approximately half of the global population, live in cities: this urban population concentrated on the 2% of the Earth's surface, releases into the atmosphere 70% of global CO2 emissions causing an enormous impact on the environment. According to demographic projections by the United Nations, by 2030 the world population will increase by 1.5 billion, or about 100 million more people per year. This implies tremendous expansion, mainly in urban centers. Based on these data, cities are facing a period of great social, economic and environmental transformation, which is the subject of the course. The economic and production crisis, environmental challenges, new migration, and social integration, recuperating abandoned buildings to combat further land consumption, all require a new approach, to be contemplated and shared among with the citizens rather than imposed from above.
Approach
Designers, administrators and local entrepreneurs are invited to engage with the huge stock of existing buildings in the city, to improve quality of life and to respond to the call for citizens to transform their cities.
Regenerating neighborhoods and public spaces, rethinking planning processes according to the environmental agenda, activating processes of urban social and environmental regeneration, redesigning the building envelope to increase comfort and reduce energy expenditure, as well as reopening urban relationships lost with the historic city are some of the potentialities that a sustainable approach to design can offer us.
The Right to (Quality) Shelter
Sustaining human development and building resilience.
Track Co-Leaders: Alessio Battistella/ Ar-co' - Irene Giglio, MC Architects
5 months, full time in teams
Theme
Now is an important time for the international community, with the expiration of the Millennium Development Goals, which have allowed us to significantly improve the living conditions of the most vulnerable segments of the populations on the planet according to principles of, dignity, equality, and fairness. Despite great efforts to reduce extreme poverty and promote education and health, some of the main objectives were not achieved, such as the conservation of natural resources, the control of CO2 emissions and access to essential services.
At present, about one-third of the urban population lives in slums without basic services (water, sanitation, and energy), 750 million people lack access to safe drinking water and the number of new refugees has tripled in the last three years. With growth forecasts for the world population estimated at 3 billion more people by 2050, it is clear that in the absence of concrete actions, these statistics will only worsen in the coming decades, underscoring the urgent need to rethink development strategies.
Approach
To restore dignity to the people and at the same time provide sustainable economic and social development and to ensure adequate emergency resilience, it is necessary to adopt long-term development programs that leverage the knowledge and resources in the region.
Optimization of energy and natural resources present on site, reuse of materials, and design according to climatic requirements are transformed into the need to improve living conditions and access to resources in any location but especially developing countries.
Design of Products and Systems for the Circular Economy
Sustainable solutions for Cradle to Cradle, Materials Passport and Design for Disassembly
Track Leader: TBD
5 months, full time in teams
Theme
The demands for "Rebuilding the Universe" according to a human-centered, nature-based design approach are so compelling, shared politically and urged socially by so many as to call for the development of a new design methodology fed by a multi-disciplinary set of skills forged at the crossover of education, research and professional practice. The participants in this project track will be partnered by researchers, innovators, professionals and industry leaders in a collaborative commitment to revolution the creative process by linking it on the new founding values of Design for Disassembly, Cradle to Cradle, Materials passport, and by making the 17 SDGs of the 2030 Agenda relevant at every stage of our design practices.
Approach
A research-driven approach to design for inclusiveness, societal awareness, value creation, community empowerment, carried on through a real project for a real client, with the support of tutorials, workshops and lectures in collaboration with Mario Cucinella Design and that will provide the participants with a common language and operational tools.
The founding values of Sustainable Design, theory and practice of the common good(s), shared services and products, smart materials and systems will be paramount of a context driven process aiming at identifying innovative manufacturing and organization processes for the development of the design and its financing strategies.
SOS STRUCTURE: The Architecture of Integration
The three pillars of the School:
1- SOS PARTNERS NETWORK
2- SOS CORE
3- SOS OPEN
They are designed to leverage the collective energy and individual experiences of the SOS students and team within the professional context of Mario Cucinella Architects (MCA).
Supported by related activities including industry site visits, project study trips, and regular client and community meetings, the sequence combines PRACTICE-BASED EDUCATION with RESEARCH-BASED PRACTICE and SITE-BASED EXPERIENCE.
SOS CORE is the central activity of the school, providing education, research and practice within a ten-month period, after which worthy students have access to a six month paid internship in Italy and throughout Europe within the network of the consortium members.
SOS PARTNERS NETWORK:
The SOS Partners is comprised of a wide range of firms/ practices/studios (architecture, development, engineering, landscape,urban, etc.) governments, industry partners and organizations throughout Italy and Europe. The Partners Network serves a critical function in the SOS mission, which is to be a nexus and platform for the exchange of advanced professional practice knowledge and experience with a particular focus on sustainability.
SOS CORE:
The FOUR FOUNDATION COURSES are preparatory for all project tracks. These consists of a series of lectures and workshops to develop a solid foundation of knowledge in sustainable design and practice.
SOS OPEN:
SOS OPEN events are aimed at promoting cultural awareness for the public as well as a practice-related advancement for active professionals. Each lecture and workshop provides Continuing Professional Development (CPD) credits for registered architects and engineers.
SOS PUBLICATIONS
SOS PUBLICATIONS are designed to transfer the experience and knowledge of the SOS activities to the public and the profession.
SELECTION OF CANDIDATE:
SOS seeks recent graduates and emerging professionals with diverse backgrounds to form a multidisciplinary group capable of undertaking environmental challenges using a creative approach. The program and particularly the four tracks are aimed primarily to architects, engineers, and designers although the School invites candidates with other profiles, on the basis of their motivation and skills in relation to the issues proposed in the courses.
QUALIFICATIONS:
EDUCATION: Professional Bachelor or Master degree in architecture, engineering, design, and others
APTITUDE/ATTITUDE: Collaborative, creative, curious, entrepreneurial, resourceful, self-directed
PRACTICAL EXPERIENCE: One to five years of experience preferred but not required
LANGUAGE SKILLS: English B2 Level(CEFR), Or Upper Intermediate Spoken / Written validations through official certificates
DURATION
10 MONTHS - FULL TIME: From October to July of the following year
Language: English
Certificate / Credits: Varies according to the country of origin
APPLICATION TIMELINE
Application process is open all year around. However, being the process based on a "first come first served" criteria, iperspective students are encourtaged to apply as follows.
31 of January / Registration Deadline one
31 of March / Registration Deadline two
31 of May / Deadline three
31 of July / Deadline four
Applications received after the dates above may be accepted at the discretion of the School.
APPLICATION PROCESS
APPLICATION DOCUMENTS
1. COVER LETTER
include motivations to be admitted to the course and granted the scholarship
2. CURRICULUM VITAE / RESUME
include degree information and practical experience
3. DESIGN PORTFOLIO
PDF format - maximum of eight A4 pages, max file size 10 MB
APTITUDE INTERVIEW:
All applicants must pass an aptitude interview.
Applicants will be contacted by the School within two weeks of the application deadline for an aptitude interview.
Interviews will be scheduled via Skype or in person (if possible). Applicants are always welcome to visit the School.
PERFORMANCE EXPECTATIONS:
The SOS program is intensive and consists of lectures, projects, site visits, workshops, and related activities.
Full-time compulsory attendance and active participation are required.
Students are expected to use their laptop devices during classes.
ACCEPTANCE:
The deadline for all applications will be on the 31st of May.
Results will be communicated via email as soon as possible but no later than 30th of July.
REGISTRATION:
Registration for the Program will be finalized with the down-payment fee of 1.000 euro.
ORIENTATION SERVICES:
Guidance and information for obtaining visas, accommodation and health insurance will be provided for foreign students traveling to Italy for the program.
FEES AND SCHOLARSHIPS
SCHOLARSHIPS:
Following the interviews, assigned scholarships based on both merit and need will be communicated to deserving applicants 15 days after the application deadline
TUITION FEES:
Fees: 10,000 Euro including VAT.
Registration before March 31st will entitle the candidate for a 5% discount of the total fees.
To finalize registration the first deposit of 1000 Euro is compulsory
The remaining amount of the fees can be paid in its entirety or by installments during the course on a monthly basis.
ORIENTATION SERVICES:
Guidance and information for obtaining visas, accommodation and health insurance will be provided for foreign students traveling to Italy for the program. Bologna, a city of 44 kilometers of arcades and population of 400,000, is renowned for its beauty, culture and culinary traditions. As a pioneering knowledge center with a progressive, open minded, multi-cultural character, Bologna is the ideal laboratory for SOS. It is a city and place that values active community participation, environmental stewardship and social inclusion.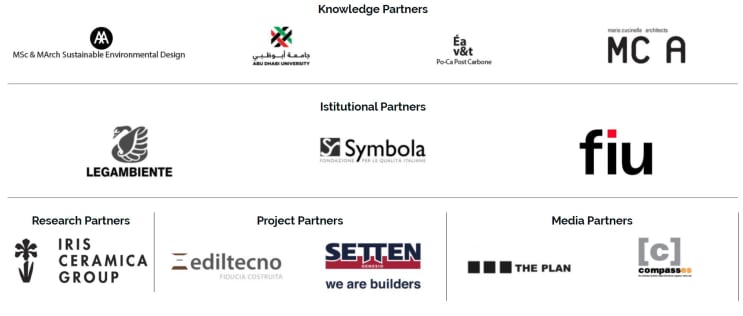 Last updated Oct 2020
About the School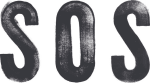 SOS - School of Sustainability - based in Bologna, Italy, is a post graduate practice academy by Mario Cucinella focused on training emerging professionals in the field of sustainability.
SOS - School of Sustainability - based in Bologna, Italy, is a post graduate practice academy by Mario Cucinella focused on training emerging professionals in the field of sustainability.
Read less